Dr. Sushila Kataria is considered one of the best General Physicians in the country. She specializes in internal medicine and the management of infectious diseases. At present, she is appointed as senior director of the Internal Medicine Department at Medanta Hospital Gurgaon.
Some of her key areas of interest include the treatment of multi-organ diseases, lifestyle disorders, adult vaccination, and several contamination diseases.
Career Highlights: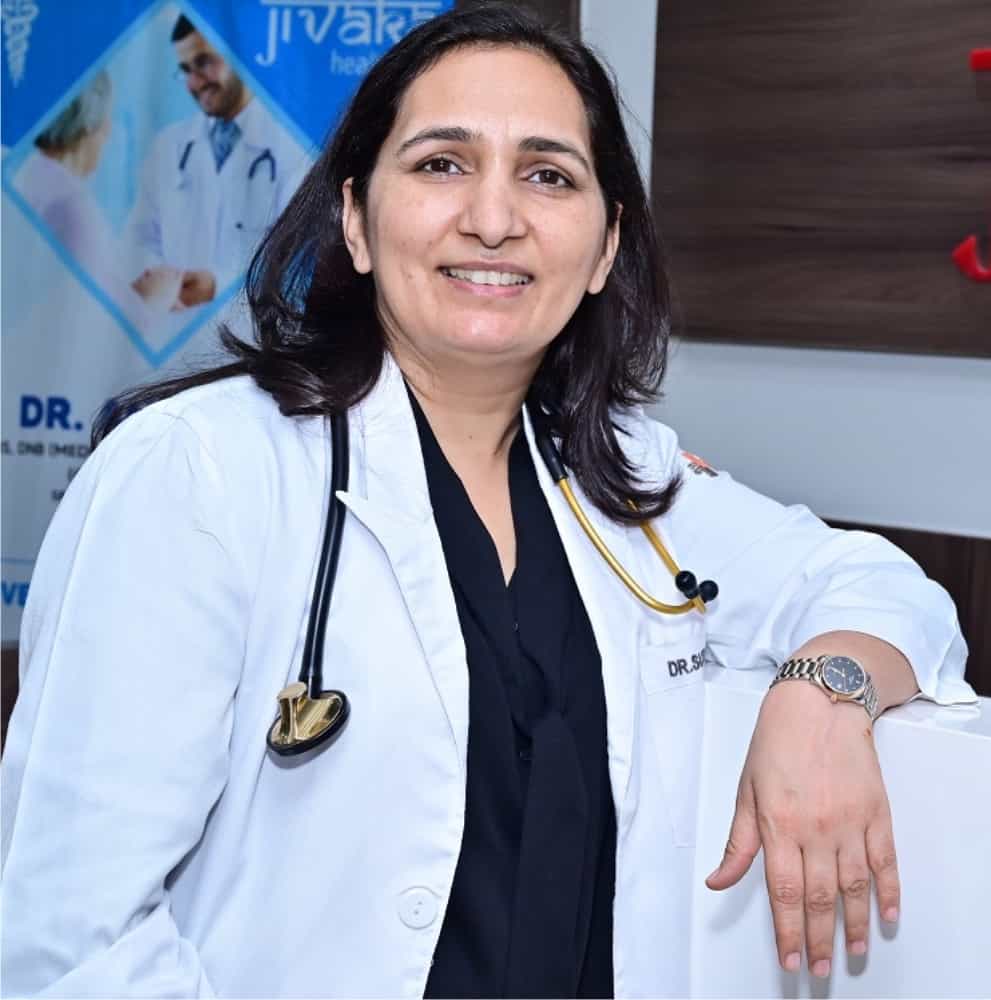 She was awarded the IB Singh Gold Medal for getting First Position in MD in 1993
She also received a Silver medal during her education in 1995 and in 1996.
Dr. Sushila received the best paper presentation award at APICON in 2003.
Academic Qualifications:
Medical School – Dr. Sushila did their MBBS from Pandit Bhagwat Dayal Sharma University of Health Sciences in 1997.
Post Graduation programs – Later, she specialized in General Medicine in 2001 from Pandit Bhagwat Dayal Sharma University of Health Sciences.
Fellowships and Training – She further did a PG Diploma in Medico Legal Systems from Symbiosis Institute of Health Sciences in 2004.
Past Work Experience:
2001-2002: worked as a Senior Resident at PGIMS Rohtak
2002-2005: worked as an Associated Consultant at Indraprastha Apollo Hospital
2005-2007: worked as a consultant at Umkal Hospital, Gurgaon
2007-2010: worked as a senior consultant at Paras Hospital Gurgaon
2010-Present: working as an Associate Director at Medanta Hospital Gurgaon.
Professional Memberships:
Dr. Sushila Kataria is a lifetime member of several esteemed organizations such as:
Association of Physicians of India
Indian Critical Care Society
American Board of Physicians
Indian Echocardiography Society
Indian Medical Association
Home Care Tips by Dr. Sushila Kataria for COVID-19 Patients
Take proper rest, but it is important to maintain a daily routine.
Sleep and wake up at a fixed time, and take a shower every morning.
Maintain physical activity for at least 10-15 minutes 2-3 times a day.
It is important to take 3-4 liters of fluid in the form of warm water, tea, coffee, warm milk, etc.
Patients must have food that is easy to digest and yet wholesome.
Take seasonal fruits that are rich in vitamin C.
Incorporate natural immunity boosters such as turmeric, honey, tulsi, ginger, etc in your daily routine.
As the lungs are the most affected part of Covid, lying down on the belly helps in improving the oxygenation process.
Do breathing exercises either with the help of a spirometer or by using birthday balloons.
To treat throat irritation, it is necessary to do gargles multiple times a day with warm saline water or a betadine solution.
Read books, listen to music, and have conversations with friends.
Do not panic
Use monitoring instruments like a pulse oximeter and thermometer, and blood pressure monitor. Use them 2-3 times a day.
In case of persistent high fever of more than 101 degrees F, oxygen saturation less than 95%, abdominal pain, or confusion, go to the nearest hospital.
Do not share your utensils, toothbrush, and bedding with anyone.
Do not come in close contact with anyone.
Most Common Illnesses Treated by the Doctor
Infectious Diseases – These are the type of illnesses caused by various organisms such as bacteria, viruses, fungi, and parasites. Such types of micro-organisms are usually harmless but may cause sickness under certain conditions. These diseases can be transmitted from one person to another. Another way of transmission is from contaminated food or water. Signs and symptoms may include fever, body aches, fatigue, or many more.
Poisoning – Poisoning is the administration of any substance that is harmful to the body. It may be swallowed, inhaled, injected, or absorbed into the skin. Poisoning can happen with an overdose of any kind of substance such as over-the-counter medicines, illegal drugs, carbon monoxide, pesticides, lead, mercury, etc.
HIV – Human Immunodeficiency Virus or HIV is the organism that causes AIDS. This virus can be transmitted through infected blood, semen, or vaginal fluids. This virus interferes with the body's immune system. The symptoms may include fever, night sweats, weight loss, fatigue, and several recurrent infections.
Hypertension– This is a condition caused due to raised blood pressure in the body. This happens when the force of blood against the artery walls is high. The normal blood pressure of the body is 80/120 mmHg. The symptoms include increased heart rate, perspiration, shortness of breath, etc.
A brief about Medanta Hospital
Medanta Hospital is located in the national capital of India and lies amongst the largest hospitals across the nation.
The hospital has more than 1600 beds and covers nearly 22 specialties.
It boasts of its state-of-the-art and high-quality treatment at affordable costs.
Medanta hospital Gurgaon caters to an average of 20,000 international patients each year from more than 15 countries across the globe.
Also Read: