The pair of Raj & DK is once again rocking the OTT world with a web series named Farzi which is a black comedy crime thriller web series. It features great actors like Shahid Kapoor, Vijay Sethupathi, Rashi Khanna, Kay Kay Menon, and Many More actors. 
The entire season is divided into 8 parts and has established itself as the most-watched web series by the end of the month. The makers have also claimed that they will definitely come back with its second season. 
Through this article, you will get every single detail about this series like its release date. And where you can watch it? its storyline, star cast, makers, trailer, and audience reviews.
Farzi Web Series Cast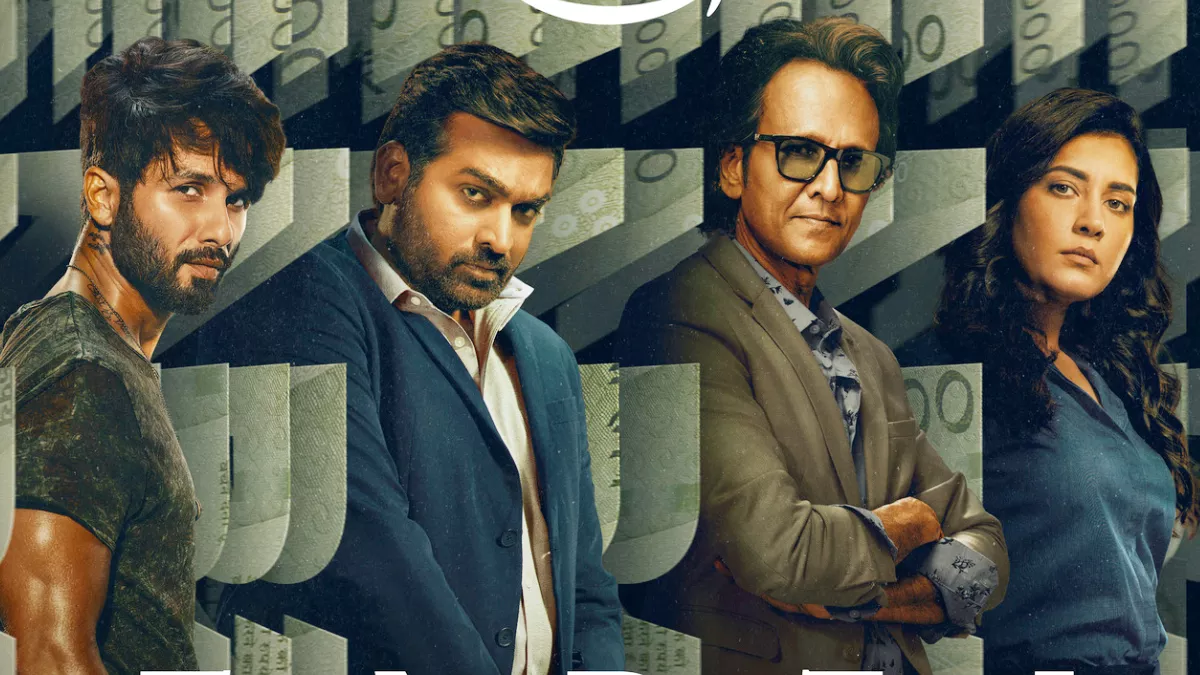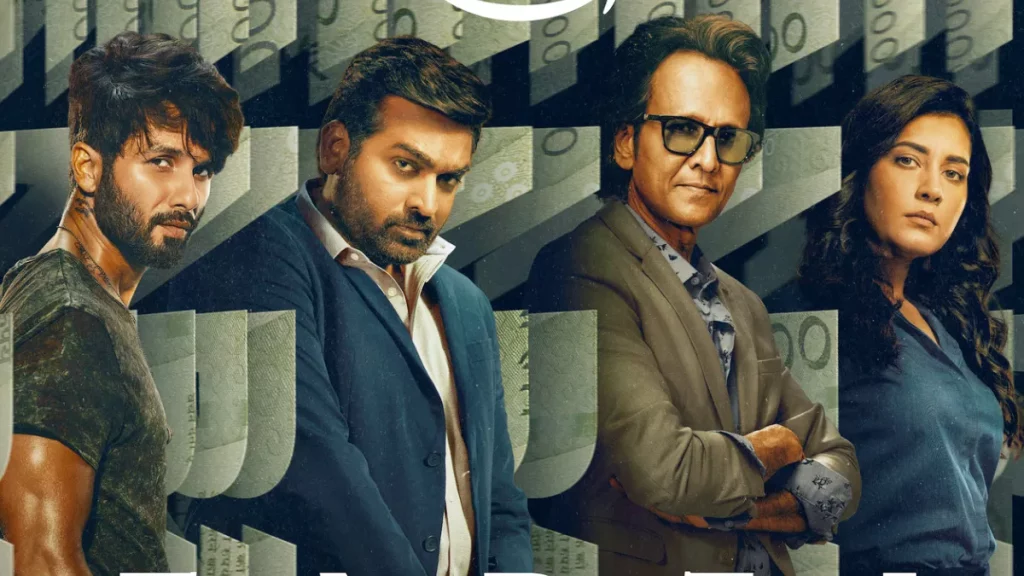 | | |
| --- | --- |
| Web series title | Farzi |
| Genre | Crime Drama Thriller |
| Release date | 10 February 2023 |
| Original Language | Hindi |
| Country | India |
| Directed by | Raj NidimoruKrishna DK |
| Writers | Suman KumarSita R MenonRaj NidimoruKrishna DK |
| Main Cast | Shahid Kapoor Vijay SethupathiRashi Khanna Kay Kay MenonRegina Casandra Zakir Hussain |
| Producers | Rahul Gandhi |
| Cinematography | Tarun AchpalPratha NarangPankaj KumarAmith Surendran |
| Edited by | Sumit Kotian |
| Music by | Ketan Sodha Sachin- JigarTanishq Bagchi |
| Distributed by | Amazon Prime Video |
| Production House  | D2R films |
Farzi Release Date (10 February 2023)
This Crime Thriller Drama Web series was Originally released on the 10th of February 2023 on the Video Streaming Platform Amazon Prime Video. 
This series is loaded with a total of 10 episodes and each episode is approximately 42 – 66  minutes duration. All episodes are easily available to watch in Hindi language with English Subtitles. Apart from Hindi, it is also dubbed in Various Languages like Tamil, Telugu, Malayalam, and Kannada. 
| | |
| --- | --- |
| Streaming Platform | Amazon Prime Video |
| Release Date | 10 February 2023 |
| Total season | 1 |
| Total Episode | 8 Episodes |
| Running Time | 42- 66 Minutes |
| Original Language | Hindi |
| Dubbed Language | Tamil, Telugu, Malayalam, Kannada |
| Subtitles | English |
Trailer of Farzi Web series
The Trailer of the Farzi Series was initially revealed by the Official channel of Amazon Prime Video on YouTube. Within a short time of its release, the audience has created excitement to watch the series. It was uploaded on YouTube on 13th January 2023 and has had 42 million views till now. 
The trailer begins with Rs 2000 notes being showered on Shahid Kapoor. This is followed by his flashback in which he is a sketch artist and is troubled by his life. It is seen that he makes a sketch of 500 notes, after which both he and his friend start the business of fake notes and gradually get involved in even bigger scandals. 
The trailer was very interesting, seeing which one would feel like watching the series.
The Storyline of the Farzi Web Series 
The story of this series is about Sunny, a Sketch artist who was abandoned by his parents in his childhood and now lives with his maternal grandfather. He is always short-tempered and has had heartburn since childhood
His maternal grandfather has a very old printing press which is about to shut down due to some reasons and Sunny enters into the business of making fake Notes to save his Grandfather's printing press before establishing himself in this business. Before he can get himself out of the business, he joins the biggest syndicate of counterfeit notes.
Now it has to be seen in the film whether Sunny will be able to stop himself from doing that illegal work or what changes happen in his life after doing that illegal work.
The Main Star Cast
These actors and Actresses have portrayed the main characters in the series- 
Shahid Kapoor
Vijay Sethupathi
Raashi Khanna
Kay Kay Menon
Regina Cassandra
Zakir Hussain
Chittaranjan Giri
Bhuvan Arora
Amol Palekar
Kubra Sait
Jaswant Singh
Kavya Thapar
Where can you watch the Farzi Series?
The Shahid Kapoor and Vijay Sethupathi starrer Web series 'Farzi' hit the OTT Platform Amazon Prime Video on 10th February 2023 and has gained amazing responses from Viewers and critics.
If you are also excited to watch this web series, then you can easily watch it by taking an Amazon Prime video subscription and it can also be watched with family members and friends. 
Farzi Web Series Review
Creators Raj Nidimoru and Krishna DK, known for The Family Man web series, have once again ventured into the world of OTT with their Latest web series Farzi. Through this show, they have shown about the business of fake notes, how tightly fake notes are printed, and how they are distributed to other people after printing.
Shahid Kapoor, Vijay Sethuipati, Rashi Khanna, Kay Kay Menon, Bhuvan Arora, and Amol Palekar were cast to portray the Major characters. Their performances are majorly noticed and appreciated.
The background score and music of the series were also handled very well. And, managed by renowned singers and musicians Sachin Jigar, Tanishk Bagchi, and Ketan Sodha.
The major Plus points of the series were Actor's performances, Storyline, Action Sequences, Comedy punches, production, and Direction.
Nothing is absolutely perfect, everything has some flaws, and this series also had some shortcomings. Some sequences were drawn a lot to make the story lengthy, which reduces the effect of the story. Some parts in the middle of the series could have been presented in a better way. 
If you are interested in watching this web series, then you can watch it on Amazon Prime Video. Which is streaming from 10th February 2023.
Also Read: