Amazon Prime Video has recently released an Interesting Crime Thriller and Mystery web series Dahaad. The creators of this web series are Reema Kagti and Zoya Akhtar. Which stars Sonakshi Sinha, Gulshan Devaiah, Vijay Verma, Sohum Shah, and Mannyu Doshi as the Lead cast. Sonakshi Sinha was seen portraying the lead character of SI Anjali Bhaati who is an Honest and SIncere Police Officer. And the antagonist is played by Vijay Vermaa. 
This crime thriller web series was the very first Indian Web series. That received an opportunity to premier at the Berlin International Film Festival and currently. It is streaming on Amazon Prime Video from the 12th of May 2023. 
Dahaad Web series details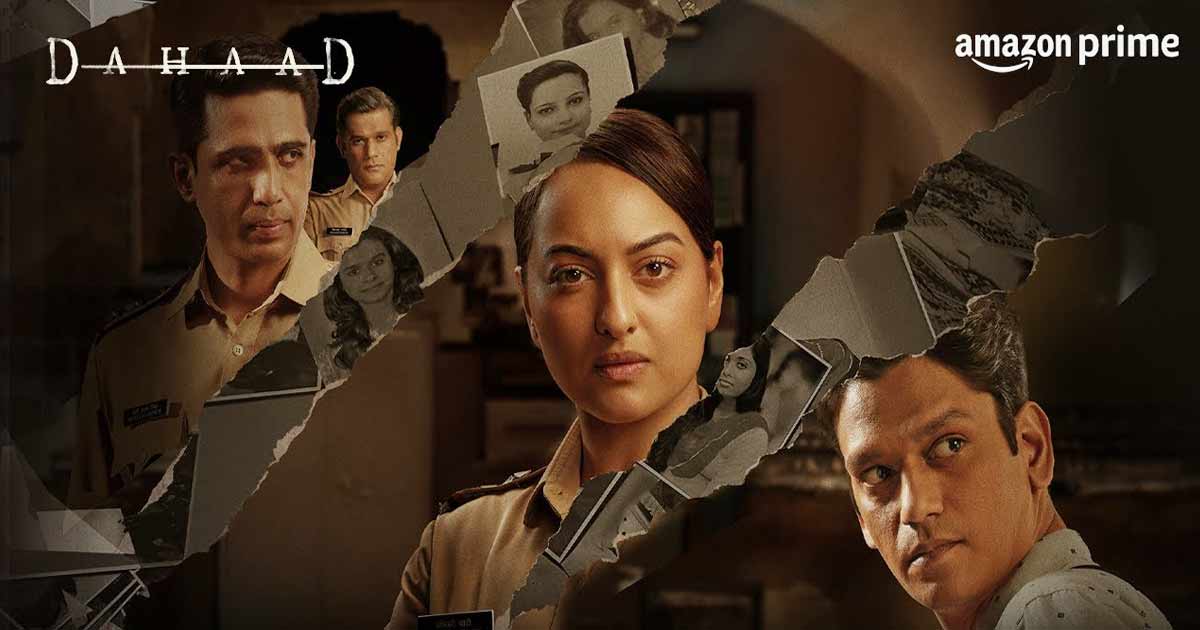 | | |
| --- | --- |
| Web series title | Dahaad |
| Genre | Crime, thriller, Mystery |
| Release date | 12 May 2023 |
| Language | Hindi |
| Country | India |
| Directed by | Reema KagtiRuchika Oberoi |
| Main Cast | Sonakshi Sinha Gulshan Devaiah Vijay Verma Sohum Shah Kaviraj Laique |
| Producers | Ritesh SidhwaniZoya AkhtarReema KagtiFarhan Akhtar |
| Screenplay | Reema KagtiRitesh Shah Kaviraj Laique |
| Edited by | Anand Subaya |
| Music by | Gaurav raina Tarana Marwah |
| Distributed by | Amazon Prime Video |
| Production house | Excel Entertainment Tiger Baby Films |
Dahaad Release Date (12 May 2023)
This Mysterious Drama Web series was Originally released on the 12th of May 2023 on the Video Streaming Platform Amazon Prime Video. 
It is loaded with a total of 8 episodes and each episode is of approximately 50-60 minutes duration. It is available to watch in Hindi Language with English Subtitles. 
| | |
| --- | --- |
| Streaming Platform | Amazon prime Video |
| Release Date | 12 May 2023 |
| Total season | 1 |
| Total Episode | 8 episodes |
| Running Time | 50- 60 Minutes |
| Original Language | Hindi |
| Subtitles | English |
The Trailer of the Dahaad Series 
The first trailer of Dahad was released by Prime Video India. The official channel of Amazon Prime Video on YouTube and its current views are around 23 Million. 
In the Trailer, Sonakshi Sinha appears as a police officer Anjali. Who along with her team is on the hunt for a serial killer who lures innocent girls into the trap of love brutally murders them and dumps their bodies in places like public toilets.
Even more scary scenes have been shown in the trailer which will give goosebumps to anyone.
The Storyline of the Series
The story of this series starts in Rajasthan where a serial killer kills only women and gives it the form of suicide. The police did not get any information about these murders. Because the family members of the women who died did not make any complaints.
This is followed by the entry of a fearless and honest police officer in the Series. Who gets a case of a girl who has run away from her house with things like cash jewelry? As she investigates with her team, she learns that there are several similar cases of girls running away with unnamed accomplices. That leads her to question whether they are all connected with each other. 
Now it has to be seen in the story whether all the murders are related to each other. And whether the police will be able to trace the serial killer. 
Main Star Cast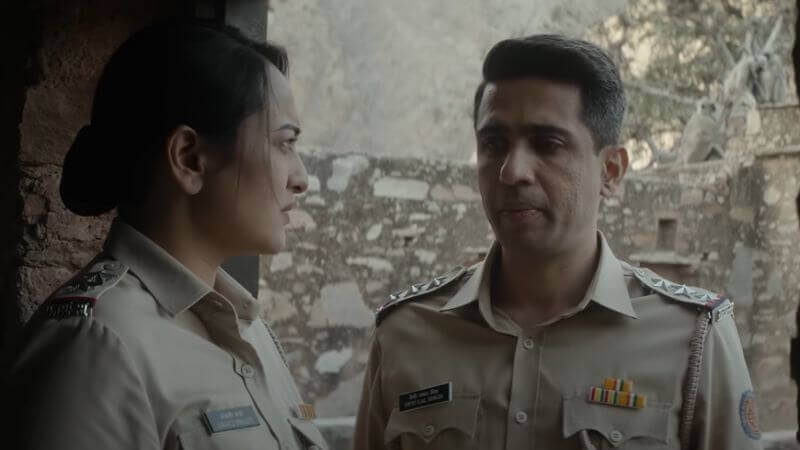 These actors and actresses have portrayed the main characters in the series.
Sonakshi Sinha
Vijay Verma
Gulshan Devaiah
Sohum Shah
Yogi Singha
Sanghmitra Hitaishi
Ratnabali Bhattacharjee
Nirmal Chiraniyan
Vijay Kumar Dogra
Abhishek Bhalerao
Waris Ahmed Zaidi
Mikhail Gandhi 
Rajiv Kumar
Ratnabali Bhattacharjee 
Abhishek Bhalerao
Where to watch the Dahaad Series?
Dahaad, the latest web series on Amazon Prime Video from 12th May 2023 has been creating a lot of buzz among the viewers ever since its release and has received an overwhelming response.
If you are also eager to watch this web series, then you can easily watch it by taking an Amazon Prime video subscription. It can also be watched with family members and friends.
Dahaad Review (IMDb Ratings 7.4/ 10)
The Reema Kagti and Ruchika Oberoi Kagti-directed Web Series 'Dahaad' has an engaging Storyline. The first positive point of this series is its story, which will keep you tied to the seat from the initial episode to the last episode, and nowhere does its story deviate from its issue.
It neither has songs nor any kind of romantic drama. It is a crime thriller drama and a crime thriller story unfolds in front of the audience. Another positive point is the performance of the actors. Sonakshi Sinha made her OTT debut through this series playing a bold and fearless character. Apart from her Vijay Verma is Being highly Praised for his performance as the serial Killer Anand Swarnakar. Vijay Verma has shown us all the nine emotions of acting in this series and whoever watches this series will become a fan of his acting. 
According to the technical aspects of the series, a lot of attention has been given to the background score of the series, the background score of every scene sounds quite scary, which creates even more interest in watching the series.
If we talk about the direction, production, screenplay, editing, etc. of the series, then everyone has done their job well.
There were also some negative points of the series while watching the series you may feel that many scenes are being repeated. It also seems that the story of the series is being dragged forcefully. There was not even a single song in the entire series and Sonakshi Sinha's love story could have been shown better.
Also Read: