Jubilee is Amazon Prime Video's latest Period Drama series whose director is Vikramaditya Motwane and producer is Deepa De Motwane. The series features Prosenjit Chaterjee, Aparshakti Khurana, Aditi Rao Sidhant Gupta, Wamiqa Gabbi, Ram Kapoor, and Nandish Sandhu as the Lead Cast. 
It was made under the production house of Reliance Entertainment and Phantom Studios while the cinematography is managed by Pratik Shah. This series has shown the golden era of Bollywood, which begins from the time of independence. 
In this article, you will find every single detail about the Jubilee web series like the Trailer, Storyline, Main Cast, Release Date, Makers, and many more. 
Jubilee Web Series Cast & Other details 
| | |
| --- | --- |
| Web series title | Jubilee |
| Genre | Period Drama |
| Release date | 7 April 2023 |
| Language | Hindi |
| Country | India |
| Directed by | Vikramaditya Motwane |
| Writers | Hartej SawhneyNishant Agarwal |
| Main Cast | Prosenjit ChatterjeeAparshakti KhuranaAditi Rao HydariSidhant GuptaWamiqa GabbiRam KapoorNandish Sandhu |
| Producers | Deepa de Motwane |
| Screenplay | Atul Sabharwal |
| Cinematography | Pratik Shah |
| Edited by | Arti bajaj |
| Music by | Amit Trivedi |
| Distributed by | Production House  |
| Production house | Reliance Entertainment Phantom Studios |
Jubilee Release Date (7 April 2023)
This Period Drama Web series was Originally released on 7th April 2023 on the Video Streaming Platform Amazon Prime Video. 
It is packed with a total of 10 episodes and each episode is of approximately 45 – 60  minutes duration. All episodes are easily available to watch in Hindi language with English Subtitles. 
| | |
| --- | --- |
| Streaming Platform | Amazon prime Video |
| Release Date | 7 April 2023 |
| Total season | 1 |
| Total Episode | 10 episodes |
| Running Time | 45- 60 Minutes |
| Original Language | Hindi |
| Subtitles | English |
The Trailer of the Jubilee Series
Prosenjit Chatterjee and Aparshakti Khurana star new historical Drama Web series Jubilee's first trailer was revealed on 24th of March 2023 by the official YouTube channel Prime Video India and it gained amazing views in a very short span of time. 
Apart from Prosenjit Chatterjee and Aparshakti Khurana, the trailer reveals other main characters like Aditi Rao Hyadari, Sidhant Gupta, Nandish Sandhu, Wamiqa Gabbi, and Ram Kapoor. 
The Storyline of the Jubilee Series 
Through this series, the creators tried to show the condition of the Hindi film industry during the 1940s-1950s. Vikramaditya has shown the life of Madan Kumar in this film who is ready to do anything to become the next superstar of India and apart from him some other Dark secrets of Bollywood have been shown through this series. 
Prosenjit Chatterjee is cast to play the character of the Owner of the Film Studio Roy Talkies Aditi Rao is seen portraying the character of Sumitra Kumari who is a Film Star's wife but still looking for true love. This series is a combination of Love- hate, passion, and Struggle. 
It was officially released on Amazon Prime Video on the 7th of April 2023 and is still streaming. 
Where can you watch the Jubilee Web series?
The Historical drama web series Jubilee streaming on Amazon Prime Video from 12th May 2023 is garnering positive responses from the audience and critics alike.
If you are also eager to watch this web series, then you can easily watch it by taking an Amazon Prime video subscription and it can also be watched with family members and friends.
Jubilee Web Series Main Star Cast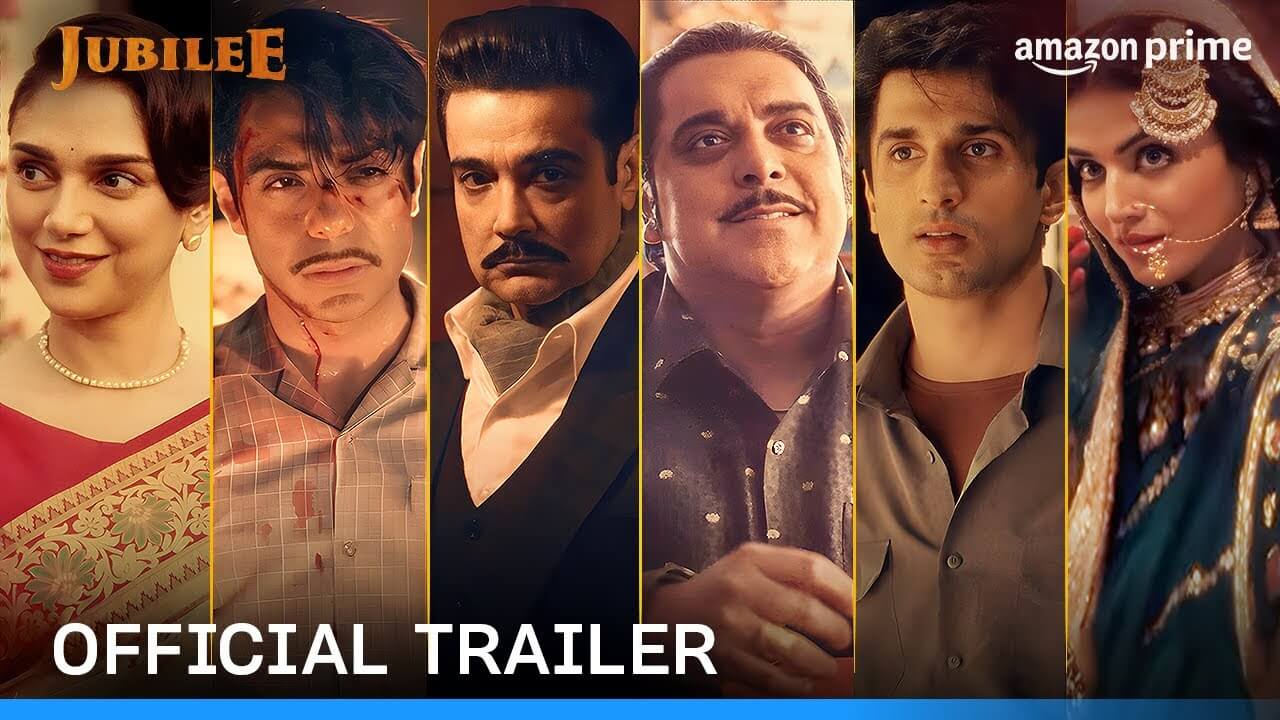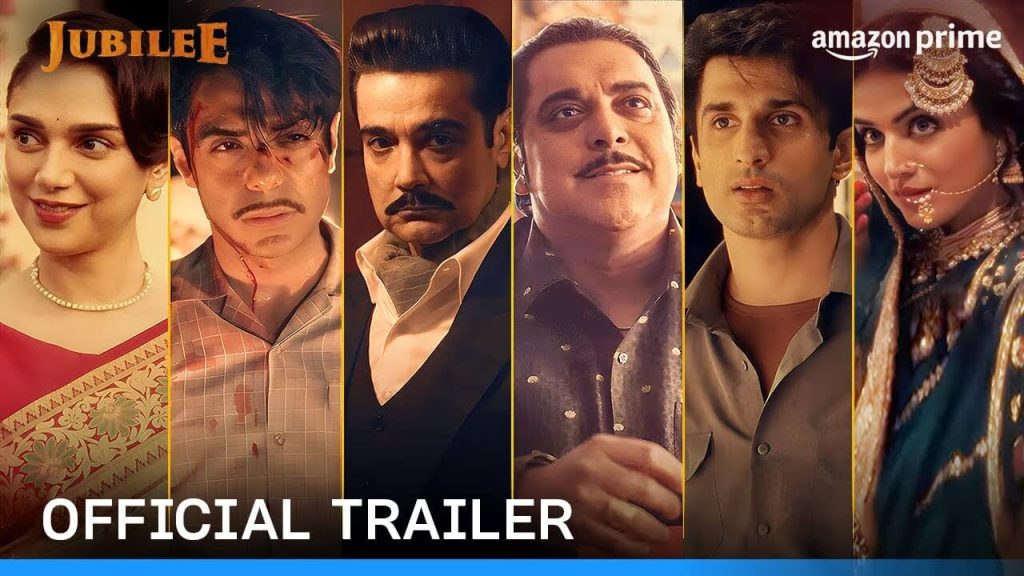 These actors and actresses have portrayed the main characters in the entire series 
Prosenjit Chatterjee
Aparshakti Khurana
Aditi Rao Hydari
Sidhant Gupta
Nandish Sandhu
Wamiqa Gabbi
Ram Kapoor
Shweta Basu Prasad
Sukhmanee Lamba
Arun Govil
Aarya Bhatta
Ajay Dutta
Tushar Phulke
Madhu Sachdeva
Chiraag Katrecha
Jubilee Web series Review (IMDb rating- 8.4/10)
Vikramaditya Motwane's period Drama web series Jubilee hit the OTT platform Amazon Prime Video on the 7th of April. The lead characters are played by Siddharth Gupta, Aparshakti Khurana, and Aditi Rao. The advantage of this series is its Storyline which is wonderfully written by Hartej Sawhney and Nitesh Agarwal. All the characters that have appeared in the entire series have had a huge impact on the story.
This is a fictional tale of the golden era of Bollywood, which begins from the time of independence. Looking at the series, it can be said that a lot of money has been invested in it, which is Fantastic to watch.
Each episode of the show is directed as if it is a Bollywood film of that time and along with this the series also shows the dark secrets of Bollywood which are going on off-screen like the Struggle of Outsiders, Politics, and the power dynamics, etc.
The background score is amazingly handled and there are 12 songs in this complete series which are sung by great singers like Sunidhi Chauhan, Papon, Amit Trivedi, Muhammad Irfan, and Divya Kumar. 
Some negative points of this show are that it starts very slowly and it takes too much time to introduce the main characters. If you want to enjoy the later series, then you have to watch the boring episodes from the beginning.
Also Read: