Industry 4.0 has created endless opportunities for businesses to advance their workflow and adapt to modern tools and technology. Cloud ERP software is one of its dimensions that has gained sky-high popularity these days because of the rising trend related to remote working culture. IDG study reports that 77% of organizations have at least one of the applications on the cloud directly pointing to the fact that the cloud is the next big game changer in the market. The organizations that are tech-driven and embrace innovation in technology are soon going to be the market leaders in their respective domains.
What is Cloud ERP Software?
Cloud ERP software is a cloud-based software solution that allows businesses to manage their core business processes, including finance, human resources, procurement, supply chain management, and more. Unlike traditional ERP software, cloud ERP software is hosted on remote servers, which means businesses can access the software from any device with an internet connection. You can check this to find the real estate ERP hosting that fits your requirements.
Let's learn more about cloud ERP software and know what benefits it renders to an organization.
Compelling Benefits of Cloud ERP System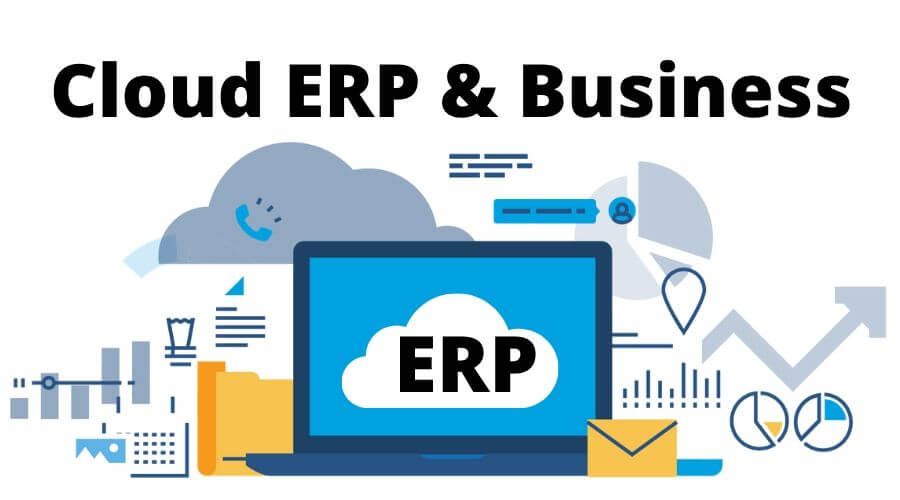 Globalization of the Business
Only a globally accepted ERP system that can allow you to monitor the entire business from any location can help you achieve global success. A generic ERP may limit your reach due to its inefficiency in managing multiple location systems. A trusted and global ERP platform like SAP Business One with its location-enabled feature, optimized ERP modules and Bird's Eye View Functionality helps keep a check over the global networks and brings you more opportunities to achieve growth and success.
Data-Driven Business Process
Only if you have in-depth knowledge about your organization, you can make informed decisions beneficial for the company. SAP Business One, the best ERP software integrates all the departments and the external software if any to render you the complete organizational data in one single platform. This makes it easier for you to analyze the current company situation in one glance and make the smartest move possible.
Slashed Cost of Hardware Maintenance
Cloud technology is the new green initiative adopted by the leaders. Yes, Green, because, unlike the conventional ERP software, it does not include the hardware maintenance and IT costs slashing down the amount used up in the investments.
Also apart from the cost-effectiveness, cloud-based ERP software also renders you the most updated feature as soon as created from the backend. The updates are installed automatically and are made operational in no time.
Added Advantage of Embedded Analytics
There's one more brownie point to add to the uniqueness of the cloud-based ERP software, SAP Business One also possesses embedded analytics and reporting features. It makes use of smart visualizations and makes reporting and analyzing easier for both the user while creating the data analysis and for the leaders to make mission-oriented decisions.
Accessibility of the Information
Cloud ERP software has boomed the technology market these days because of its unique functionality of rendering access to information to the user anytime and anywhere. Thousands of employees are working from home seamlessly because they could communicate and share information on time with efficient cloud-based ERP software systems.
Cost-Effective Solution
Cloud ERP software is a cost-effective solution for businesses of all sizes. Instead of investing in expensive hardware and software, businesses can pay a monthly or annual subscription fee for the software. This means that businesses can save money on IT infrastructure costs, as well as software licensing fees.
Scalability
Cloud ERP software is highly scalable, which means it can grow with your business. As your business expands, you can easily add new users, modules, and features to the software without worrying about the costs and infrastructure required for on-premise solutions.
Increased Flexibility
It is highly flexible, which means it can be accessed from anywhere at any time. This allows businesses to work remotely and collaborate with team members across different locations, making it easier to manage global operations.
Improved Data Security
Cloud ERP software is highly secure and offers better protection against data breaches. Most cloud ERP vendors provide data encryption, firewalls, and other security measures to ensure that your business data is protected at all times.
Real-Time Data Access
Cloud ERP software provides real-time data access, which means businesses can access up-to-date information about their operations at any time. This allows businesses to make informed decisions quickly, which can help them stay ahead of the competition.
Automated Processes
It automates routine processes, reducing manual data entry and improving productivity. This allows businesses to focus on more strategic tasks, such as business planning and analysis.
Faster Deployment
This can be deployed quickly and easily, without the need for additional hardware or software. This means businesses can start using the software within days, rather than weeks or months.
Regular Updates
Its vendors provide regular updates and upgrades to the software, which means businesses can benefit from the latest features and functionality. This ensures that businesses are always up-to-date and competitive in their industry.
Integration with Other Applications
Cloud ERP software can easily integrate with other business applications, such as CRM, project management, and e-commerce software. This allows businesses to streamline their operations and improve data accuracy.
Better Disaster Recovery
This offers better disaster recovery options than on-premise solutions. Data is stored on secure servers, which are backed up regularly. This means that businesses can quickly recover their data in the event of a disaster.
Improved Compliance
Cloud ERP software offers better compliance with industry regulations, such as GDPR, HIPAA, and SOX. Vendors provide security measures and data management practices that comply with industry standards, which helps businesses avoid penalties and fines.
Predictable Costs
It provides predictable costs, which means businesses can accurately forecast their expenses. This allows businesses to plan and allocate their resources more effectively.
Better Customer Service
Cloud ERP software can help businesses provide better customer service by providing real-time data access and automating routine tasks. This allows businesses to respond to customer inquiries quickly and efficiently.
Competitive Advantage
This can provide a competitive advantage by allowing businesses to operate more efficiently and effectively. This can lead to better customer satisfaction, increased sales, and higher profits.
Moreover, the integrated system eliminates any possibility of miscommunication or confusion in the information as the user gets the consolidated data on one single platform.
In conclusion, cloud ERP software offers a range of benefits that can transform the way businesses operate. It is a flexible, scalable, and cost-effective solution that provides real-time data access, automates processes and improves data security. With cloud ERP software, businesses can stay ahead of the competition, achieve their growth objectives, and provide better customer service. If you are considering cloud ERP software for your business, be sure to evaluate different vendors to find the one that best meets your needs.
Also Read: