Consumers are twice as likely to spend their time on a mobile phone than any other handheld device. So, you could be at a major loss if you're not investing in mobile advertisements. Despite how small and tacky they appear, mobile ads hold a higher potential of capturing the user's attention. Creating a distinct branding narrative, and most importantly, generating app installs. As a trusted mobile marketing platform for innumerable brands. Trackier has helped many clients to scale their business through mobile ads targeted to appease, if not convert, a potential lead.
This article is a tell-all guide from Trackier experts about how different industries can tap into the mobile advertising space, including mobile ads examples for the right format, color schemes, ad copy, and other elements you can use to make them successful. So, without further ado, let's dive in!
The Curious Case of CTAs in the FinTech World
Call to Action (CTA) is your one-tap conversion button, so needless to say. It's the most important element of a mobile ad. It directs the user towards an action that you desire to achieve from your ad campaigns. For instance, you could redirect them towards your landing page with a 'Read More', prompt a download with an 'Install Now' button, or increase your lead database with a prompt to 'Subscribe to Newsletter'.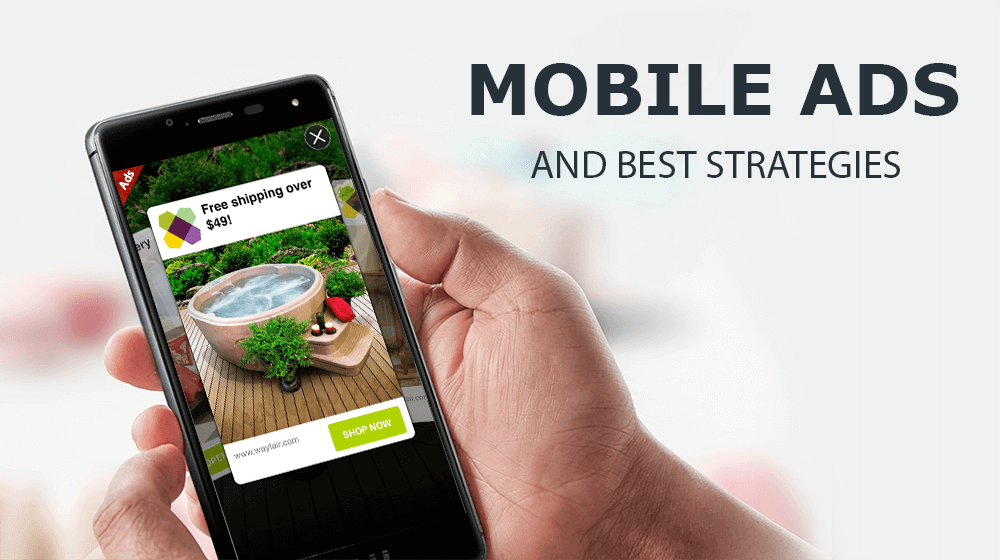 If you're running a series of mobile banner ads, try A/B testing to check which CTA works best for you. In all cases, it is safe to make your CTA button distinct from its banner by using a contrasting color, keeping it crisp, and letting it run in sync with the main message of the ad copy.
Betting on Ad Formats in E-Commerce and Gaming Spheres
In the highly competitive world of e-commerce and gaming, consumer attention is the key to high ROI campaigns. If you can't hold their sight on your mobile ad for long enough. You might just miss out on a conversion opportunity. That's why it's best to experiment with different ad formats, namely, static ads, dynamic ads, rich media ads, video ads, and interstitial ads.
Static ads are best suited for campaigns that are intended to raise brand awareness, support new launches, or create announcements. For instance, static ads about an upcoming sale, or new gameplay features, can be used for general outreach.
On the other hand, dynamic ads, rich media ads, and video ads are highly personalized formats that leverage user profile data. You can use them to target specific audiences who have an expressed interest in your product. Shorter ad copies are used to create dynamic and rich media ads. Where the interplay of appealing visuals, pop-up CTAs, and short hook lines prompts the user to interact with the ad banner.
However, video ads are relevant in cases where an elaboration of product/service features is necessary. For instance, in-game player rewards, virtual 'try-on' features of an e-commerce app, story modes in a gameplay, etc.
A class apart from all the previous categories, mobile interstitial ad size typically lies between 320×480 & 480×320 for phones and 1024×768 & 768×1024 for tablets. They span the entire screen of the device, thereby offering you the undivided attention of the viewer. You can enrich them with dynamic graphics, video elements, or elaborate ad copies to increase your click rates.
The Influence of the Ad Copy in Entertainment & Food Sectors
There are many variations for app banner size in pixels, starting from 300×250 and going all the way to 768×1024. It's not always possible to buy the biggest spaces, especially when you have a tight marketing budget or low targeting campaign. Nonetheless, you can still achieve the highest impact factor by creating an ad copy that connects with your target audience.
It is best to use expressive words that clearly highlight the user issues and place your product in a relevant context. As a thumb rule, action words like 'get it', 'join', 'sign up' etc. are likely to bring more conversions. But, you can always try unconventional CTAs to let your brand identity shine out.
Keeping the ad copy personalized to the user and 'in the moment' of their day can be equally effective. For instance, getting a banner notification from a food app. Addressing your mid-match cravings is most likely to hit the right spot when you're immersed in cricket fever, right?
Putting it Together
With the right ad copy, visuals, and targeting mechanisms. You can make your campaigns a great success without having to worry about creating the biggest mobile banner size in inches. As the mobile ads examples given above demonstrate. It's best to choose your ad formats as per the demands of your marketing campaign, and the user response. Leaving out one for another can leave you in the midst of losses, and loose ends.