Jabra is a global brand that makes the best-quality sound devices. Additionally, Jabra Company makes devices that will help you hear what you need to hear. Jabra products are packed with intuitive features. This will help make your life sound better. Jabra Evolve 75 UC is among the latest devices which are released by Jabra Company. This headset is made to offer outstanding sound with reduced noise. Moreover, you will have more freedom.
Jabra Evolve 75 UC is fitted with world-class speakers together with HD sound. All this will ensure that you will have the best listening experience. Above all, Jabra Evolve 75 UC is compatible with more unified communication platforms. This saves you money because you won't buy a separate headset to connect with other platforms. Below is a review of Jabra Evolve 75 UC.
Design And Feature
Jabra Evolve 75 UC is a wireless headset that is available in black color. This headphone has a stereo and over-the-ear design. It is suitable for outdoor/indoor use. Moreover, this headset is branded on the outer surface of the earcup with the company's name. Furthermore, this headphone has a smooth finish which makes it attractive. The name is branded inside a circle. Additionally, the earcups have a circular shape and are big to fit in any ear.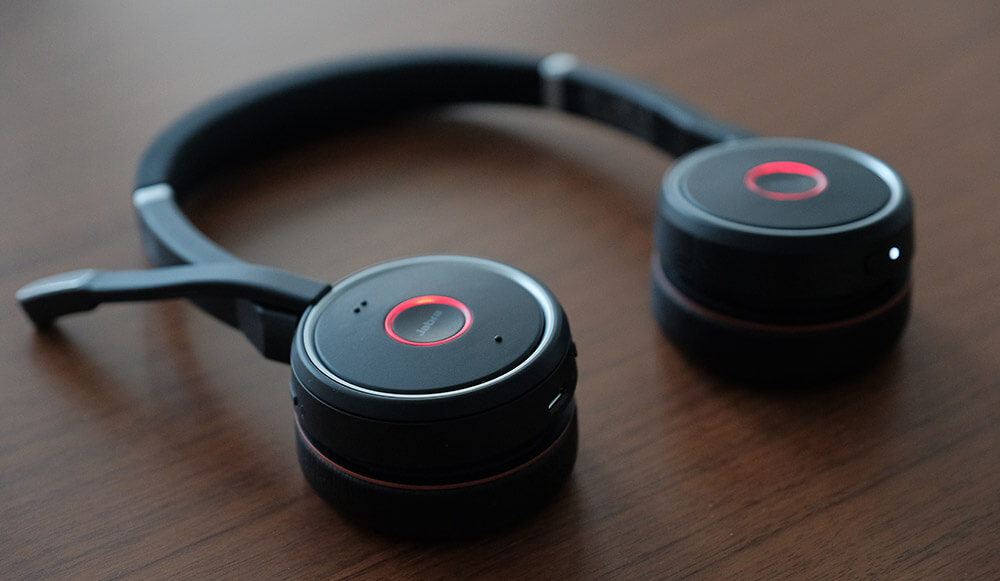 The right earcup has a rotatable boom microphone. This microphone can be directed near the mouth to pick up voices. When it's not in use, it can be rotated to face the upside to decrease distraction. Additionally, right ear cups have control physical buttons and a charging port. Moreover, the left earcup comes with an ANC control button. This headset has different lighting to show the status of a particular function. 
Sound Performance
Jabra Evolve 75 UC is made to offer the best quality sound. Moreover, it's made to offer world-class performance. It's fitted with an HD voice which is combined with world-class speakers. This will enable this wireless headphone to offer outstanding sound performance. Furthermore, with these headphones, you'll have crystal-clear audio for your music and calls. Thus, you will concentrate on whatever you will be listening to.
Moreover, this headset is operating well with all leading Unified-Communication platforms. Additionally, it's improved for Cisco, Skype for Business, and more. This makes it best when making calls or video conferencing.
Noise Canceling Feature
Jabra Evolve 75 UC features an active noise-canceling feature microphone. When in a noisy surroundings, switch on the noise canceling feature to improve concentration. Additionally, this feature will help you in countering ambient noise & reduce low-frequency sounds. This includes sounds like the whirr of air conditioning.
Moreover, this headset will offer you comfortable and tight-fitting. Thus, some noise from the surrounding environment will be blocked (passive noise cancelation).
Battery Performance
Jabra Evolve 75 UC has a rechargeable in-built battery. This is an all-day battery. You will have a talk time of about 18hrs with a single charge. Furthermore, you will have 17hrs of continuous music listening. When this headset is on standby mode, it's able to stay for about 15. Thus, this headset is capable of keeping up with any busy day.
Additionally, this headset is recharged using a USB cord which is included in the package. This will allow you to use the headset as its charges. Moreover, this headset takes about 2 hours to recharge.
Connection Technology
Jabra Evolve 75 UC is a wireless headset thus it's connected using Bluetooth connections. Its Bluetooth offers superior connections. Moreover, with this device, you will have movement freedom within a range of 100 feet. This headset allows two headsets to be connected at the same time. Additionally, this headset comes with a Jabra-link 370 USB adapter. This helps in improving wireless connections.
Comfort
Jabra Evolve 75 UC comes with padded ear cups. Moreover, it's also coated with soft leather which is friendly to your skin. Additionally, the headband of this headset is adjustable. Thus it will offer a comfortable fit for different head sizes. The headband is also padded to offer a comfortable resting on the head. This headset also comes with a rotatable microphone to offer proper positioning.
Buttons are positioned to allow easy access. A carry case is added to the package. This makes it easy to carry around and store. It also keeps it away from dust which can cause damage. Furthermore, this headset comes with an inbuilt busy light. This acts as a do-not-disturb signal thus, interruptions are reduced.
Ease of use
This headset is simple to use. It comes with physical buttons that are labeled. Moreover, it needs no complicated settings/configuration when connecting to devices. A user guide is included in case of any difficulty.
Pros
Offers crystal-clear sound, the best performance in calls and music
Allows dual Bluetooth connections
Operates with all major Unified-Communication platforms
Offers all-day comfort
Has an integrated busy light & ANC feature
Cons
It's expensive
Has a poor ANC feature
Verdict
Jabra Evolve 75 UC headphones is a wireless headset that offers movement within 100ft. Moreover, with an in-built busy light, you will have minimal disturbance from colleagues. Additionally, this headset will offer you a talk time of 18 hours. That's why it is the best office performance headphone. Furthermore, it comes with a Jabra Link 370-USB adapter which enhances wireless connections. Above all, this headset is compatible with all major Unified-Communication platforms. It's also improved for use with Cisco, Skype for Business, and more.