Microsoft's Pornographic Virus Alert is another fake security alert that is trying to get people involved in a tech support scam. Use social engineering to prevent victims from asking for advice. The advice would reveal just how dishonest and fake this Microsoft Virus Alert is.
Pornographic Virus Alert by Microsoft – How to remove
Technical support scams such as Microsoft's Pornographic Virus Alert are dangerous in many ways: they cost money, time, and stress, and could even cause private information to be stolen by scammers and scammers behind this fake alarm. Being directed to the site that displays this warning may indicate that some malware is infecting your computer, but Microsoft's Pornographic Virus Alert has nothing valid to say about it; it's just a scam that could almost be considered a virus.
Don't be alarmed by it – it can be safely ignored. Even if there is a virus that infects your device, your computer will certainly not be blocked – a real and competent antivirus program would be able to remove almost all viruses. It would do so without using frightening and dishonest language and would not try to take control of your computer the way Microsoft tries Pornographic Virus Alert.
Notice Details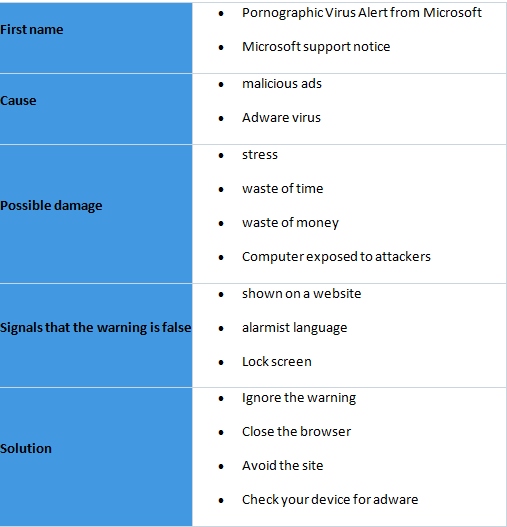 Pornographic Virus Alert From Microsoft appears on a website similar to a Microsoft page, including the Microsoft logo and menu. Microsoft is not affiliated with the page (in fact, they helped arrest some scammers ), for example, the URL does not belong to them, but their name is used to give the notice some legitimacy.
Microsoft's Pornographic Virus Alert warns people to "do not close this window or restart the computer without calling for assistance". It plays an audio recording of a computer-generated voice that reads the same text displayed in the alert.
We have locked this computer for your security
You have been browsing unsafe pornographic websites.
Your computer has been infected.
Contact the Microsoft helpline to reactive your computer.
Failure to call will result in a notice being sent to your residence.
Microsoft's Pornographic Virus Alert also provides a phone number (888) 732-1022 for contacting scammers. This alarmist message really tries to stress people and force them to call the "helpline".
Pornographic Virus Alert From Microsoft is similar to other fake alerts, such as "Virus Support Alert", "Windows Support Alert", and "Critical alert from Microsoft". They have similarly constructed pages and the same way of working. And Microsoft's Pornographic Alert Virus appears to have been around for weeks. Unfortunately, if this scam continues to be promoted, it must mean that this "business" is quite profitable. In fact, according to this Microsoft report, people continue to lose money on tech support scams – even people who believe they are skilled with a computer. We are all vulnerable.
False Warning Full of lies
Microsoft's Pornographic Virus Alert has no truth: it's just trying to scare people. Try to make people reckless and careless. The warning might sound authentic, but it certainly isn't. The type of language used in Microsoft's Virus Alert text can show you how fake it is.
First, the Microsoft Virus Alert is unable to know if there are viruses on the computer or the type of website from which the viruses originate.
"The pornographic virus" is not a thing. It's just a term that's built to be scary and to make people too shy to ask for advice on this notification. "Virus" is a generic term for various dangerous malware, but "pornographic" creates a sense of lack of privacy – it might make you hesitate to talk to others about Microsoft's Pornographic Virus Alert, as we don't often discuss explicit topics with strangers. Many pornographic sites contain poor-quality advertisements, so it is credible that some viruses may have come from one of them. But a real antivirus program wouldn't know or care about it.
Microsoft's Pornographic Virus Alert claims that the computer is "locked", but Microsoft does not lock or disable computers when their antivirus tools detect malware. Windows never displays phone numbers in its alerts, and the operating system does not automatically turn off even if a serious virus has infected your computer.
Microsoft doesn't send notices to people's homes, certainly not to get infected with a virus. Microsoft may offer support, but will not ask you to accept it.
How Microsoft's Virus Alert Spreads?
Fake websites created for pages like Microsoft's Pornographic Virus Alert. They are easy to create and no special tools are required. The most complicated part is to promote these sites online.
Malicious ads used for this. By clicking on a dishonest ad you could immediately link to one of these scam websites. Ads like this unlikely to be shown by good quality ad networks. But they may appear on shady sites whose owners are not selective about where the ad revenue comes from.
Adware is another way of promoting pornography virus warning from Microsoft. Adware is a program that displays ads to the person who installed them to make money. Advertisements are often excessive and even dangerous. The more aggressive adware can do things like open new browser windows and tabs by itself, as well as display pop-ups that promote malicious sites and applications.
How to remove Pornographic Virus Alert from Microsoft?
Since the Pornographic Alert virus from Microsoft is fake, there may be no virus and nothing to be removed. If your browser does not cooperate when the Virus Alert is displayed by Microsoft, you can use the guide on how to exit malicious processes to close it, the warning can be safely ignored. But it is important to understand how you found this site in the first place. So that you can prevent it from happening again.
If you found it by clicking on malicious ads, the websites you visit probably don't care about the safety of their visitors. Sites like this make it impossible to avoid clicking on certain ads. And on the other side, there could be something more serious than a false warning: phishing sites, automatic file downloads, miners … If you are using a site that displays malicious advertisements, consider switching to another.
If the problem is an adware that leads to Microsoft's Pornographic Virus Alert, remove it. If the user is not sure, you can use Pc Matic, Combo-Cleaner, or another professional antivirus program to find out. Some viruses cripple your installed antivirus program but make it seem like it is still working, which may indicate a serious virus, so trying a new antivirus program may give results.
But what if you've already contacted the scammers behind Microsoft's Pornographic Virus Alert and followed some of their instructions? If you gave away your password, change it. If you gave away your credit card details, check the unauthorized charges and check with your bank, to tell them what happened. By Chance, the scammers installed software, uninstall them and scan everything with an antivirus.