If you are also facing an issue like Discord won't open or Discord's not opening or Discord's not working properly then you are not alone many people face these types of issues then don't get stuck with that problem.
For people who use this app for daily conversation or communication, the problem can be very irritating and frustrating for them. If you have tried to solve that issue and you couldn't then don't think of uninstalling the app because there is nothing impossible and unfixable. Every problem has a solution and we have the solution to your problem.
Although this article is here to resolve your issues related to discord won't open and gain some knowledge of how to fix this issue.
What is discord? It is safe or not?
Discord is an app used for communication through voice, text, and, video calls. It's an awesome app to talk to your friends while playing games and live streaming. It is the easiest way to connect and hang out with your friends and have fun with them It is a popular app between gamers and game developers and many other platforms. It's a free communication app fitted in your privacy.
Is discord safe or trusted? Discord can be used easily and safely with the right privacy of setting and monitoring. However, there is always a risk when it comes to sites and open chat so always chat with the people you know, not strangers. You might run into harmful or dangerous content like all the other social media apps so this server's moderation team will combat the issue and immediately delete the harmful content. It can be trusted
Why is discord not opening on windows 10?
There can be many reasons why discord is not opening on Windows 10 or discord is stuck on your screen. Not all the causes are known. Here are some of the reasons why discord not opening.
Discord can be blocked by other programs- some other applications can block discord for not working properly. The best example of this can be antivirus also known as anti-malware.
If any game is running on your device- discord has features that you can sync with games running on your device. The in-game overlay can stop you from opening discord while the game is already running on your device it may cause arguments for game players.
If any file is missing or corrupt– if Discord's file is missing, corrupt, or damaged then it won't open. For opening Discord again its files need to be restored.
Issues related to windows– some common errors can also interfere with discord like no free space on your hardware, a fully loaded CPU, or a poor internet connection.
Discord won't open: Here are some ways to fix it.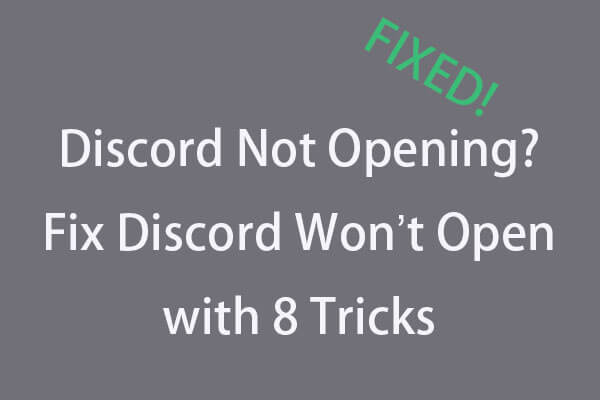 Trick 1: Erase the app data and local app data to fix discord not opening.
First of all press Window + R keys to open the run utility.
Then type in "%appdata%" and click on the ok button. This will directly take you to the app data folder in file explorer.
Find the discord folder right click on it and choose the option delete.
Start your computer again and see if you can open discord or not.
If you still aren't able to fix the issue of discord by this procedure then try the next one.
Trick 2: Run an SFC scan
If you have any corrupted or damaged system files an SFC scan will repair them and replace them with the correct version of that file.
Follow these steps to perform this procedure.
Press the window +r key to open the run box.
Then press Ctrl + Shift + Enter after typing cmd to open it with administrator rights.
Then enter this command sfc/scannow.
Restart your PC.
Trick 4: close Discord in task manager and restart it.
First of all open task manager in on window 10 then press shortcut keys ctrl + Shift + Esc to quickly open it.
Tap the process tab, find the discord application and click it then click the end task button.
Then start discord again and see it's working well.
Trick 5: Set the correct Date and Time
Sometimes some apps won't run if the date and time are not correct. So fix the date and time correctly.
Go to the start menu and open the setting.
Then select time and language.
In the date and time section. Click on the toggle button to set the time automatically to turn it on.
Trick 6: Disable the link blockers from your web browser
Link blockers stop apps from opening when you click on a link. To disable it follow these steps.
First, you have to open chrome and click on the three dots icon on the top right corner.
Then click on setting.
On the left panel, select extension.
Toggle off the button for Adblock and other link blockers or click on the remove button.
Trick 7: reinstall discord
If nothing is working to fix discord try reinstalling it by these steps-
Open the start menu and go to setting.
Click on apps and features.
Then, click on the 3 dot icon next to the discord
click to uninstall.
Now press the window + r key to the run box.
Type in "%appdata%" and press enter.
Go to roaming and select discord.
Right-click on it and delete it.
Open the run box by pressing the window + r keys.
Then type in %localAppData% and enter.
Select the discord folder and delete it.
Restart your PC.
Download the discord from its official website.
Run Discordsetup.exe to install discord again.
Wrap up
We hope that our article was able to fix your discord won't open error. In the future, if you ever get into this trouble again make sure to visit our article again and follow the steps as it is.