Cloud migration strategies are a most basic plan that an organisation uses to move its existing on-premises and/or co-located workloads of applications and the associated data into the cloud. The majority of plans incorporate the use of a public cloud strategy with the goal being Amazon Web Services (AWS), Google Cloud Platform (GCP), Microsoft Azure, or any other cloud service provider. Although the majority of workloads gain from cloud migration however, not all workloads can benefit from the process.
A successful cloud migration strategy should include prioritising workstations for migration and determining the right plan of migration for each workload, creating the pilot, testing and revising the strategy in response to the results of the test. An cloud migration plan document needs to be prepared to help teams navigate the process and help with the rollback process if required.
The fact that the platforms used to source and deliver are built on the same foundation. And utilize the same types of tools for migration. That are appropriate for the job will have a major impact on the cost and effort of the migration.
The final goal is seamless migration of applications running on premises to the cloud-based infrastructure. That you want without affecting the availability of the application or day-to-day operation.
Advantages to Cloud Migration
There are a variety of advantages for companies when they decide to make the switch to cloud.
If they choose a cloud-based service companies can provide better performance while remaining up to date with the latest technology.
The four benefits that businesses reap from cloud migration are: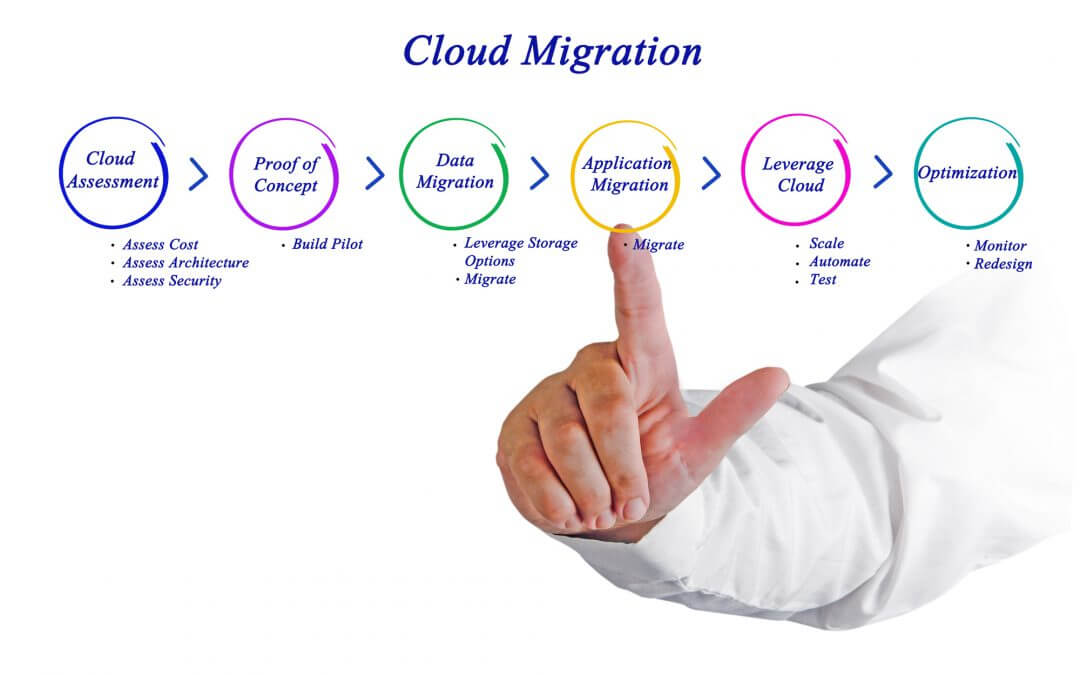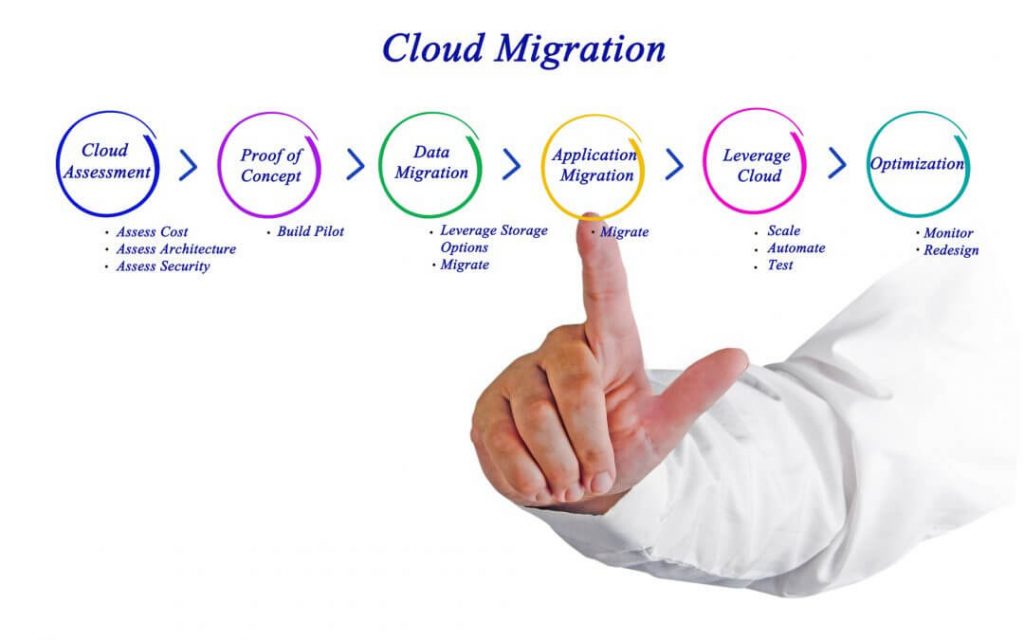 Scalability
The cloud platform migration allows companies to expand its IT needs up or down according to the current needs. It isn't easy to keep up with changing customer needs if they are tied to a traditional (outdated and still being used) infrastructure.
Cloud computing allows companies to dramatically change their processes and infrastructure to meet the demands of today without having to rely on decreasing equipment. The capability to quickly scale the workload of a business allows it to adjust its allocation of resources efficiently.
By implementing this additional level of control an organization can cut out the costs associated with operating large data centers, or keeping a solution that is universally applicable. By transferring to cloud, businesses can expand dramatically without affecting the performance of their customers or changing their experience.
Cost
Companies that choose cloud services are able to significantly cut expenses for operations and avoid unnecessary overhead. Cloud services will not be restricted to leasing equipment or costly physical locations. Which means that they can put these resources more efficiently like product development.
Also, savings will be made in the IT department. Since the department won't be charged with maintaining and updating the cloud platform. The responsibility falls to the responsibility of the cloud service provider.
Moving to cloud computing can make it easier for the IT department. Which will allow them to concentrate on other important tasks like data governance or the infrastructure of networks.
Security
If properly maintained under the shared security responsibility model, moving to the cloud may lessen security vulnerabilities in traditional networks.
Although a company's in-house, or contract IT security staff will need to ensure that their cloud is safe from vulnerabilities as it transfers applications, data, containers and other workloads onto the cloud. However, the service provider will also be able to secure its portion in the cloud.
With tech giants like Amazon serving as the service provider for cloud services. Businesses can rest assured they are working in cloud's interests to ensure that security is completely secure. Cloud providers of all sizes offer various security options and tools to help internal teams track vital analytics.
These added to the security protocols and practices that cloud providers provide. Automated upgrades, region isolation and security-related definitions often examined and tested against most current security threats.
Flexibility
By transferring to cloud users are able to use the required services regardless of their geographic location or device of choice. This gives users previously unobtainable opportunities for businesses. Which allows them to expand into new regions and source talent across the globe and grow in line with business demands.
Without the need for physical infrastructure applications can be far more flexible and deliver business value more quickly than ever before.
Disaster Recovery
Businesses can benefit from the fact that their software and files are on cloud. Operations will not be shut down in the event of an incident of catastrophic nature occurs to their equipment. Employees will not lose their work hours because of inclement weather and crucial company data is accessible safely and safely from remote areas.
It is expensive and time-consuming monitoring the status of applications for business on location. Most cloud providers provide notifications when something is not working. So its staff can fix issues quickly and without any delay.
The job of disaster recovery has also been simplified due to the many service providers that offer the ability to backup and log. When these protocols integrated into the standard operating procedures. Problems can identified quickly and addressed without having to be present on site.
If you implement well-thought out and solid methods for cloud migration, organizations are able to benefit from cost-effective solutions, scalable options and secure environments, the ability to operate with greater flexibility, and access to greater features.
The 6 R's Of Cloud Migration Strategies
These definitions also commonly called the six R's.
Rehost
Replatform
Repurchase
Refactor
Retain
Retire
Each cloud migration is likely to be different and these strategies are not absolute and are not mutually exclusive. They can be utilized as a guideline and discussion starters during an event on cloud transformation, or brainstorming session.
A cloud migration plan could easily incorporate elements of any or all of these strategies in various levels:
Rehost:
Often referred to as shift and lift, the process lifts servers or apps from the hosting environment and then shifts their hosting to an infrastructure within the cloud. Rehosting and transfer and shift is a standard method for companies that are just beginning their journey towards migration. There are numerous benefits to hosting servers on the pay-as you-go cloud infrastructure that is scalable. Which makes it a low-cost migration strategy.
This is an excellent method of working backwards from the constraints of a fixed or time-bound deadline. In the real world, the application or server exported by a third party exporter like VMware vCenter. Or as an image that exported to the compute instance or container running by a cloud computing service.
Applications that use containers make the easy because the operating system isn't a part of the schema for containers. If you're running our monolithic app, rehosting may an easy way to get started with cloud-based services.
Replatforming
It alters the lift and shift. Replatforming improves the application at the time of the transition stage.
Repurchase
This sometimes described as a drop end shop. It refers to an organization's choice to change to a different service. Which may mean end of current licensing and re-purposing services using a new product or. Examples of this are CRM software or an industry-specific application that not built to run in cloud-based infrastructures.
It's not always necessary when using modern programming languages. Since it's possible to move the application's code from one vendor to another. Repurchase strategies are typically employed when using an exclusive data-based platform or product that is proprietary.
Refactoring or re-designing
It's usually motivated by a desire to improve the quality of services. The reason could be due to the difficulty to enhance the current system or perhaps. It is need to increase availability and reliability quickly in order to meet certain security or compliance requirement. Refactoring can be a complex process, and it all depends on the nature of the service you are looking to change.
If the service is not mission-critical It may be possible to redesign the service at the time of the transition phase. Refactoring is feasible in the initial phase of the process. When you don't have a time limit and, if not, it's best to do it at a later time.
Retain
When you are undergoing a cloud migration it is possible to keep a portion from your IT portfolio. There are certain applications that don't have the capacity to move to cloud computing and are more at ease with them being in your premises. In this case it is sensible to maintain some that comprise your IT services within its current configuration and apply an hybrid or partial migration strategy.
It is also logical in the event that current regulations or constitutional regulations oblige you to store or manage certain elements of your service or business application on premises or in specific areas.
Services for retiring
It is about finding resources and services that can be shut off. So that the company can concentrate on the services. That are commonly utilised and offer immediate business value.