Financing is one of the popular options leveraged by car buyers to ensure timely payments of their car purchases.
It's a handy option for Canadians who need more savings to pay the entire amount simultaneously. Drivers can pay the amount in small installments over a fixed period with car financing.
Do you know the answer to the question, "how does financing a car work?".
If not, continue reading to learn about it in detail.
After figuring out your financing options, you can contact the talented team of advisors at Surex to find and compare affordable car insurance quotes in Toronto.
How does financing a car work?
Before applying for car financing, first, select the model suiting your preference. This can depend on various parameters, such as your budget and car features.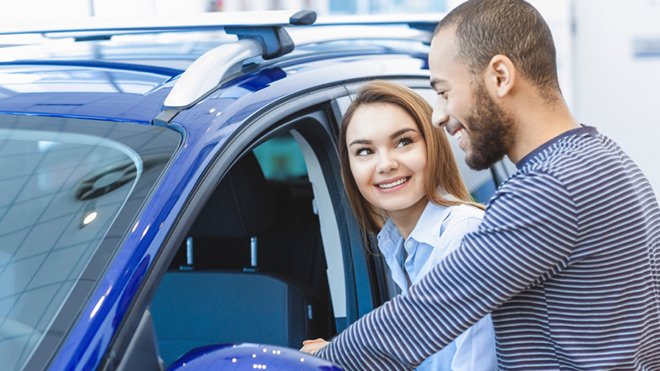 Once you have selected the vehicle, fill out the car loan application form. You can sign up for car financing with the car dealer or connect with an auto financing company online or a bank for a car loan. 
Now let's dive deeper into the question, "how does financing a car work?".
Eligibility requirements for car financing
For car financing, you'll have to arrange a copy of income tax assessments, income proof such as a pay stub, and a Canadian driving license. Other documents may be required as stated by the loan provider. Besides, the borrower must meet the following eligibility criteria before applying for an auto loan –
Must be a Canadian resident
Must have a driving license legally valid in Canada
The applicant must have attained the age of majority (per the laws of their residential area).
Should meet the minimum income requirement
A credit score of 700 or higher
The process to apply for a car loan
Get started with finding potential car loan options. You need to compare the terms offered by various financing institutions. Once you have chosen a lender, return to the dealer and present the potential financing options. Review the auto loan offers carefully by comparing the repayment terms, interest rates, fees, and loan duration. Find the best loan option fitting your needs.
Next, sign the car finance agreement. Ensure the agreement mentions the interest and the principal amount you owe on your purchase. Once all the formalities are completed, take your car's possession. However, note that you would not have ownership of the car immediately. The car's ownership is fully transferred to the buyer once they repay the loan. In case of default payments, the vehicle's possession is transferred to the lender.
Note – It's advised to get pre-approval for vehicle finance by the lender before proceeding with the formalities of the purchase. The loan provider must confirm your info and conduct a credit check to ensure you can afford car loan payments. A pre-approval saves you from interest rate fluctuation and also saves time.
For example, the interest rate was 7% when you got pre-approved. However, during the 10-15 days until final disbursement, the interest rose to 7.25%. In this case, you would be able to secure the loan at 7% only. However, in case of no pre-approval, a higher interest rate would be applicable. Moreover, it exhibits a strong credit standing to your dealer.
Duration of car financing in Canada
The duration or term of the car loan is an important consideration to keep in mind when looking for car financing in Canada. Car loan terms in Canada could be anywhere between 36 to 72 months. Generally, the maximum tenure is 84 months.
A shorter loan term leads to high monthly payments and helps save money on interest in the long run. On the other hand, a longer term means low monthly payments, but you'll end up paying more interest which means a high cost for the car.
Where can you apply for a vehicle loan in Canada?
Now that you know, "how car financing work?", the next important thing to learn is where to apply for a loan. There are three main options to get car finance in Canada – 
Car dealer
Generally, car dealers arrange finance for their customers through their partner banks. You'll get a better deal on signing up for the loan with the dealer instead of applying directly to the bank. However, you must compare the terms with an independent lender too. This will provide you with a better-negotiating edge.
Through a financial institution/bank
Car financing from banks might bear higher interest rates than a dealership. However, you may get discounts on fees and better interest rates depending on your eligibility. People with bad credit scores might find it difficult to finance a loan or shell out higher interest costs.
Online lender
Finding an auto loan online is an option for individuals who can neither get finance from the dealer nor from a bank, possibly due to a poor credit score. The downside of taking a loan from online lenders is that their offers include high-interest rates.
Car lease vs. car loan – which option is better?
A car lease is an ideal option for people who aren't interested in buying a vehicle but want a personal vehicle at their disposal. On the other hand, a car loan is a perfect option for people who need more funds to purchase a car outright but are looking forward to buying it.
Car leasing is similar to renting for a certain period. The borrower doesn't become the vehicle owner at the end of the deal but can drive it until the lease period is over. The lease amount is paid monthly in addition to the maintenance costs (as mentioned in the lease agreement).
How does financing a car work in Canada? — Endnote
Congratulations!
You now know the answer to the question, "how does car financing work in Canada?".
You can find the best car financing deal with dealers working in partnership with well-recognized Canadian banks. It will save you from the hassles of getting approval while giving you access to the best interest rates. You may also leverage the advantage of promotional rates (if you qualify for them) at the dealership.
Irrespective of the finance options you choose, go through the terms and conditions of the agreement before signing up for the deal.