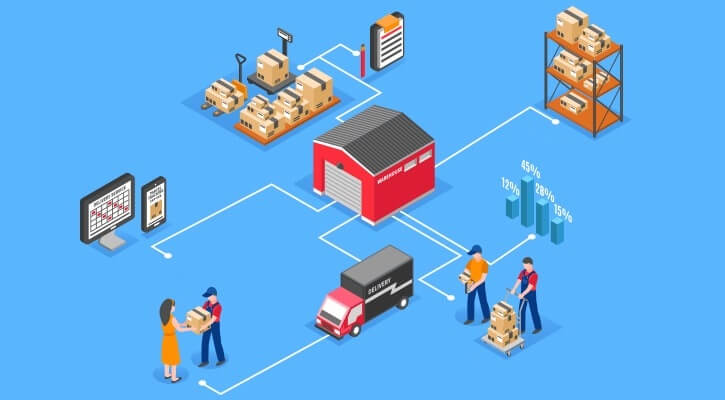 How 3PL's Handle Order Fulfillment?
What is 3PL? 3PL stands for third-party logistics, which is often used interchangeably with order fulfillment. A 3PL fulfillment agency often adopts an integrated strategy for managing consumer transportation and the supply chain to the end retailer. This third-party logistics technology makes it easy to save everyone's money, time and mistakes.
Order fulfillment refers to the entire process that begins with a transaction and ends with shipment to your customer. The order fulfillment of the client depends on 3PL to achieve the necessary steps for online business, including receiving, picking, packing, and selection.
Online businesses need a solid retail order fulfillment plan to remain competitive and maintain consumer satisfaction. Therefore, here you will discover how 3PL manages order fulfillment.
Receiving
If your 3PL doesn't have your inventory, they will not ship orders. Therefore, receiving inventory from 3PL is one of the most crucial warehouse tasks for your online business to complete before order fulfillment can begin. Receiving is the process of accurately monitoring, tagging and recording all incoming inventory as it is received.
Each 3PL uses its methods for receiving and keeping goods, often including the merchant's submission of documents. It keeps everything organized and scheduled to send the fulfillment of your order quickly. 3PL after receiving your inventory, the product is placed in specific warehouse areas, such as racks, pallets or boxes.
Picking
Warehouse picking is the first step in the order fulfillment process. A picking crew begins to collect the order when your 3PL order fulfillment system receives an order. A picker receives a packing slip containing the items' details such as location, weight, quantities, etc., to quickly pick the requested product from different places. Once the items have been picked from their locations, they are shipped to their designated warehouse.
Packing
Once a picker picks up all the items to complete the order fulfillment, it's essential to pack the order securely.
Packing materials are charged by certain 3PLs, while others add them as their order fulfillment services. Your 3PL selects packaging materials to protect your items, resulting in the most negligible possible dimensional weight. These packaging materials can be wrapping papers, packing tapes, boxes, poly bags, and others.
Shipping
Once your order is packed, it is ready to ship.
Most 3PLs buy shipping labels from merchant shipping carriers. Some order fulfillment companies work with selected carriers, while others compare shipping costs with several carriers and select the desired company. It later ensures that the cost of each shipping option is as affordable as possible.
One of the significant benefits of outsourcing order fulfillment is that large carriers pick up orders and ship them directly from 3PL fulfillment hubs. As a result, you will get order fulfillment tracking information after your item has been shipped. It depends on the 3PL's technology to share this information with clients automatically or manually.
3PLs, unlike on-demand warehousing companies, specialize in fulfillment, not merely extra storage. The above points help you clarify how 3PL handle order fulfillment. No doubt, this technique may differ from one 3PL to the next.