A diverse, equitable, and vibrant workforce is the foundation of employer brand and workplace productivity. Despite its benefits, there still seems to be a gap in implementation – especially among the small and medium ones. Studies reveal that although organizations spend around $8 billion per year on diversity, equity, and inclusion (DEI) training, 68% of business leaders still feel their organizations lack diversity.
63% of the leaders surveyed in a 2020 Hired report saw men getting higher pay than women with similar job titles and companies. This further stresses the need for DEI in the workplace.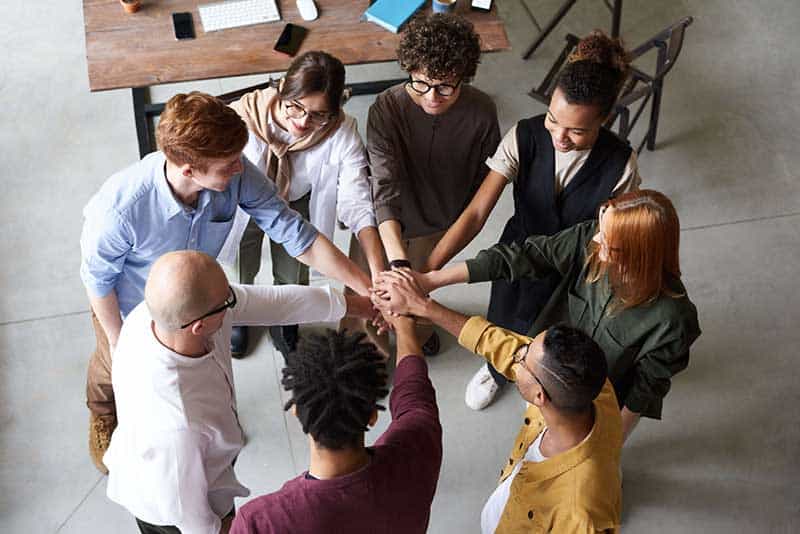 In this article, we will outline the benefits of adopting DEI hiring and employment practices, plus how major global companies are striving to fulfill their missions. We'll also highlight how AI sourcing tools and other software powered by smart technologies can help you meet your DEI goals within your bandwidth and budget.
But before we dive right in, let's first clearly understand the meaning of each term behind DEI and their relation with each other.
What is DEI in the workplace?
First off, DEI stands for diversity, equity, and inclusion. It is a framework that promotes the complete participation and ethical treatment of all individuals, including those who have historically been subjected to discrimination or underrepresentation for factors like their ethnicity, gender, veteran status, etc.
Why is DEI important in the workplace?
DEI in the workplace is essential for several reasons. Equitable and diverse organizations enable the creation of inclusive work cultures where employees can respect each other's needs and share their unique ideas and perspectives. This translates to groups achieving their complete potential at work without any barriers.
Workplaces that are diverse and inclusive mostly witness higher innovation, productivity, and financial returns, surpassing their rivals and enhancing employees' experiences simultaneously. Equal work opportunities and elimination of discrimination mean a happier and more motivated workforce that generates better products/services.
How are tech giants advancing DEI in their workplace?
From their experience handling employees from different backgrounds and cultures. The HR teams at global tech giants understand the advantages of DEI practices in the workplace very well. So, several technology majors are already implementing DEI in the workplace starting at the recruitment stage. Let's look at some of the major ones below:
Microsoft
CEO Satya Nadella has voiced his support for Black Lives Matter. The company has a five-year blueprint for tackling injustice (racial) and inequality for the African-American and Black communities while serving the needs of other groups which are underrepresented, including the Latin and Hispanic communities.
The company plan to invest $150 million in D&I while doubling black managers, senior leaders, and individual contributors by 2025. It will also be creating newer opportunities for suppliers, partners, and communities. While also using data and tech to enhance the lives of black citizens countrywide. It also invested in minority owner firms through partnerships while launching an Enabler Program sometime earlier.
Google
Google openly supports the black community and is taking steps to combat racism. It will enhance representation by 30% for underrepresented groups by the year 2025. Sundar Pichai has built a task force for identifying hiring, promotion, and retention challenges at all levels for these groups. While focusing on improving processes for diverse employees and candidates.
The company also aims to find and fix corporate policies with implicit bias. BIPOC workers will get more physical and mental health support too.
Facebook
The tech giant's CEO, Mark Zuckerberg, too, has supported the BLM movement while committing to reviewing site policies for violence, suppression of voters, and hate speech.
Facebook has committed $1 billion for spending on companies certified as disabled, LGBTQ, veteran, women, or minority-owned. As its diverse suppliers, with another $100 million for black-owned businesses.
Apple
The company has 53% of new recruits from historically underrepresented tech groups. These include women and employees identifying as black, Native American, Hispanic, and other Pacific Islander categories. The representation figure for underrepresented minorities went up to 31% in 2018 from 21% in 2014. Apple also has Diversity Network Associations that help accelerate their efforts for DEI hiring at various stages.
Amazon
Amazon ranks on the Corporate Equality Index of the Human Rights Campaign, with NAACP Equity, Inclusion, and Empowerment Index recognition. CEO Jeff Bezos has supported the BLM movement as well.
The company has twelve affinity groups for employees: key resource groups like the Black Employee Network, Asians@Amazon, Amazon Women in Engineering, Indigenous@Amazon, Latinos@Amazon, and more.
The brand also offers access to AWS learning modules and credits for underrepresented communities in the tech world.
How to implement DEI into your hiring process?
Interested in benefiting from a more diverse workforce? Here are some steps and resources you can explore and apply in your organization.
Write inclusive job descriptions and advertisements that welcome diverse candidates.
Highlight your commitment to DEI on your company site and job portal.
Offer reasonable accommodations for differently-abled job candidates, such as the neurodivergent.
Choose an AI recruiting solution such as Arya (link to Arya Quantum page) that has features built-in to reduce bias and target more diverse talent.
Train recruiters and managers to deal with candidates from diverse backgrounds, especially those who come under the neurodiverse category.
Takeaways
Tech giants are blazing the trail for others who are willing to become more inclusive but have been skeptical of its positive outcome given the resources required. While a human touch is a must in human resources tasks, AI sourcing tools can discover hidden diverse talent and mitigate recruiter bias. This will naturally build a pipeline of more diverse candidates, human bias, and surfacing more diverse talent.