Nowadays people are suffering from financial issues a lot. Many are losing their job and having a very hard time managing their expenses. No wonder how the situation will be, you need to pay your bills first. You need to manage your business and make payments for the employees. Along with that, you have short-term requirements for funds in your business. But don't get panicked as we are going to know how a gold loan can help you in this situation.
Gold is much easier to get Immediate cash in your hands and a very quick solution for your problems too as it doesn't take much time. I know in your mind you have many questions related to this and also you have heard myths around this topic too.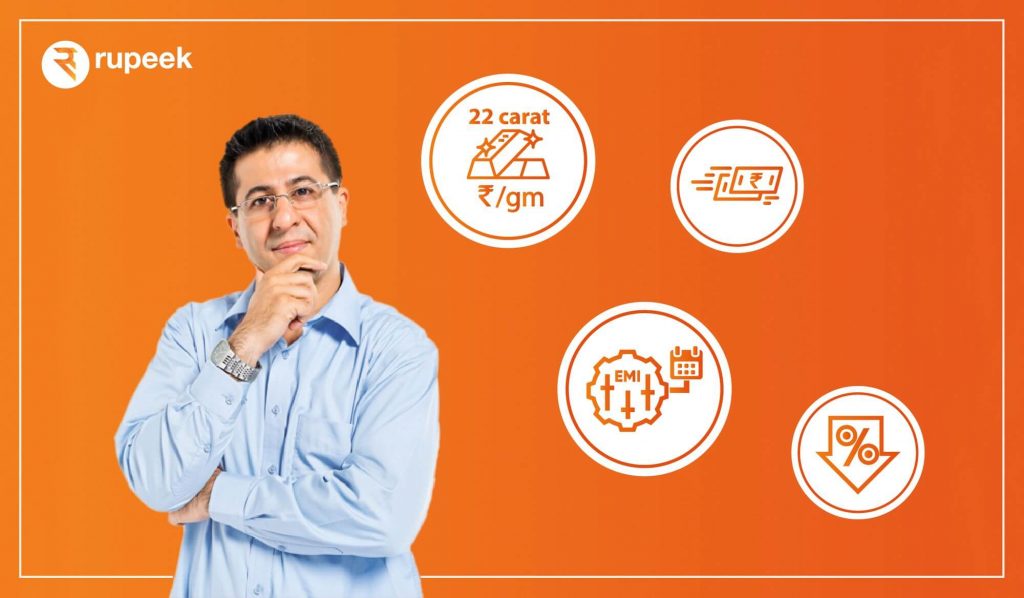 So, step by step we will know how all processes work when it comes to getting a gold loan.
What is a gold loan?
Firstly, you need to know what a gold loan is. In this, you get a loan against your gold ornaments or gold utensils or gold coins. Indian households can relate to this very well as many have an emergency gold reserve for situations like we all are facing today. There's no doubt how gold has been in demand for years and its value is increasing day by day(Know today's rate of the gold loan per gram).
However, the process of getting a loan against your gold is a very quick and simple solution with some paperwork. It also gives you many ways for repayments so that you don't need to worry much and can choose an easier way for making payments. 
Document Requirements
Secondly, you need to complete these few requirements for your identity proof. So let's see the requirements.
Your Id proof like Aadhar card, voter card, pan card. You can get the details from the website of the bank or the company.
If your Id proof doesn't have your address then you need to give them an electric bill or water bill.
2 photos of yours.
A receipt or a declaration form of the gold ornaments so that they can know that you are the real owner.
There's no need for a source of income documents.
There is no need for CIBIL (credit information bureau limited) score documents.
Loan Methods and Approval Process
Thirdly, you need to know the methods and the process of approval.
You can go to any branch of a finance company or the bank but I would suggest you go to the main branch of your place.
They provide you to apply for it online also. You just need to go to the website of a bank or company.
You can also apply through your mobile app or SMS but for that, they should already have your gold.
To get approval, the gold should be 18-22 carat pure and then they will decide the value according to their schemes.
They will also check the net weight of gold.
Then you need to fill out the KYC (know your customers) form. This process is mandatory to protect the financial institution from any fraud.
They will decide the maximum value according to LTV (loan-to-value).
After approval, you will get the money in your savings account. In case you want a cheque, they will help you with that too.
Before we end this, some things should be noted. A lot of wrong information is going on around and therefore you need to be very cautious.You need to have the right information when it comes to gold and money. Many fraudulent manipulative people are around you and you need to be aware of them.
Therefore, you should go to a trusted financial institution to borrow. 
Conclusion
And in this case, I highly recommend you to give it a try in the Rupeek Gold Loan company with only four steps to apply. It has great schemes and easier ways to apply and have repayment rules. The company is known as one of the secured and trusted. The company gives you full safety of your gold. You can get a loan at a low rate of interest in comparison to any other company.
If you go to the other companies, there are high chances that you won't get an interest rate at your convenience. It also provides you with a gold loan interest rate calculator on the website. So that you can check the EMI and check the interest rate yourself.
It also gives doorstep facilities which are very good for older people who are not able to go outside nowadays in this pandemic. Rupeek gold loans are reliable. Try to check their schemes and services at least so you can make the best decision.