When it comes to camping, heading into the woods without a knife on your belt or in your pack is almost as bad as hiking in without any clothes. Knives are an invaluable tool for campers that can help accomplish any number of tasks from preparing firewood to preparing food. When shopping for a new knife, campers often wonder what factors go into finding the best camping knife?
In truth this question can be a hard one to answer. For some the best camping knife might just be a folding knife or multitool while others will place more value in the chopping blade of a machete. Most campers are going to find the best option is somewhere between these two extremes. Today we will be looking at a few common knife characteristics and helping you decide what to look for when you buy a camping knife.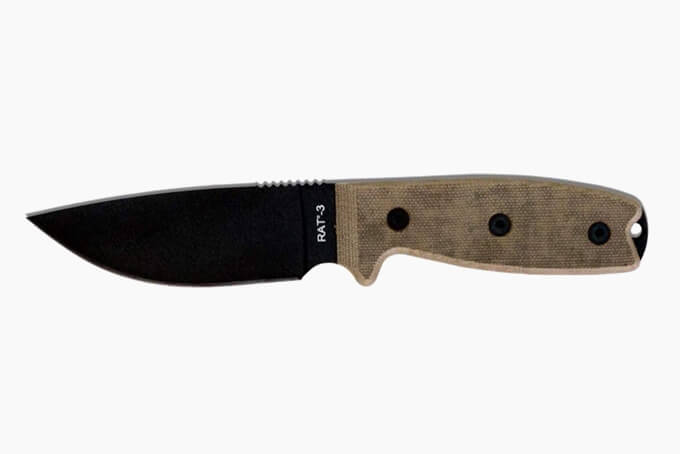 Blade Size
One of the most important factors to consider when purchasing a new camping knife is the size. Smaller blades are going to be easy to carry and useful for fine tasks, while large knives have an undeniable "cool factor" that appeals to many users. When it comes to finding an all around camping knife, options with a blade length between 3.5 and 6 inches should be at the top of your list. This size range will take care of most common outdoor tasks.
Blade Design
The next factor to consider is the design of the blade itself. Some knives, like those with clip point blades are great for some specific cutting tasks, but the tip often lacks the strength needed for a good bushcraft knife. Spear point and drop point knives are some of the most common options available because they have strong tips and can handle a wide range of tasks from basic camp chores to full on bushcraft and survival training.
Handle Material
Handle material is another topic that knife buyers often wonder about. The scales of your knife not only affect the look of the knife, but they are also the point through which the user interacts with the blade. Wood scales are an attractive option, but composite laminate scale materials like Micarta and G10 are more water resistant and stable than any natural material. These handle scales can also be manufactured in a wide range of colors and textures.
Sheath
Finally you have to consider the sheath of your knife. Sheaths not only protect your blade in transit, but they also protect you from the blade. Leather is definitely considered the classic sheath option though leather sheaths should be occasionally treated to protect them from drying out.
Nylon sheaths are a great alternative that offer the soft flexibility of a leather sheath without the maintenance, though they rarely can match the classic look of leather. Finally, there are kydex sheaths, hard sheaths that are made from molded and riveted thermoplastic. These sheaths can be a little louder, but offer incredible security.
Ultimately, the job of choosing the best camping knife is going to be up to the user. There is no model to recommend as a one size fits all option. The best advice when choosing a knife is to work with several different knives until you find the characteristics that matter to you.
That way you can make an informed decision when you go to make a final purchase. If you need any help finding your perfect knife, you can always reach out to the team at The Knife Connection. Their knife experts can help you find a great camping knife from their selection of thousands of quality knife models.
For extra details about Great Eastern Cutlery Knives and Esee Knives Please go to: The Knife Connection.