Your knife's handles are what is going to create the interface between your tool and your hands. There are plenty of different options when it comes to the materials to choose from. If you are considering adding custom knife handles to your knife. It's important to think about what you are looking for in your handles so you can find the perfect option. Today we will be looking at a few of the most popular Knife Handles materials to help you make a decision.
NATURAL Knife Handles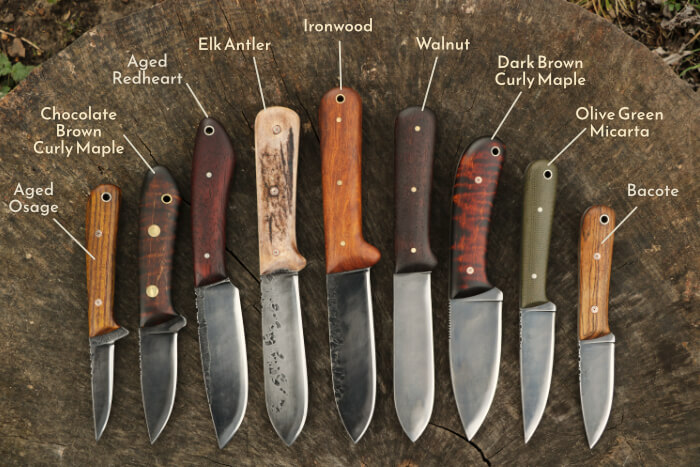 Wood – One of the most common handle materials is wood. Wooden handles are undeniably attractive with their natural patterns and varying colors. The biggest downside to these handles is the fact that, as a natural material. They can be susceptible to water damage and wear over time.
Metal – Another popular option are metal handles these handles often match the finish of the knife, making them an attractive option. They are strong and, when talking about stainless steel, corrosion resistant. However, they can also be heavy and clumsy and depending on the finish, a little slippery.
Bone – Bone, like wood, is one of the oldest handle making materials. Bone handles can have a striking appearance and they can even be dyed to give them a truly unique look. They feel good in the hand when properly finished. But they are porous and they can crack if moisture intrudes too far into the scales.
SYNTHETIC MATERIALS
Carbon Fiber – Carbon fiber is a woven material made up from small strands of carbon that are extremely strong. When set in resin, this material makes an attractive option for handle scales. Carbon fiber is stronger than steel, but it can also be quite brittle, making them susceptible to shattering. Carbon fiber handle scales tend to be one of the more expensive composite options.
Micarta – Micarta is a material that created by layering linen cloth soaked in resin. When cured under pressure, these layers form a sturdy lightweight handle material. Micarta hand scales are one of the most popular composite options. Micarta handles are extremely tough, but like all synthetic handles. They are more likely to crack compared to softer natural materials like wood and leather.
G10 – G10 is a synthetic handle material made using resin saturated sheets of fiberglass. This material is often as strong as carbon fiber composites but can still crack under heavy strain. Luckily, due to the wide availability of fiberglass. These handles can be manufactured at a fraction of the cost of carbon fiber. The grip of G10 handles added after or manufactured using different textures of fiberglass. The resulting handle scales are extremely durable and created in several attractive colors.
You can find custom knife handles precision machined from high quality G10 handle scale stock when you visit The Knife Connection. They produce custom replacement handle scales for a select list of knife models from Becker Knife & Tool, ESEE Knives, and The Ontario Knife Company. Their G10 knife handle scales are available in a number of colors. They machined using CNC technology to offer a precise fit on your knives.
Conclusion
If you need new custom knife handles for your ESEE, Ontario Knife Co., or Becker knives,. The Knife Connection has plenty of tough and attractive options for you to choose from. They also carry a wide variety of knife accessories and thousands of amazing knives from top knife manufacturers from both the US and abroad. If you have any questions about their handles or any of the other products they carry. You can always contact a member of The Knife Connection team.