Atisha Kapadia and Jamnadas Majethia's web series Happy Family Conditions Apply was one of the Most Anticipated web series of 2023. Ratna Pathak Shah, Raj Babbar, Atul Kulkarni, and Ayesha Jhulka have given star performances throughout the series. This comedy series was made under the Production company Hatoff Production. It is streaming on Amazon Prime Video from the 10th of March 2023. 
If you want any kind of information related to this series of Amazon Prime Videos. Then you can get it from this article. We have given all the information about that series like, Its Release date, Trailer, Cast and crew, Ratings, Storyline, and Many more things. 
Happy Family Conditions Apply Cast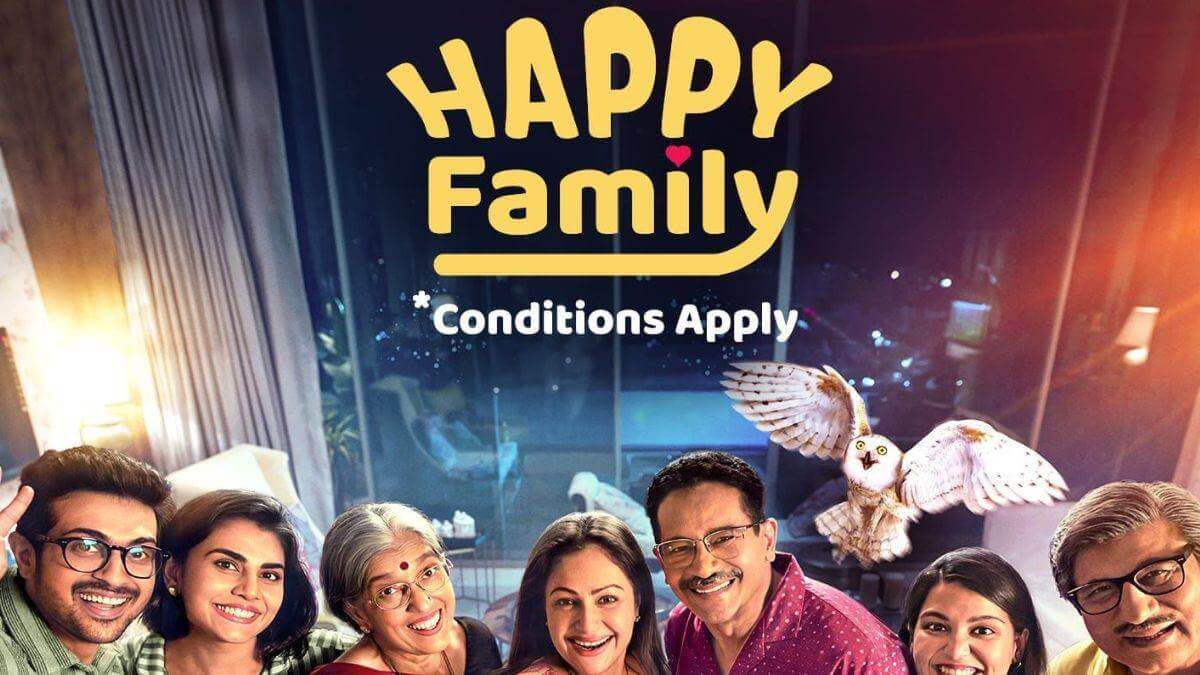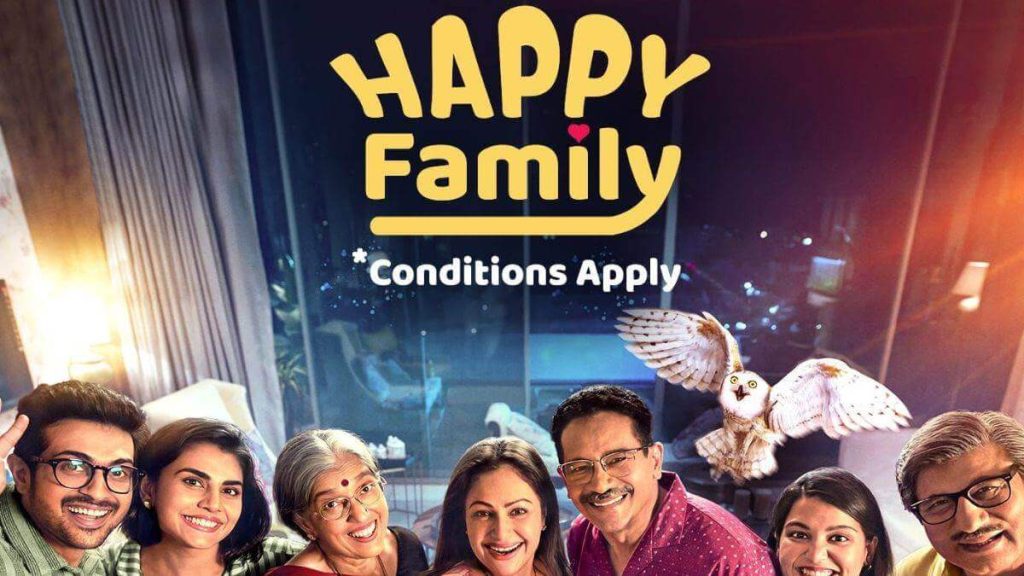 | | |
| --- | --- |
| Web series title | Happy Family, Conditions Apply |
| Genre | Comedy |
| Release date | 10 March 2023 |
| Original Language | Hindi |
| Country | India |
| Directed by | Jamnadas Majethia |
| Creators | Aatish KapadiaJamnadas Majethia |
| Writers | Atish Kapadia |
| Key Cast | Ratna Pathak ShahRaj BabbarAtul KulkarniAyesha Jhulka |
| Producers | Jamnadas Majethia |
| Cinematography | Sanket Shah |
| Edited by | |
| Music by | Hiral Viradia |
| Distributed by | Amazon Prime Video |
| Production House  | Hats off Production |
Happy Family Conditions Apply Release Date (10 March 2023)
Jamnadas Majethia Directed the Comedy Drama web series Happy Family Conditions Apply was officially released on the 10th of March 2023 on the Video Streaming Platform Amazon Prime Video. 
The series consists of 10 episodes and each episode is 26 to 31 minutes duration. All episodes are easily available to watch in Hindi language with English Subtitles. You will not have to face any kind of trouble to watch this series. You can easily watch this sitting at home by subscribing to Amazon Prime Video. 
After the release, this series got a rating of 7.5 out of 10 from IMDb. That is considered to be the best and worth watching.
| | |
| --- | --- |
| Streaming Platform | Amazon Prime Video |
| Release Date | 10 March 2023 |
| Total season | 1 |
| Total Episode | 10 Episodes |
| Running Time | 26- 31 Minutes |
| Original Language | Hindi |
| Subtitles | English |
The Trailer of the Happy Family series
The official trailer was revealed by Prime Video India channel on YouTube on 3 March 2023 and has crossed 20 million views to date
The trailer starts off in a fun way wherein Ratna is seen dropping her one-liners and not only that she is also seen teasing Raj Babbar. The next scene of the trailer introduces the rest of Ratna's family, with one son living his life happily. While the other son gets married during a trip to Las Vegas. Her Grandchildren are planning to move to a new house. That is not liked at all by the elders of the house. The trailer was interesting to watch and the story of the entire series is even more interesting.
Happy family Conditions Apply Storyline
If we talk about the story of Happy Family Conditions Apply. Then it was written by Aatish Kapadia, the entire series has been Divided into 10 parts. That was released on different days instead of released together. 
The story of this series is about a strange family Dholakia in which 4 generations live together in the same house. Every member of this family is strange and none of them is serious about anything. This has also been told how a family consisting of four generations together solves problems and faces challenges. 
Apart from these, in this series, you will get to see everything that happens in a normal regular family and social messages have also been given through it.
The Main Star Cast of the series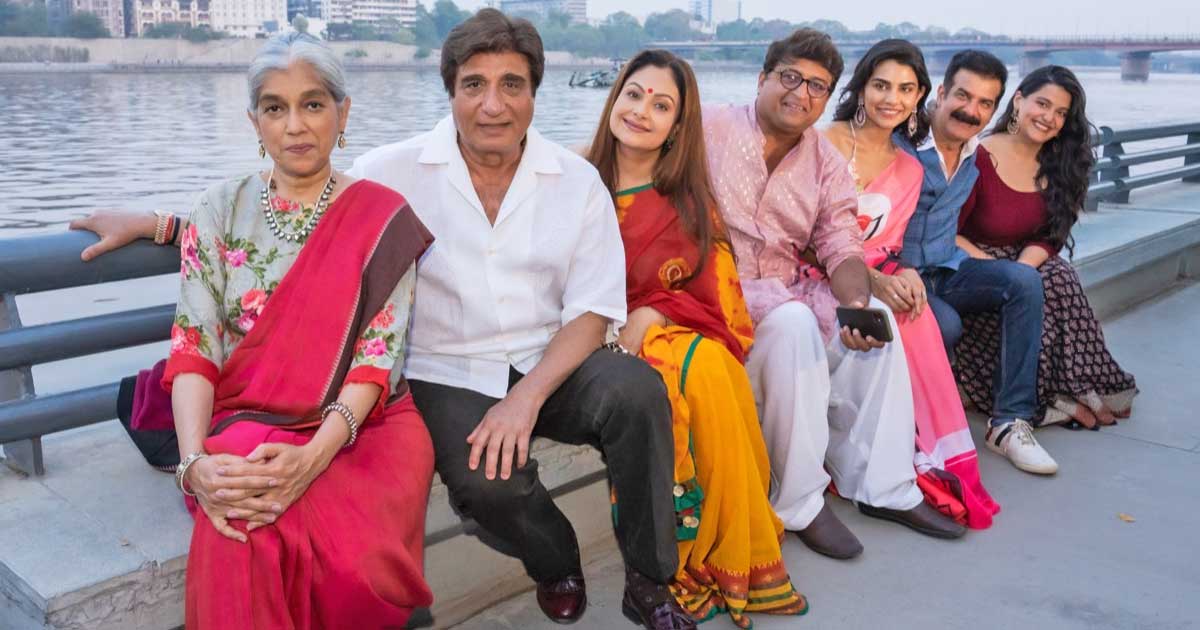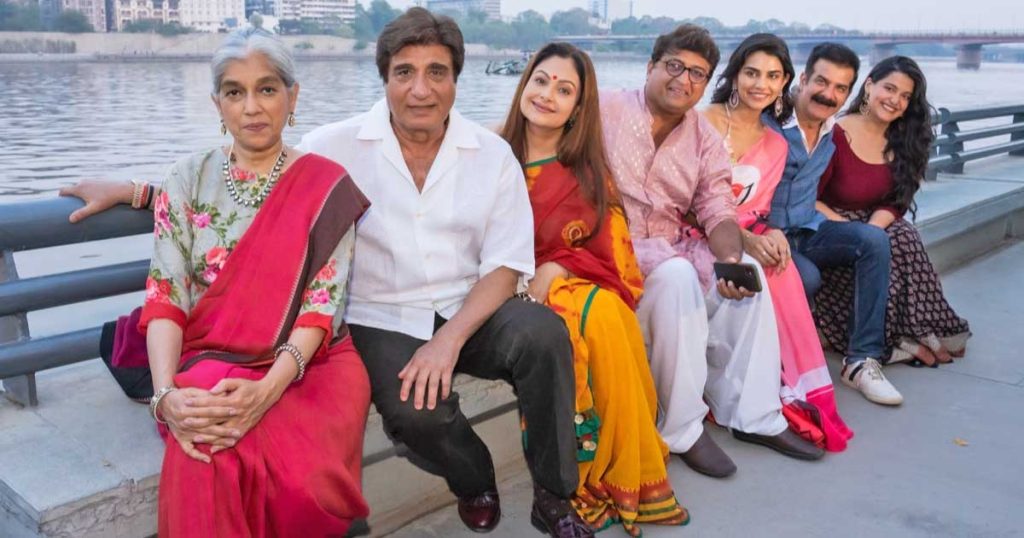 These Actors and Actresses were cast to portray the main characters in the show-
Ratna Pathak Shah
Raj Babbar
Atul Kulkarni
Ayesha Jhulka
Raunaq Kamdar
Meenal Sahu
Jatin Suri
Vinayak Ketkar
Atul Kumar
Paresh Ganatra
Sanah Kapur
Margaret Wanjiku Kariuki
Swati Das
Pranoti Pradhan
Waqar Khan
Mahabanoo Mody-Kotwal
Neha Jhulka
Happy Family Conditions Apply Review (IMDb Rating 7.5/10)
If you want to spend the weekend binge-watching with your family. Then the Happy Family web series will be a lot of fun to watch. It has all the elements that a series should have and you will get to see love, hate, comedy, fights, family troubles, and many more things. This show has been receiving a great response from viewers and critics since its release.
Actors like Ratna Pathak Shah, Raj Babbar, Atul Kulkarni, Ayesha Julka, Ronak Kamdar, Meenal Sahu, Jatin Suri, and Sanah Kapoor were selected to play the main characters. That was also an advantage for the series as all the actors gave stellar performances. 
Another positive point of the series was its dialogues and comedy timing. Its dialogues worked to enliven the entire show and the timing of the comedy punches of the actors was also very perfect. Apart from this, there are only two songs in the entire show 'Happy Family'. That is the title track, and a 'Gujarati Naar' composed by Hiral Viradia.
The negative point of this series can be that many sequences of this series seem to be a copy of shows like Sarabhai vs Sarabhai and Khichdi and many scenes are repeated. Some people have also called the series kiddish that its storyline has been described as very childish and before this. The owl scene has also been criticized by the audience.
Also Read: