While cleaning jewelry at home, you prefer to use a simple method involving the least amount of ingredients. Depending on the type and quality of gold, there are different methods that you can follow for cleaning your gold jewelry. Read below to know more about the DIY steps you can try out at home. 
How to Clean Your Gold Jewellery at Home?
The best thing is no longer to do you have to rush to your local jeweler to get your gold earrings and other accessories cleaned. If you notice your gold jewelry losing its sheen, you can clean them using soap and water. Isn't that amazing? A simple soap and water solution is all that you need to clean your gold jewelry.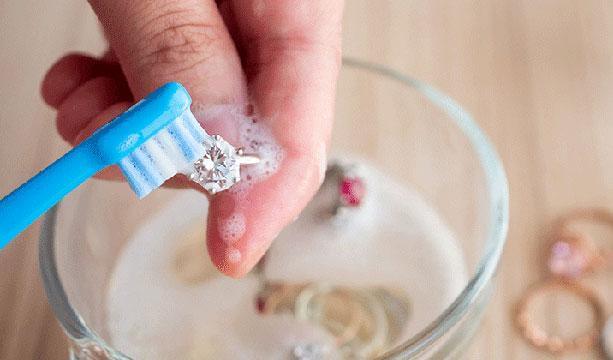 This is one of the fastest and most effective ways to get rid of dirt and dust that has accumulated. However, if you have gemstone studded gold jewelry you mustn't use soap and water. You need to follow a different procedure for that. Continue reading below to find out more.
Steps to clean pure gold jewelry at home
Follow the following steps if you are willing to clean your gold jewelry at home:
Firstly, fill a bowl with warm water. Mix the water and mild soap to get a solution. If you do not have soap, a detergent or mild dishwashing solution would also work.
Dip your gold jewelry into this warm mixture. Let it absorb the solution for about 20 minutes.
You can also choose to brush the item using a soft-bristled brush to remove the dust or dirt that has settled in it. However, be careful to not rub the item hard.
Now, clean the item with cold water and keep it in a soft, clean towel. Allow the item to dry completely
Once cleaned, keep it safely in a box.
If your jewelry is made up of yellow, rose gold, or white gold, you can follow the above-mentioned steps to get your job done.
There are a few things you must be careful about. Never dip the item in boiling water or too cold water. You can prefer to use sodium-free club soda or seltzer water as they loosen up the dirt in the jewelry easily.
How to Clean Gemstone-Studded Gold Jewellery?
Gemstone studded jewelry is n priceless possession. You can get gold jewelry that is embedded with rubies, diamonds, pearls, and whatnot. They are timeless pieces of beauty.
For instance, a gold necklace design with a tiny diamond embedded would render a sophisticated and grand look to your outfit. However, these pieces also accumulate dust and dirt and with time lose their shine. So you need to take good care of them too. Be careful to never use a soap or water solution to clean these jewelry items. Soaking these items can result in soapy water getting trapped in the setting, causing the gemstone to rust or become discolored in no time. Follow the below-mentioned procedure if you are to clean a stone-embedded gold item. 
Rinse the item and use a very soft toothbrush, preferably a baby-soft toothbrush. Before you rinse it, make sure there are no loose stones.
After it's done, let the jewelry dry completely.
Now, store it in a safe box.
While rinsing with water, make sure the water isn't hot, especially if it's having fragile gemstones like opals.
Though you can clean your favorite precious gold items at home now, there's no substitute for getting the process done by a professional jeweler. Your jeweler must be aware of the different cleaning processes that must be followed for different types of gemstones. So contact your nearest jeweler now and get the job done at affordable rates!