As a traveler, you will be going to many countries to get the best vacation experience. One thing that we all need to do is learn some basic phrases in their language.
Getting around a new country can be stressful enough without having to worry about mispronouncing phrases in the native tongue. This clearly gives you the need to learn different languages based on your interest. For example, you can enroll in French Classes if you will be visiting countries that speak in French.
Whether you're headed to Canada, Mexico, or even Australia, this handy list of travel phrases will prevent you from getting stranded and ensure that your trip goes smoothly.
1. Thank you
There is no doubt that traveling enhances the human experience. It exposes us to a variety of people and places, as well as new thoughts, experiences, and cultural norms.
Traveling is truly a learning experience. But regardless of how many countries you've visited or how long you've stayed in each one, there are always people who'll help you in one way or another while in a foreign country.
That's why it's important to express your gratitude to them by saying thank you. This is a phrase you need to learn in different languages depending on where you visit.
2. I need help
As a traveler in a new country, you will probably encounter situations where you need help quickly. This phrase is used when you need help to do something in a foreign country.
Even if you go on a business trip, you'll still want to communicate with your colleagues in a foreign country. I need help is one of the common phrases you need to know. It's therefore necessary to have business language training to know more phrases that you'll need to use when going to another country.
3. I am sorry
It is not unusual for people to land themselves in trouble when traveling. It's unavoidable that you'll have to apologize for something at some time, whether it's a miscommunication with the taxi driver or mistakenly stepping into someone else's hotel room.
The whole concept of apologies can be difficult to get your head around: what do you say? What don't you say? How do you say it?
However, if you plan to go outside of the English-speaking globe, it's a good idea to brush up on local conventions and learn how to say I am sorry in all the appropriate places.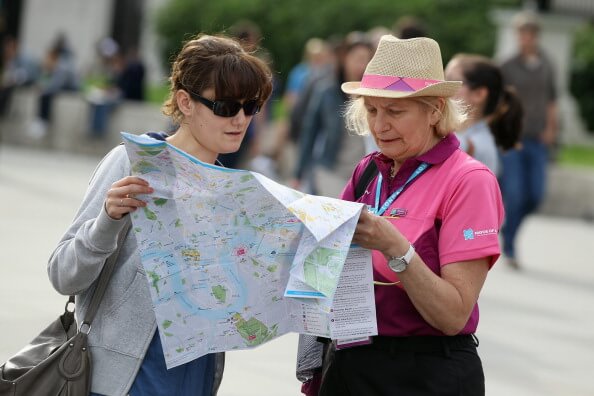 Here are some useful phrases for apologizing in different languages:
Spanish: Lo siento (I'm sorry) or Perdón (pardon me)
French: Pardon (pardon me) or Excusez-moi (excuse me)
German: Entschuldigung (pardon me) or Verzeihung (forgive me)
Whatever the official language people speak in that country or town, it's important to always say sorry when it's needed to avoid landing in trouble.
4. Goodbye
When leaving a country, it's customary to say goodbye to those you meet along the way. Saying goodbye is also an opportunity to thank them for helping you out during your stay. Here is how to say goodbye in different languages.
English: Goodbye
Spanish: Adios (goodbye)
French: Au revoir (see you later)
Italian: Ciao (hello)
Japanese: Sayōnara (goodbye)
There are many more ways to say farewell in the languages listed above.
5. Could you possibly write that down for me?
This is a very common request from tourists visiting a city. You may also find yourself in a situation where you require assistance in writing something down. Maybe if you're not getting them. You might even hear it as Can I borrow your pen?
6. How much does this cost?
You may come across shops selling souvenirs or trinkets in a foreign country. If you want to buy anything, it's important to understand how much things cost.
You can ask for prices in many languages but here are some handy phrases to make sure you get the price you expect.
English: How much is this?
Spanish: ¿Cuánto cuesta esto? (how much is this?)
French: Combien cela vaut? (how much is it?)
Italian: Quanto costa questo? (how much does this cost?)
Japanese: ikura desu ka – いくらですか ? (how much)
7. Do you speak English?
Not all countries use English as an official language. It would therefore be wise to ask in case you visit any country for a trip. You can learn how to ask this in different languages.
8. What time does the museum close?
When you're visiting a new city, it's fairly uncommon to have queries like these. This question is usually asked by tourists wanting to visit museums or galleries which are closed on specific days. In most countries, these will be listed in the local newspaper or online.
For example, in France, the Musée d'Orsay closes at 6pm every day except Sunday and Monday.
In Italy, Musei Vaticani closes at 4pm on Sundays and Mondays.
On Tuesdays, Wednesdays, and Thursdays in Japan, the National Museum of Modern Art closes at 5 p.m.
Wrapping it up
We hope we've helped you with some useful phrases to help you communicate with locals in any part of the world. We'd love to hear your comments below so feel free to share your thoughts.