So you've decided to sell your old furniture online. Great news if you want to make some cash in a hurry and don't have room for everything. The question is: why not just take it to the nearest charity shop?
Well, there are several good reasons why you should try selling your old furniture online instead – and here they are. You can get much more for your items by selling them yourself rather than donating them.
Even with postage, packing, and advertising costs, you'll still probably come out on top by selling online rather than taking them to a charity shop.
Here are some other good reasons to start selling your old furniture online.
1. You Can Make More Money
If you're selling online, you'll have a better idea of what your items are worth and be able to set the price accordingly. This can be particularly useful if you're selling something vintage or antique, such as an old armchair or an old sideboard.
You may be able to get more for these items because they're considered to be more valuable, but this will depend on the market at the time.
2. It Can Be Convenient To Sell Online
Selling online can be easier than selling at a car boot sale or putting your items out on the pavement. You can place your items online and let them sell from the comfort of your home.
You can also get more potential buyers by listing your items on free-to-use sites like Craigslist, AptDeco, or eBay.
3. You Can Get Rid of Anything You Don't Want
If you're struggling to find space to store your old furniture, you might want to get rid of some of it on AptDeco.
Maybe you inherited items taking up too much space in your home. There's nothing wrong with that, but you might feel the items aren't worth keeping. In this case, selling them on AptDeco is a good way to get rid of them.
You might also have purchased furniture at one time that is no longer relevant to your lifestyle. For example, if you have a child, you might want to get rid of the old cot they used as a baby.
4. No Need to Sort and Store Your Items Beforehand
If you decide to sell your furniture to a charity shop, you may be asked to sort and clean the items before they can sell them. You may also have to store these items until they're sold.
However, selling them online is a quick and easy way to get rid of your furniture. Just take photos, write a description and post them online.
5. You Don't Have to Worry About Logistics
When you decide to sell your furniture online, you won't have to worry about transportation; unless you want to.
If someone buys something large, like a sofa or dining table, they might hire a removal van to pick up their new item from you. If someone buys a smaller item, such as kitchen chairs or an old lamp, they might decide to pick it up themselves.
Selling Your Furniture Online – Tips for Selling Quick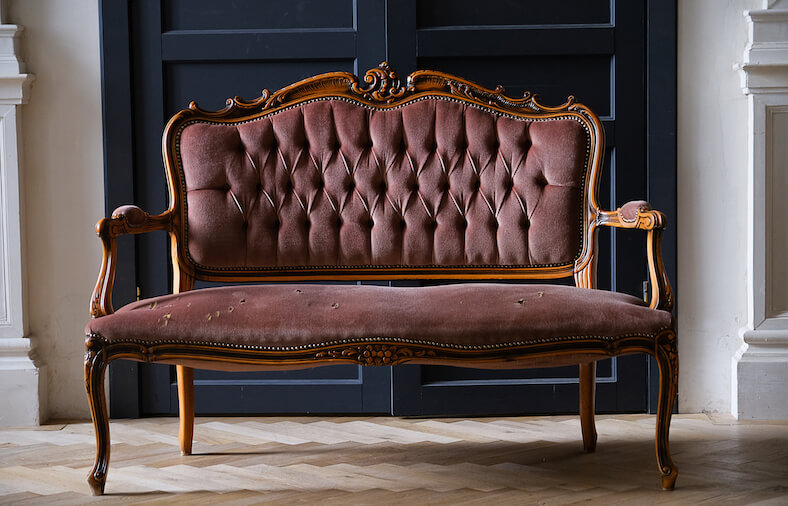 Choose the Platform for Selling Online
The most important thing when selling your used furniture online is to choose the right platform. For example, if you want to sell your furniture to individual buyers, then AptDeco could be a good option.
Estimate its Value
The next thing you need to do is to estimate the value of your furniture. You can do this by looking at similar items in sites like AptDeco or on the websites of furniture companies.
You can also hire a professional appraiser to give you an accurate value for your furniture. By doing this, you will get a better idea of how much you should sell your furniture for.
Remember, you don't have to sell your furniture for the price tag on it. You can always sell your used furniture for less, especially if you're selling it online. Just make sure that the price you're asking is reasonable given the condition of your furniture.
Take Photos of Your Furniture
Once you have chosen the platform to sell your furniture, you will need to take photos of your furniture. You don't need to hire a professional photographer — you can use your smartphone to take photos at home.
There are five essential things to consider when taking photos to boost your sales:
A clean background
Keep the background of your photos clean
Lighting – Make sure that your lighting is not too bright or dark.
Remove any clutter from the images to make them look clean and tidy.
As you post the pictures, remember to write a good, catching, and honest description. Your furniture might be in good condition, but what people want to know is how good it is.
Let your potential buyers know what condition your furniture is in, why you're selling it and what it can be used for.
Refurbish Your Furniture
Again, one of the many great things about selling furniture online is that people will buy it as it is. However, there are some things you can do to make your furniture look brand new so it can easily find a buyer.
For example, if you have a couch with stains, you can try using baking soda and water to clean the couch. Use a toothbrush to really clean those nooks and crannies. If your furniture is damaged, try and get a professional to make repairs.
These actions can help your furniture look new and clean and will hopefully entice customers to buy it.
In Summary
We all love to change things, especially when it comes to our living spaces. So, whether you are trying to sell or just declutter your home, there are many great reasons why you should consider selling your old furniture online.
The best part? There are so many options like AptDeco for selling used furniture these days.