On-page SEO is still king in this day and age. While high authority backlinks are important, on-page SEO still forms the backbone of most marketers' SEO strategies. Focusing your efforts on improving your content and HTML code is still the most dependable way to ensure that people will visit and stay on your site.
Here is a checklist of on-page SEO items that you need to look out for: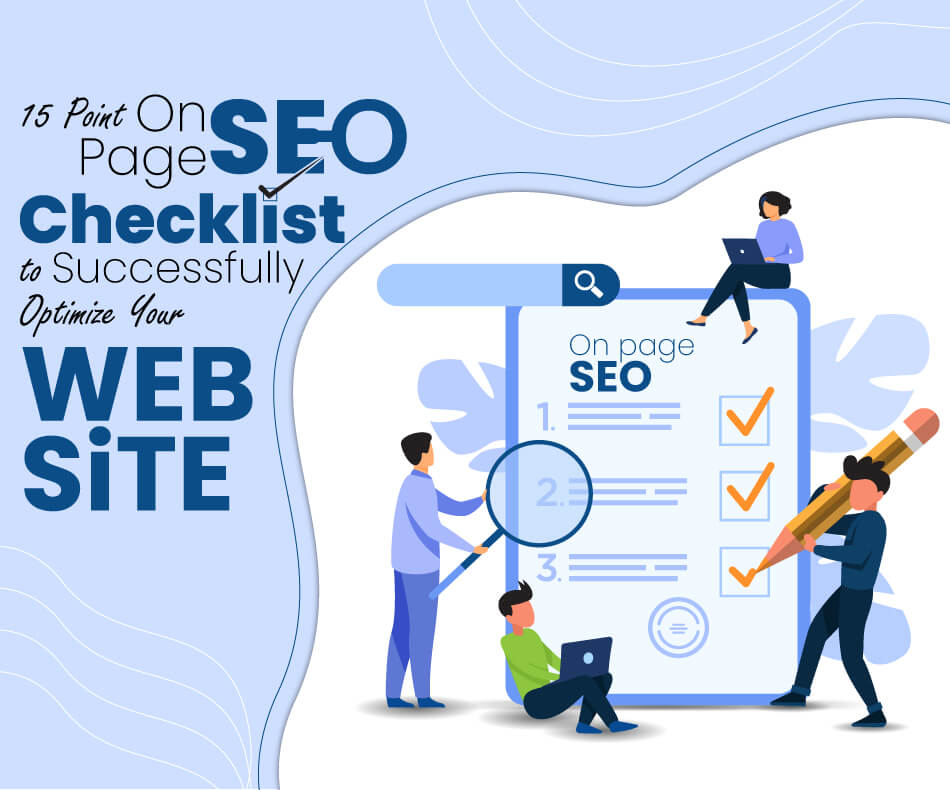 Reader-friendly, high-quality content
Write for people, not for robots. Yes, it was satisfying Google's algorithms that made your site rank on their SERPs (search engine results pages). But it was real people visiting and interacting with your pages that drove your site up there. Don't stuff keywords into your content for the sake of having keywords. Integrate them into the next as naturally as possible.
Concise H1 tags and tiles
H1 tags are what you call the HTML code that is wrapped around the main title on a page. There should only be one h1 tag per page on your site so you have to make it count.
Titles should be able to do multiple things: first, they should include the primary keyword that you've set for your page. Second: they should be catchy enough to get people's attention, and third: be descriptive enough to describe just what it is the page can provide them.
Necessary optimizations for images
Images make your content more understandable and more pleasant to read through. Always use high-quality images. It's better if you use original ones instead of stock photos or photos that you may have lifted off other sites. Also, always provide alt text for your images. The alt text is the text that is displayed when your image fails to load; it is also used by web crawlers for indexing.
Use h2 and h3 tags
Though there can only be one title and thus only one h1 tag per page, multiple subheadings (which use h2 and h3 tags) are allowed. Subheadings chunk up your content into logical blocks. It structures the text to allow for greater scannability and readability both for search engines' crawlers and human readers alike.
SEO-optimized and human-readable URLs
Your URL (uniform resource locator) is your page's address on the web. As an address, the page should be readable for humans so that they know what they are getting out of your page. Keep this address short, with a maximum of five words. Also, avoid using special characters in it; not only does it make the URL hard to read by people. But it might also cause some URL encoding troubles down the line.
Provide internal links
Internal linking is the act of linking to other pages and/or blog posts within your website. It makes visitors stay on your site for longer, increasing their reading time and improving your site's bounce rate along the way. Internal linking also makes web crawlers spend more time moving and navigating around your time. Which can be helpful in getting your site indexed in SERPs.
Don't forget external links
In direct contrast to internal links, external or outbound links are links that point to pages and resources outside of your domain or website. Linking to websites that are related to your niche and page's topic helps improve your credibility, which is very important for B2B SEO.
Create descriptive meta descriptions
A meta description is the small piece of text that is displayed below your page's title in search results pages. It is used by search engines to know what your page is all about. This is the reason why you should incorporate relevant keywords here in a natural and organic manner. The meta description is also where people get their first impressions of your page. So it's best to make it descriptive and precise.
Optimize your page for speed
Slow pages turn people away. Here's a simple way to check on your loading speed. Enter your page's URL on the Google PageSpeed Insights tool and check how it performs. The tool will show you how fast your page loads on both mobile and desktop platforms; it will also show you recommendations on how you can make your page run faster.
Satisfy search intent
What exactly are people going to your page for? Is it merely knowing something about a topic? Are they deciding on whether or not they should make a purchase? Are they looking for answers to questions? Knowing the search intent of your visitors allows you to directly target your content according to their needs.
Optimize for mobile
Ensure that your site looks as good on mobile as it is on desktops. Remember that a lot of people would be browsing from their phones (in fact, the majority of web traffic nowadays comes from mobile devices, as shown by Statista research). So you would have to optimize your site so that it runs well and displays well on mobile screens.
Add buttons for social sharing
When you have great content, people would want to share it. Adding social media sharing buttons on your page easily allows your content to be distributed on a lot of platforms instantly. This can invite more traffic to your site, and build up recognition for your brand. Also, the more shares that your content gets, the more signals it sends to search engines that your site is actually helpful and insightful.
Engage the community
Build a community around your brand. If you place a comments box on your pages, your readers will have a place to talk with you or amongst themselves regarding your content. Having a place for customer reviews will also do wonders if you're selling something or providing a service online.
Optimize for voice search
Voice search is slowly gaining traction nowadays, with the rise of voice assistants like Siri and Alexa. You can optimize your page for voice search by using Google's business listing, using structured data, and by being mobile-friendly.
Try to rank for Featured Snippets
Featured snippets are those answer boxes on the tops of SERPS for specific queries. The only information found from sites that are found in the top five positions in SERPS is what gets displayed in these Snippets. You can try to rank for Featured Snippets by providing clear answers to these queries in your content and using facts and data to support your points.