The COVID-19 pandemic has shifted gears when it comes to food delivery apps. Those apps that remained substitutes to the conventional dine-in options have gained the spotlight due to the elimination of dine-ins throughout various nations across the globe. With restaurant foot traffic experiencing a steep decline, deliveries seemed to be the obvious way out for restaurants and customers. The sheer convenience of ordering food from the desired eateries with just a few taps, and availing them at the doorsteps, makes on-demand food delivery apps the talk of the town.
The news that UberEats surpassed Uber's ride-hailing division in terms of income and orders is a befitting example of the fact that food delivery apps have become inevitable amid the lockdown situation. The entire stakeholder ecosystem benefits from a food delivery app – users get to enjoy doorstep deliveries, restaurants experience a boost in sales, and delivery executives earn income for dropping food orders at user locations. As a result, the market forecasts a bright turnaround of events. 
Are you an entrepreneur who aspires to storm into the food delivery segment with an app like Uber Eats? If so, are you wary of key factors that can have a significant impact on your app? This blog provides a detailed overview of the critical determinants to consider before rolling out an Uber Eats clone. 
Some numbers to prove food delivery app dominance
It is pointless to invest in any segment that doesn't promise a sound ROI. Here are some numbers that prove the dominance of the food delivery app sector.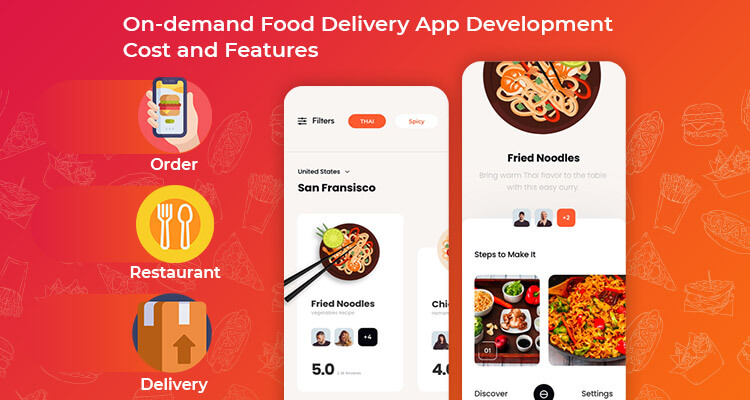 Almost 60 million US people will have food delivery apps installed on their smartphones by the end of 2023 (Source: eMarketer Research).
During the onset of the lockdown situation, digital restaurant orders have increased by 63%, and delivery surged by 67% in March (Source: NPD Group).
The global food delivery market in 2020 is valued at $100 billion. Within seven years, the number will proliferate significantly to a massive $300 billion valuation in 2027 (Source: BusinessofApps).
The online food delivery market witnesses tremendous user penetration rates, achieving 25% YoY (Year on Year) growth. There will be 1213.9 million users by the end of 2020 (Source: Statista).
All these are positive signs that the market will grow in numbers for years to come.
Vital Aspects to consider
Now that you have understood the future of food delivery apps, it is time to set foot into action by developing one such app. However, app development isn't a walk in the park. One needs to have an eye on the key determinants that can have a crucial impact on the platform's success.
#1 Predetermine your budget
This constraint goes without saying. Success will remain a distant fruit until you have a feasible economic plan to materialize your ideas into reality. In today's technologically-driven world, the cost to develop a food delivery app depends on various parameters, 
The region of app development
The size of your app development team
The features you wish to integrate
The complexity of app design
The tech stack used for development 
And many more.
Hence, one cannot quote a fixed price for app development. However, having a brainstorming session with an expert technical team can help you arrive at a reasonable price.
Contrastingly, there are readymade clone apps that an entrepreneur can utilize to venture into the market right away. Some of the significant advantages of clone app solutions are that they are pocket-friendly, time-conserving, and highly reliable. Even a budding entrepreneur can launch an UberEats clone within a matter of a few days. 
#2 Assess and pre-equip the latest tech-stack
In a highly competitive food delivery app market space, only the best gets to survive, sustain, and succeed.  Hence, apps with primitive or outdated technology fail to create a positive impression with the audience. To remain competitive, one needs to leverage the latest tech stack pertaining to the current market trends. On a broader note, the tech stack culminates in the technology used for various elements like front-end, back-end, UI, etc. 
The tech stack utilized includes, 
Registration – Facebook SDK, Google SDK
In-app navigation – Google Maps API, Map Kit
Storage – Amazon Cloud Storage
Analytics – Google Analytics
Payment – Braintree, Stripe, PayPal
Restaurant listing – Grubhub API, FourSquare API
#3 Work extensively on USPs
Unless you bring uniqueness to the table, your app will become just another food delivery app. Hence, it is the responsibility of the entrepreneur to come up with groundbreaking ideas and formulate specific Unique Selling Propositions (USPs). Now, one can bring uniqueness in a variety of ways. The most popular of them all is integrating cutting-edge features to create an instant visual appeal among the audience. Some of the stand-apart attributes worth considering include, 
Multilingual support – To establish a global presence by enabling customers to access the platform in the language of their choice. This way, you can cater to the local audience as well.
In-app wallet – Let users pay for their food orders effortlessly by incorporating a wallet feature. This way, eliminate the need to enter account details during payment.
In-app alerts – Users and service providers needn't access the app every time for orders or discounts. With in-app alerts, users receive personalized messages on offers. On the other hand, service providers get instant notifications on past/upcoming orders.
Reorder – Users needn't browse eateries or food items once again in a hurry. They can reorder their previous orders from history with just a few taps on their smartphones.
#4 Managing the COVID-19 Issue
Amid the pandemic situation, it is the responsibility of the entrepreneur to safeguard the entire community from the virus spread. Here's a list of safety add-ons that you shouldn't want to miss out on in your application. 
Contactless deliveries
Disabling COD (Cash on Delivery)
Safety ratings and reviews
Face mask recognition software
Knowledge banners
High-touch surface information
Safety badges for restaurants 
Conclusion
There cannot be an ideal time for entrepreneurs to venture into the food delivery app segment. App development has been made simple with the emergence of clone app solutions. Ensure that you predetermine and discuss the budget constraints beforehand. Similarly, make sure you are up-to-date when it comes to tech-stack as well. This way, with alluring USPs and highly reliable safety add-ons, your Uber Eats clone can grow in numbers in no time.