What is Link Pruning?
One of the biggest SEO errors, committed by those who deal with search engine positioning, is that of not taking care of  Link pruning. Each web platform must have so-called " backlinks ", or hypertext links, which redirect either to a different site or to another page or article.
Analyzing the inbound links is important because it is worth the ranking of your site. In fact, many think that to acquire value, it would be enough to do link building and you're done.
Quality prevails over quantity, this is one of the best techniques proven and which guarantee much more than satisfactory results. At this point, you will ask yourself, " How is it possible to analyze a link ?"
The factors that determine a good link from a bad one
Domain Authority: it determines the value of a page of a website. Through specific tools, it can be analyzed based on the number assigned to it.
Consistency of the topics covered: if your site talks about animals, and your article about cats is linked from a site that talks about cooking or vice versa (although the latter may have an excellent value), Google understands that the issues are inconsistent and inappropriate, so try to get links only from sites related to your platform. In addition, each anchor text must report the keyword or the real topic to which you are referring the end user.
Avoid excess of transition links: exceeding with the anchor text of certain keywords targeted on transition searches, it may not like Google and you could even risk a penalty. When you insert many internal links, aim to link brands or words with the aim of making perform a navigational search for the user. But what does all this mean?
Examples of Navigational, Brand and Transition links
Example: "Amazon" growing fast.
Example: "Find out more"
Example: "Website creation"; "Social Media Marketing Consulting";
Tools you can't use
Since each tool can indicate different indexes to each other, I recommend that you take advantage of as many tools as you can.
The first-ever is Google Webmaster. Certainly much more reliable, precisely because the source is Google itself, as well as the search engine par excellence.
The only flaw is that in the ranking of the backlinks shown, it does not indicate which of them are better or worse and neither their quality according to the criteria previously communicated. So information too poor to be able to determine whether to remove it or not.
Download the data backlinks from the Google Webmaster
By clicking on the sidebar of the Mountain View software, with a simple click at the item -> traffic -> Link to your web platform, you can go to download the backlinks list.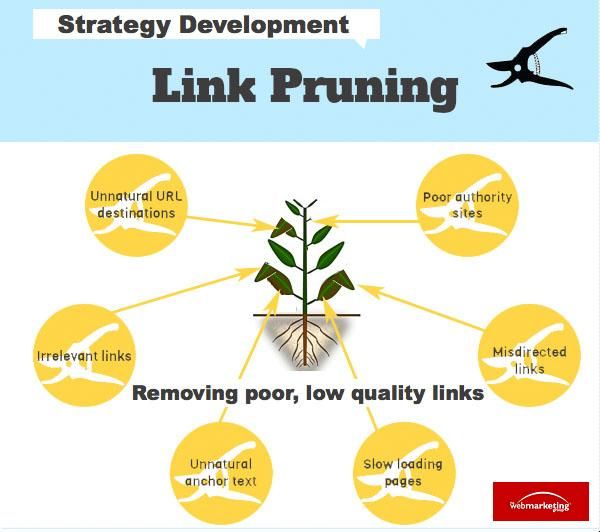 Also on the same page, you will find three distinct and separate elements:
Who uses multiple links: in this section, you will have an overview of the websites that link to you. In a nutshell, you will see who guarantees you the most incoming links, which is not always positive for SEO purposes.
Your content with multiple links: you will have a complete view of the pages that have more links than all the others.
How your data is connected: on this page you can check for any excess anchor text with the aim of "transactional research". If so, remove or add nofollow.
Opensiteexplorer
Opensiteexplorer is an SEO tool that guarantees excellent work for general SEO positioning. This site is famous above all for the reliability it shows, in reference to the DA value of a site.
The Domain Authority is represented on a numerical scale, ranging from 1 to 100. The more or less acceptable value is from 45 upwards.
In addition to the factors listed above, the tool indicates and analyzes the nofollow and dofollow anchor text showcases the pages of its website with rich links and much more.
And have you ever paid attention to the importance of Link Pruning? How do you make a correct analysis in relation to the links that your website receives?