Pune is the second-most populous city in the state of Maharashtra, housing an increasing number of enterprises in the fields of research, information technology, and private, and public sectors. Such immense opportunity draws a large number of individuals to this growing city, looking for a better livelihood.
Consequently, a rising income level has introduced several lifestyle changes for this city's populace, introducing an increasing financial need to meet various lifestyle essentials.
As a result, the demand for unsecured, short-term credits like instant personal loans in Pune has grown by a substantial margin in recent years. Since such loans have no end-use restriction, they can be utilized for any purpose such as wedding expenses, medical emergencies, travel costs, educational expenses, lifestyle development costs, etc. However, they have to fulfill the eligibility criteria to ensure approval from the financial company.
Since these loans are unsecured credits, the CIBIL score plays an important factor in personal loan eligibility criteria. Most lenders seek a CIBIL score for a personal loan of 750 and above. Therefore, customers who have a credit score less than that are likely to face issues in seeking approval for a loan as it increases the chances of rejection of their loan application. Lenders may also charge a higher rate of interest for the offered credit.
Ways to increase chances of seeking loan approval with poor credit score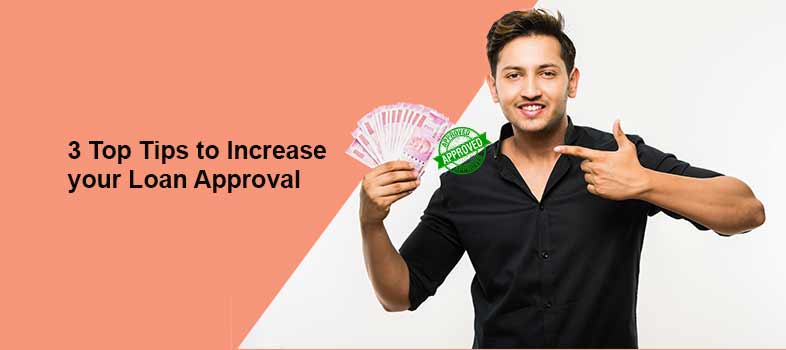 Add a co-applicant
Since financial companies don't tend to consider the personal loan application of a customer with a poor credit score, they can consider adding a co-applicant to their application. This will help them increase the viability of their credit application as the co-applicant will be responsible to repay the credit in case of a default. Moreover, a co-signer with a CIBIL score of 750 and above will increase the chances of approval significantly.
Apart from a decent credit score, adding a co-applicant that has a high income will help customers get approved for unsecured loans as such.
Repay already availed loans
Customers should consider repaying existing loans so that they don't have any other financial obligations before applying for a personal loan in Pune. This will also help in the repayment of loans as customers can repay the EMIs conveniently without straining their finances.
Individuals can plan their finances by using an online personal loan EMI calculator and compute the value of EMIs by inputting loan amount, tenor, and rate of interest. Such tools are offered by several lenders, including NBFCs like Bajaj Finserv.
Bajaj Finserv provides pre-approved offers to existing customers that make the loan application procedure simpler. Such offers are available on multiple secured as well as unsecured financial products, including personal loans, home loans, and business loans. Borrowers can check their pre-approved offers within seconds by submitting their names and contact number.
Manage credit card bills
Customers that have credit cards should make careful use of the same and make timely payments of the due amount in full. This will help improve the CIBIL score of the cardholder substantially, and they will qualify for the personal loan eligibility criteria with ease.
Opt for a lower loan amount
Customers opting for a personal loan in Pune with a poor credit score shouldn't opt for a high-amount loan as it increases the chances of rejection. However, opting for a low-amount of loan can improve the chances of approval from financial companies.
Pay a higher rate of interest
Customers with poor credit scores in Pune may avail of a loan if the financial company finds their profile considerable. However, they may have to pay a higher rate of interest to avail of the credit, which can eventually increase the total cost of repayment. Even though the cost of a loan is higher, it can help individuals seeking emergency funds.
Applicants should repay the debt timely, and in full, to improve their credit score over time. Also, individuals should check the CIBIL report prepared by credit bureaus thoroughly to identify any mistakes present in the report. In case of a discrepant entry in the report, they can get it rectified by raising a complaint against the issue. This will help them improve their CIBIL score.
This is how an individual can get a personal loan when they have a bad CIBIL score. They will be able to avail of a personal loan in Pune whenever they need emergency funds to meet various financial expenses that they may come across from time to time. Keeping these pointers in mind will help them acquire a personal loan instantly whenever required.