Print2CAD is a very useful program that allows you to convert plans in PDF or JPG format to editable DWG files in order to make modifications. It is a great tool that will allow you to use AutoCAD or other similar programs to make modifications to your plans.
How to free download Print2CAD for Windows 10
The first step to be able to use Print2CAD is to download the program from its official website. In this way, we ensure that we get a genuine, virus-free version for years.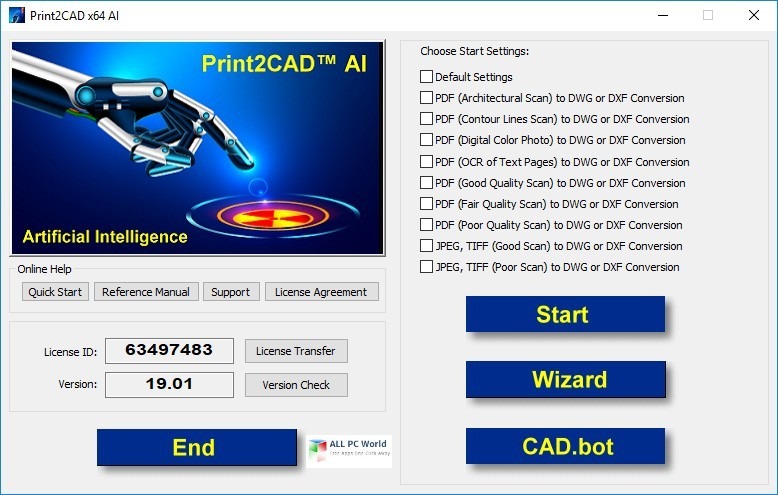 With this, the official installation file of Print2CAD will be downloaded. You will be able to enjoy all its functions for free for two weeks.
How to install Print2CAD for Windows 10 for free?
Once the download process is complete, you will find an executable .exe file in the downloads folder of your computer, with which you can install Print2CAD for free. You just have to double click on the file to proceed with its installation.
The next step is to select the language of the installer. In our case we select « English» and then we click on « OK «.
On the next screen we just need to click « Next » to start the installation process.
A new window will appear with some technical information about the program. We just have to click on « Next » to continue with the installation process.
Next we need to accept the terms of use of Print2CAD and then click « Next « again.
The Print2CAD installer allows us to specify the path where the program files will be installed. A perfect option so that you can have your SSD very well organised. We click on « Install » to proceed.
At the end of the installation you will see a window like the following one. Simply click on " Finish " to finish the Print2CAD installation process.
How to create free editable maps with Print2CAD?
Creating plans is a complicated process that can take hundreds of hours of work. For this reason, professionals will appreciate being able to build on previous designs in order to adapt them to new demands. Thanks to Print2CAD you will be able to have a fully editable plan from an existing plan in a few minutes.
Opening the program is as simple as using the shortcut icon that you will find on your computer's desktop.
When opening the program, we must indicate that we want to start the 14-day evaluation version.
The operation of Print2CAD is very simple, because all you need to do is indicate to the program the format in which the source file is, and then indicate to which version of DWG or DWF you want to convert it.
In this chaos we are going to convert a map in PDF to DWG. So we choose the option « Start PDF to DWG «.
Print2CAD is capable of working with various input formats, including the most popular ones like PDF, TIFF, HPGL, and JPG. Its operation is based on OCR technology, which is responsible for scanning the plans. As well as all the written texts to dump them into an editable DWG file.
With « Choose Files » we select the PDF file that we want to convert to DWG.
" Target Format " specifies which version of DWG or DXF we want to convert the file to.
Finally, we click on « Start » to start the whole conversion process. Which will only take a few seconds depending on the power of your computer.
After that, the tool will work its magic and save you hundreds of hours of work. When you're done, you can use the " View and Edit the File " button to continue working with your map now in DWG format.
Therefore, if you want to have an easy way to access an editable plan despite having it in PDF. You only have to download Print2CAD on your computer.
How to edit maps for free with Print2CAD DWG Editor for Windows 10?
Print2CAD DWG Editor is the tool that allows us to edit the DWG maps. That we have created in the previous point. IF you have followed this tutorial to the letter. You should have the shortcut icon for this tool on your desktop. You just need to open it and start the trial period of 14 days.
In doing so we will see the main interface of Print2CAD DWG Editor. It is a very complete and professional program, with which you can do all kinds of tricks on the maps.
So far our tutorial on How to download Print2CAD for free and create editable maps in Windows 10 from PDF files. We hope you find it very useful in your work.