In the wake of COVID-19, most Indians are mandated to plan their professional schedules at home and with this happening, the trend of secondary jobs, part-time, and freelance jobs has raised immensely. So, if you are the one facing a similar situation, then why not use your skills and find the perfect data entry jobs in India? This profession is now one of the most famous freelance or part-time jobs in India hence, investing your time and efforts in this direction can help you make that extra penny with your monthly earnings.
India is a fast-paced nation with data as its lifeline hence, there is a constant need for professionals who may handle all data entry requirements for the company. So, if you have the right set of skills and abilities this can be the best job choice for you. In this article, we will tell you the top 5 data entry jobs you may opt for in India, the Job responsibilities of this career, and the advantages of this job role.
Top 5 Data Entry Jobs in India: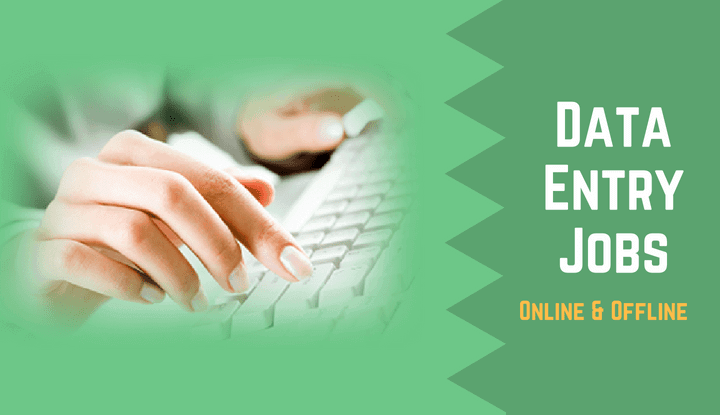 Word processor or typist: This job role is a little tuff. To take up this role one should have the knowledge and technical skills. In this job role, you need to create mailing labels, create emails make reports, etc.
Online form-filling jobs: In this job role, you will be given online forms and separate datasheets. You will have to take up the right values from the data set and put it in the online forms. To take up this job one should have an eye for detail.
Formatting and Editing Jobs: To take up this job one should have a great command of English or the required language because, in this data entry job profile, you have to create spelling and grammatical errors in the documents.
Transcription Jobs: This is one of the most difficult and highly paid data entry job profiles. One who wants to take cup transcription jobs can start a career with either medical transcriptions or legal transcription profiles. In this job role, one needs to hear audio and form text out of it.
Payroll Data Entry Operator: This is one of the most demanded job profiles in India. In this job profile, one needs to make a record sheet and have to maintain regular payroll data.
Job Responsibilities in Data Entry Jobs:
Data Checking
Segmenting backend medical data
completing sales invoice data entry
Smart Tech data entry
Using software for data entry as per business requirement
Keying-in Customer Data
Re-creating manual data electronically
Creation of data entry reports
Converting document formats
Gathering and sorting of market research results
Recording data (printed, coded, statistical)
Advantages of Data Entry Jobs in India:
Ease of Work: This is one of the best advantages one may avail from data entry jobs. This profession allows candidates to take up work from remote locations and the comfort of their homes which gives employees ease of work and they may take this as a part-time or freelance profession conveniently.
No Investment: This profession can be taken up just with a laptop and a high-speed internet connection which is usually available easily hence, the candidate does not require to invest financially in this profession.
Good Work Exposure: Working as a data entry executive adds good value to a candidate's or employee's resume. This job gives collective exposure to internal data collection and tabulation which can be of great help when you start with any other company in a similar or a higher-level work profile.
So, if you are the one looking for a data entry job in India in wake of COVID-19, then try for these top 5 jobs and earn a second income.