Want to recruit Instagram influencers to help get your brand's name out there? Interested in working with Youtube influencers, who can review your products for their subscribers?
If you want to take advantage of influencer marketing on one or both of these two channels, you're in good company. According to research, Instagram and Youtube are the most important channels for influencer marketing.
But when it comes time to actually work with influencers, how can you create content that gives visibility to your brand and engages followers?
Here are some ideas to get you started.
Before we start
Just a quick caveat here: Instagram and Youtube may be the most important social media channels for influencer marketing overall, but make sure they're also the most important for your brand.
Think carefully about the objectives of your campaign and your target audience. Do some research, and make sure the people you want to reach reside on Instagram and Youtube. For example, if you are targeting Generation Z, you might want to consider TikTok instead, as almost a third of its users fall into that age range.
So before you get into influencers and content, just double check that Instagram and Youtube are the right channels for you.
Content ideas to use with Instagram and Youtube influencers
With all the media formats offered by these two platforms, there are a ton of cool ideas you can use with influencers. We'll run through some of them now. While there's some overlap in terms of content formats on Instagram and Youtube, keep in mind that some of these ideas may only be available on one of the platforms.
Unboxings
The unboxing is a pretty old idea, but it can still be very effective when done right. An unboxing is just what it sounds like: an influencer unboxes, or opens, your product for the first time. This way, followers can see exactly how the product arrives to consumers, without any apparent interference from marketers or manufacturers.
The key here is choosing an influencer who aligns well with your brand. Unboxings rely on an influencer's spontaneous first impression of your product. So you want to find someone who is genuinely interested in your brand and what it does.
You can do unboxings on both channels. Youtube obviously offers a great way to do them. And on Instagram, influencers could use Stories or IGTV to film their unboxings.
Tutorials
Tutorials or demos are a great way to show off your products in action. They can work for a wide range of products, from makeup to household tools to software to art supplies. With tutorials, influencers can review your products and demonstrate how to use them at the same time, providing value to their followers and hopefully resolving any doubts they had about how your product works.
When doing tutorials, explain to influencers what you want to emphasize about your products. But give them creative freedom to choose how to communicate that. They'll know best what their followers will be interested in.
Tutorials are apt for both Instagram and Youtube, whether as videos, Stories, Reels (if very short), or even livestreams.
Giveaways
In giveaways, brands team up with influencers to raffle off products to followers. Giveaways usually require the audience to follow both the brand and influencer account, like the giveaway post, and comment on it, sometimes tagging a friend. This is a great way to boost follower count and engagement at the same time.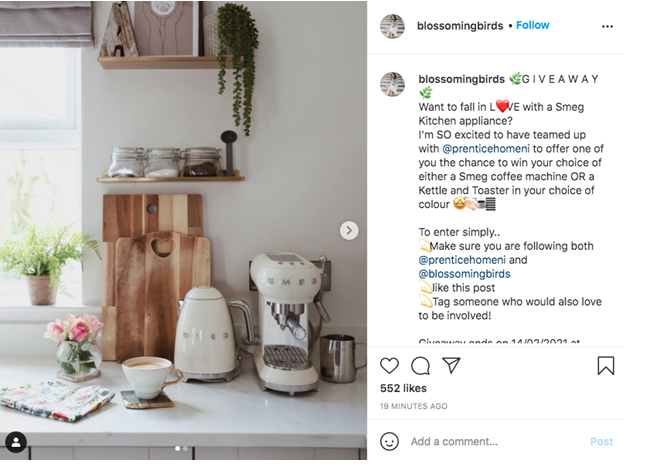 Giveaways can be hosted on Youtube, but Instagram is the better option for this content type. As an Instagram post, the giveaway will be static on your profile and have more visibility. Followers can easily like and comment on your post, and you can use a dedicated tool to choose the winner.
Lives
Livestreams let followers connect with an influencer in the moment, and can be used for a variety of content purposes. Influencers could take their followers behind the scenes, live, at an exciting event hosted by your brand. Or, they could run a live Q&A session, taking follower questions about your products and answering them live, without any preparation beforehand.
With livestreams, the audience feels involved in the process. Further, the influencer doesn't have time to prepare their responses and reactions, which lends itself to authenticity. Again, like with unboxings, successful live streams are dependent on you finding an influencer who aligns closely with your brand. Also, make sure you send influencers your products far enough in advance that they can really get a good feel for how they work and ask any questions if necessary.
Both Youtube and Instagram have Live options. On Instagram, anyone can go live. However, if you want to livestream on Youtube, you have to verify your channel first.
Guides
Instagram Guides are scrollable content that you can use to curate a collection of photos and videos, each with their own added caption. And of course, you can use influencers to produce the content for Guides!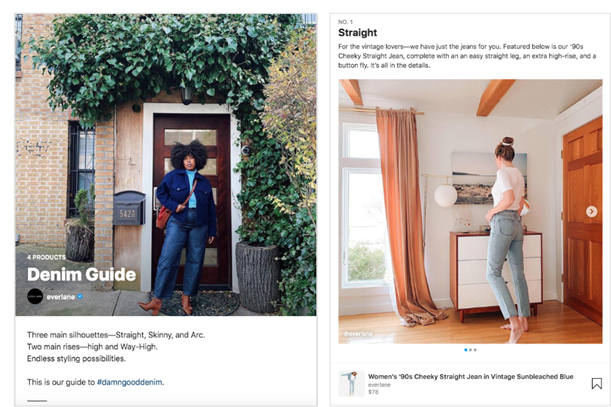 Guides are useful for collections of products, lookbooks, travel recommendations, or even a bank of physical and mental health resources. When working with influencers, be creative! You could, for example, give 5 influencers the same garment and show off how each styles it differently. Or, you could work with one influencer to get their take on various products. This feature is only available on Instagram.
Conclusion
There are plenty of content ideas you can use with Instagram and Youtube influencers; these are just the tip of the iceberg! Just remember that for any successful collaboration, you have to find an influencer who has healthy performance metrics and who aligns with your brand. For more about that, you can refer to our influencer marketing guide. Happy campaigning!