There could be tons of reasons why one is interested in getting a mattress. Maybe because they'll be moving out from their parent's houses? Their old mattresses are worn out? Or they do not feel comfortable in the bed they have currently. Whatever the reason is, the primary thing one must consider in purchasing a mattress is to make sure that it is comfortable enough to help them relax at night.
Mattresses have various features that not everyone is aware of. Underneath the soft coverings of mattresses are materials that make the mattress sturdy, durable and enhance its unique features. For instance, mattresses have springs, typically used in innerspring mattresses, so that the sleeper can provide extra support to the person's back and spinal alignment.
Mattresses are one of the home essentials that we need. Without a great mattress, one might find it hard to have an excellent quality of sleep at night. And if it continues for a long time, it might affect a person's overall health. So, to help you find the perfect mattress. That suits both your lifestyle and needs, here are five factors to consider.
Research the Difference Between Mattress Types
Nowadays, researching online has a lot of perks, especially in imparting relevant information people need. Thus, try doing your research online about the various mattress types you may see when shopping for a mattress.
Some of the few types of mattresses are innerspring mattresses, hybrid mattresses, air mattresses, memory foam mattresses, latex mattresses, and many more. If you'd differentiate how one differs from another. It will be easier for you to choose which mattress type you could consider as the best type. Besides, the best mattresses will vary from person to person since not all mattresses would feel great for all sleeping positions.
Get the Right Size
Avoid getting a mattress that's very big for your bedroom. You would not want your whole bedroom to be consumed by your mattress, don't you? It would be best if you could take some accurate measurements of your area and the probable placement in your bedroom to ensure. That you will get a mattress that fits perfectly in your room.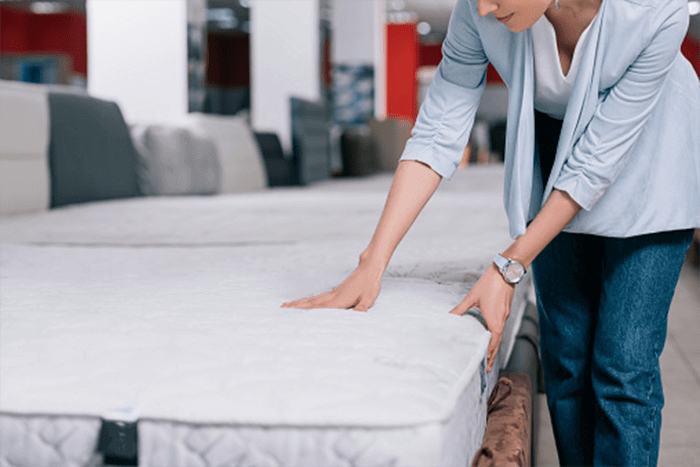 Getting the right size of mattress does not only mean considering the amount of space you have in your bedroom. It also includes the factor of identifying how many people would be sleeping on the mattress.
Typically, this is one of the best ways to ensure that you get the right size. Because sometimes people get a single-size mattress, yet there are two sleepers on the bed. In that case, that would feel too congested, and the sleepers will not be able to move around or toss and turn during their sleep fully.
Identify the Comfort Level
Mattresses come in various sizes and different comfort levels too. Typically, it ranges from firm-level mattress to plush level, and so many more. If you're not an expert at mattresses shopping, you might find it hard to identify a mattress' comfort level.
So, to guide you in your shopping, ask the salesperson beforehand about the comfort level. This will benefit you in so many ways because you will get to know more about the different mattress types, features, and brands you'll see in the market. If you feel uncomfortable asking for a salesperson's help. Don't hesitate to do your research at home or try out the mattresses in-store. But only if the store owner permits you to do so!
Go Online
If you can't find any mattress you like in stores, you can always resort to online shopping. Online shopping has been one of the go-to places for people who do not have enough time to stroll through stores and malls. Not to mention, online shopping has a lot of benefits too. For instance, you don't need to wear fancy and elegant clothes. Because you can shop right in the comfort of your home.
Think About Your Budget
You will not be able to bring home a good-quality mattress if you do not have a budget. Although mattresses are pricey, they are still a good investment, especially if they're great for long-term use.
Additionally, mattresses are not something you change with a new one. After using them for a couple of weeks because they are made to be durable and long-lasting. So, before purchasing, make sure that in whatever mattress you will buy. They will be worth the money you will invest into. There are numerous mattress brands out there you could choose from if you want to find affordable ones.
Takeaway
Choosing a mattress can be tricky at times. Sometimes you think you choose the right one for your needs, but they aren't. Thus, it's vital that you are knowledgeable of the five factors mentioned above to help you arrive at a logical and reasonable decision. That will surely benefit you in the future and help you get better sleep at night.