Salesforce Financial Services Cloud is a CRM platform designed especially for financial institutions. It helps the firm build and maintains strong client relations by making optimum use of the customer database.
Whether you are a financial advisor, own a financial lending company, or run an agency that deals with the financial matters of your clients. This platform helps you provide personalized services to your customers and keep a track of all your activities. 
Here are a few key features of Salesforce Financial Services Cloud. You should know before getting the platform implemented within your organization: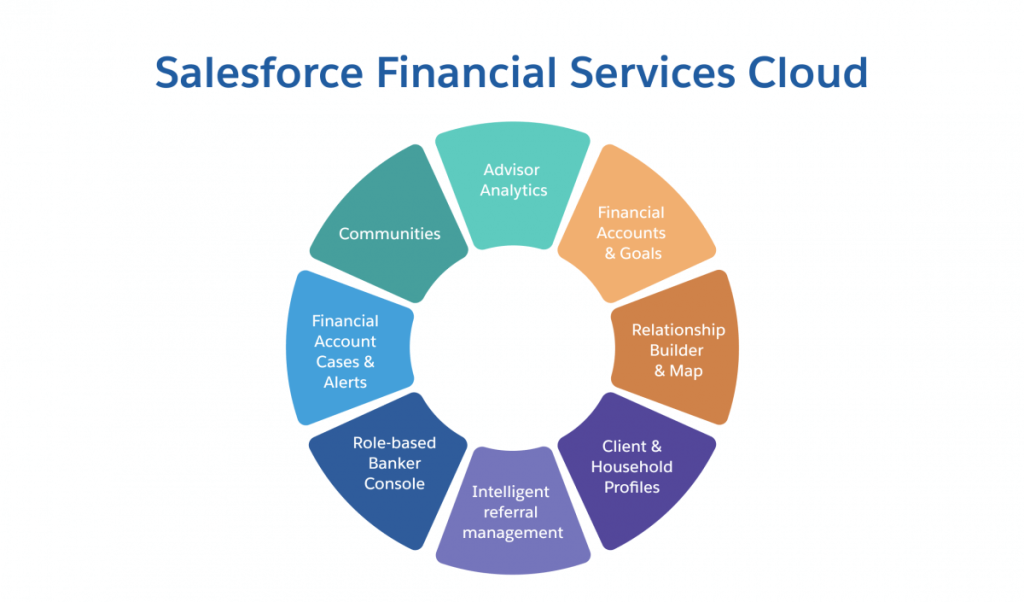 1. Wealth Reports And Dashboards
When you run a financial institution, you are likely to manage the wealth of your clients. Catering to a large number of clients often makes it difficult to keep track of their wealth and provide suitable services to them.
Salesforce Financial Services Cloud helps you prepare and view customized wealth reports and dashboards for your clients, providing you with a snapshot of their current financial status.
In the Reports tab, you can find the wealth reports stored in the following folders:
Client Reports
Client Interest Reports
Financial Account Reports
Holdings and WM Asset Reports
Know Your Client Reports
2. Wallet Share Calculations
Wallet Share (or Share of Wallet) is a common marketing metric that helps you calculate a specific percentage of your clients' spending on a particular product/service. It is an important factor in calculating important financial statements.
As a financial services provider, you can use the automated Wallet Share Calculation feature of the Financial Services Cloud to provide personalized services to your clients.
Whether you are managing the finances of your clients or providing them with financial advice, these calculations provide an ample amount of information regarding your clients' activities.
3. Data Security
One of the primary concerns of clients engaging with a financial institution is that of their data being secure. You cannot afford to risk the security of customer data while managing the same.
Salesforce Financial Services Cloud works in sync with Salesforce Shield, offering an additional security layer to the clients stored within the system. This security is also provided to the tool used for monitoring data usage access.
This reassures your clients that their valuable and sensitive data is in safe hands and there is hardly any risk of fraudulent activities. Additionally, Financial Services Cloud users have access to Event Monitoring, Platform Encryption, and Field Audit Trail to further ensure the safety of data.
4. Relationship Mapping
It is important to keep a track of the relationships you form with your contacts and the ones they form with each other.
Relationship Mapping features allow you to determine relationships between your leads, contacts, and accounts. There are chances of your contacts having a lot in common and these relationships help you provide better services to them.
Also, this feature includes determining the relationships your team members have with your contacts, leads, or accounts. It helps the users identify whether any of your sales reps know the contacts they are serving outside of the business environment.
5. Client And Household Profiles
This feature provided you with a complete view of our clients or a household's financial activities. It allows you to view the past, present, and probable future of the financial decisions and transactions made by your clients. This allows you to get a 360-degree understanding of your clients and helps you serve them better.
There are several other important features you can avail of by getting Salesforce Financial Services Cloud implemented within your organization. All you need to do is clearly define your objectives and choose the edition that best suits your business.