Torrent is the most popular way to share files between multiple users over the Internet. This type of network allows us to share music, games, series, movies, programs, photos and much more in a really simple and efficient way. Today we offer you a list of the best programs to download torrent.
What is Torrent?
BitTorrent or Torrent is a protocol created for the transmission of data through the Internet. A characteristic of this protocol is that the information that makes up a certain file is divided into several parts to facilitate its sending and downloading.
This means that each of the parts into which a file is divided can be downloaded from a different source. The great advantage of this is that a very high download speed is achieved and network congestion is avoided. That is why torrent networks are ideal for sharing large files.
Torrent works like a peer-to-peer or P2P network, which means that data is transmitted directly from one user to another, without going through a server. All torrent users can be both providers and consumers.
Top 10 torrent clients you can use for free
In the middle of the year 2020, no one doubts the victory of torrents when it comes to making P2P downloads. These programs work very well, they are relatively safe, and best of all, they offer a very high download speed without congesting the networks.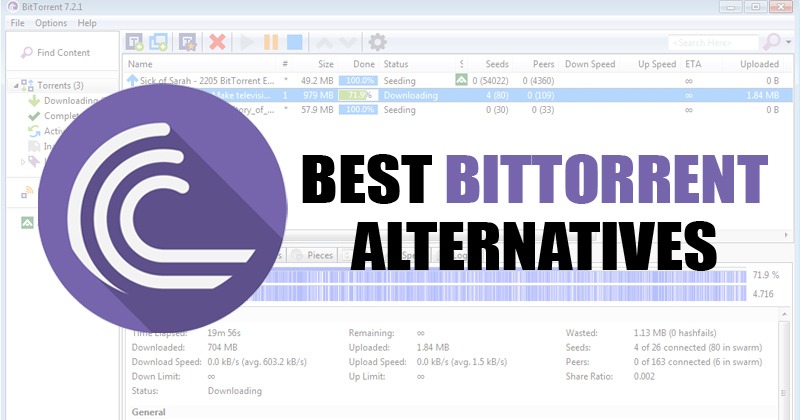 Torrents have a great advantage over other download programs. These programs turn our own computer into a download centre, so that the more users share, the faster the files will be downloaded. A full-fledged win-win and unbeatable for the rest of the download programs.
1. qBitTorrent – Our Favorite
qBitTorrent is for many users the best torrent client found on the Internet. It is a program that has been running for many years, so its developers have had the opportunity to polish all its details and offer everything that users demand.
An advantage of qBitTorrent is that it includes a video and audio player, as well as very advanced encryption technologies. It is an open source program, so it will always be free and the community will never abandon its development. qBitTorrent has all the necessary ingredients to be the best.
The benefits of qBitTorrent continue with a highly optimized and refined code , so it is a very light program for everything it offers and works very fast. Its interface has evolved to be very intuitive and easy to use. It is available for Windows, Mac and Linux. Does anyone give more for less?
2. Deluge – Advanced but heavy and difficult
Deluge is a torrent program that seems very simple, but it hides a large number of configuration options inside. It is a very advanced program that allows you to reach very high download speeds. Although in return it is quite heavy and consumes many computer resources.
It is a program aimed mainly at torrent download professionals. So it is not highly recommended for amateurs and newbies. Another of its advantages is that it has a fairly complete system of accessories. A detail that will delight the most gourmets.
Other of its characteristics is that it has no advertising, and it is completely free. In addition, it offers expansion possibilities through add-ons. Deluge has versions for Windows, Mac and Linux.
3. uTorrent – A classic on the decline
uTorrent has been the reference among torrent programs for many years. It has a minimalist and easy-to-use interface, and also offers a very high download speed along with low resource consumption.
The main drawback of uTorrent is the inclusion of advertising within the program. Something that throws back many users who used to bet on it. Added to this are some security problems that appeared a few years ago, although they have already been solved.
Who has withholds, and uTorrent is still a great option as long as you don't mind having to deal with some advertising in exchange for being able to use it for free. For now it is only available for Windows and Mac, although a version for Linux is already in development.
4. Vuze – Excellent choice for macOS
Vuze is the torrent program preferred by the most novice users, and the reason for this is its interface, taken care of in every detail. It does not stand out for being the fastest program, but it does stand out for being the most beautiful. The design of its interface integrates very well with the aesthetics of macOS.
This program offers a free version with advertising that is not annoying. If you want to remove the ads, you can get the paid version that has a price of approximately 29 euros per year. This premium version also offers support for a multitude of plugins and extensions.
Vuze also offers the functionality of streaming videos, and its premium version includes an antivirus engine that you can activate and deactivate whenever you want. Vuze has versions for Windows, Mac and Linux .
5. BitTorrent – A classic of downloads
BitTorrent is another of the great classics within torrent clients. A fairly light program that works very well on all types of computers, including PCs with several years behind them.
In addition to the client for Windows, BitTorrent also has an app for Android devices, perfect for downloading all kinds of content from the comfort of your smartphone, tablet or Android TV Box. The most demanding users, you can use its paid version.
6. BitLord – Great ease of use
BitLord is a perfect torrent client for users looking for something simple and easy to use . This program dispenses with many functions traditionally included in torrent programs, in exchange for it it has a very simple to use interface.
Therefore, it seems to us a great option for all those who want to start in the world of torrent. It is available for Windows and macOS operating systems, and allows users to know the most important data related to the files to download.
It includes quite a few customization options, so you can leave it to your liking quite easily. All these reasons have convinced us to include it in this list.
7. Tribler – Betting Strong on Safety
Tribler is a torrent download client that places a lot of emphasis on the safety of its users. To achieve this, it makes use of the TOR network, which allows users to remain anonymous while using this program. TOR has one of the most secure networks on the entire Internet, so our privacy will be beyond question.
Tribler's features continue with an open source license, so the program has all the support of a community that does not stop working on continuous improvements. It has versions for Windows, Linux and macOS, so that everyone can benefit from its features.
The downloads are made directly in the application itself, so you will not have to search for anything on third-party pages.
8. WebTorrent – A desktop and web platform
We come to one of the most versatile options for downloading torrent files, since WebTorrent offers the possibility of using both a traditional desktop program and a web application to avoid the hassle of installing anything.
This adds to its simplicity to win the approval of many users who are looking for something simple, but that works very well and is easy to use. An advantage of its web version is that it can be used on a multitude of devices without importing the operating system.
If you prefer to download the program locally, it is available for Windows, Linux and macOS.
9. Transmission – Little known but very complete
Transmission is another very popular torrent client for being an open source program. It is one of the lightest and best performing alternatives when downloading files. Its interface is very minimalist, but it offers everything you need to use the client.
Transmission is compatible with a multitude of file types and protocols such as magnet links, DHT, µTP, PEX , simultaneous downloads, speed limits, advanced information, partial or total downloads, trackers editor and others.
As you can see, a very complete program that offers us great functionality, and the best thing about it is that everything is free and under the principles of free software.
10. Bitcomet – eMule Compatible
We close our selection of the most recommended torrent clients with Bitcomet. This program has very interesting features, such as its open source nature , it is multiplatform, it is highly optimized and it allows you to download a multitude of files at the same time.
But the star feature of Bitcomet, is without doubt its compatibility with eMule networks through a small free box. This will give us access to the millions of files that are housed within the servers of eMule, a program that was everything in P2P downloads in the early 2000s.
Torrent and piracy Is it legal?
Torrent is a protocol for the transmission of data between Internet users without regulation. This means that anything can be shared using this technology , from a photo of your beach vacation to a newly released video game.
This situation causes many users to share content that violates intellectual property standards. However, it is those specific actions of some users that go beyond the law , not the clients or the torrent networks themselves.
Professionals from all fields use this type of network to transmit very large files in a very efficient way, so as we can see, torrent is a magnificent technology as long as it is used responsibly .
The dangers of downloading torrent files
Torrent networks allow any user to share a file over the Internet. This opens up an infinity of possibilities, but we cannot ignore that it also involves a series of risks .
First of all, nothing guarantees that the file we are about to download is really what it claims to be . Surely on more than one occasion you have had an unpleasant surprise when you verify that the downloaded file is not what you expected.
Second, there are multitudes of malicious users who will not hesitate to share files infected with some form of malware . Whether it's to give you a hard time or to steal your private data, there are many viruses, Trojans, and other forms of malicious code.
This means that the files downloaded by torrent may contain a virus, which is installed on the computer without realizing it. These viruses can track and steal your information, encrypt the contents of your hard drive, prevent you from starting your PC, steal your email account, and much more.
The most dangerous cases are files with malicious code that will try to take control of your PC . This is very dangerous, since a person with bad intentions could steal everything on your computer, including your bank details.
Can I get in trouble if I torrent downloads?
As mentioned above, using torrent clients or downloading files through these networks is not illegal , so at first there is no problem with their use. However, you should know that if you download content protected by Copyright, and whose use requires a license, you will be committing a crime.
Therefore, the legality or illegality of the torrent depends on the use you make , and not on the nature of these networks and clients themselves. If you only download files without copyright you will not have problems.
The next point that you should keep in mind is that there are countries where what users download is not monitored , so it would not be possible to know if you are downloading copyright-free material or copyrighted material.
There are other countries such as Germany or the USA, where such monitoring is carried out, and you may receive a notice from your Internet provider, informing you that you are using their service incorrectly, to obtain protected content illegally. If you ignore these types of notices, you can get into legal trouble.
This means that performing illegal torrent downloads will be more or less dangerous depending on the country where you live.
How to use Torrent safely?
If you've made it this far, you should have no doubt that using torrent clients to download files can put the security of your data and the computers you use to download files at risk.
Does this mean that we should stop using torrenting? Of course not. The most important thing is to use these networks responsibly , and take the necessary security measures to avoid the dangers associated with their use.
When downloading a file through a torrent network, it is very important to follow some tips to avoid problems.
Use an antivirus
By nature, the torrent protocol allows any user to share any file. This means that our downloads may be accompanied by viruses, Trojans and other threats capable of putting our security at serious risk.
The first step you should take is to have a reliable antivirus installed, activated and updated . Windows 10 comes standard with an antivirus called Windows Defender that works quite well and provides good security. However, you must pay attention that it is always updated to obtain the best possible protection.
Better still would be to use a paid antivirus, since they usually include extra functions such as anti phishing, which help us protect ourselves from the theft of information.
Never disable antivirus or firewall
Some clients may ask you to do it when using them, you should never accept these types of demands in a download program. Just uninstall it and find another program that doesn't ask you to disable your security.
Beware of users uploading fake files
On the Internet there are many users with bad intentions, who are dedicated to spreading false content through download platforms. Its purpose is usually to inject malicious code into your computer to steal your data.
Detecting a fake file is easy many times, although other times it is almost impossible. You must pay attention to aspects such as the size of the file or the date . If you see that they offer you a product that has not yet been released on the market, you may become suspicious. The same if the file size is different from official sources.
Fortunately, there are also well-intentioned users, who take it upon themselves to list the IP addresses of users reputed to upload phony or manipulated content. You can block these IP addresses in your torrent client to prevent it from downloading content from these sources.
You should also pay attention to the comments of other users, if many of them speak badly of someone, better find another source.
Use only trusted torrent clients
In this article we offer you a list of 10 reliable torrent programs that will cover the needs of all users. You don't need to use an unknown program.
Keep the torrent client up to date
The developers are continually working on new versions to solve the problems and errors that are present, so it is very important that you keep your torrent download program always updated.
Update Windows 10
Microsoft's operating system is the last barrier that protects us from malware , so we must always keep it in perfect condition. Make sure Windows Update is working properly, and manually check for new updates available.
Use a VPN
VPN connections are an excellent tool to maintain our privacy and security on the Internet. These networks are responsible for maintaining our anonymity, protecting us and our team from computer threats.
Many users opt for free VPNs, which offer a good level of protection, but you can go a step further with a paid VPN. Premium VPNs come at a significant cost , but they offer many more configuration options and better features than free alternatives.
The seeders or seeds are your allies
The seeders or seeds represent the number of users who are sharing a certain file . Malicious files usually come from one or a few users, so if there are many seeds it is a good clue that it is surely a safe file.
Of course this is not foolproof, but choosing the file with the most seeds is a good rule of thumb. So now you know, if there are several versions of the same file, choose the one with the most seeders.
Check the comments
Torrent files have a comment section, where all users who have downloaded them can leave their opinion. Read the comments before downloading the file , if there is no mention of malicious and / or inappropriate content, it is a good starting point.
How to get the most out of a torrent program
Current torrent programs are prepared to work very well as soon as we install them, but there are some tips that we can follow to improve their performance and achieve a higher download speed.
Opt for a wired connection
WiFi networks are very convenient to use, but the cable connection is still the most reliable and efficient method to connect to the Internet. Wired (cable) connections offer lower latency, greater stability, and are less affected by interference .
Give importance to seeders or seeds
The more seeds a file has, the faster it will download . In addition, you will prevent the torrent client from having trouble finding all the fragments that make up the file. Therefore, remember to always choose the file with the largest possible number of seeders.
Optimize downloads at the same time
Torrent programs allow you to download several files at the same time, but keep in mind that the bandwidth of your network connection will be divided between all of them. This means that if you download a single file, it will do it faster than if you download five at the same time, especially in the case of users with low speed connections. Just download the files one by one if your internet is not very fast.
Check the speed limits
Torrent clients include a function that allows you to limit the bandwidth consumed by the program. This can be very useful if you are going to do something else at the same time as your torrent downloads, such as watching videos on Netflix or YouTube or playing games with your friends.
However, it will also slow down your downloads . This doesn't make sense if you're not going to do any other bandwidth-consuming tasks while torrenting. Therefore, check the speed limiter.
Here ends our article on the best free torrent clients, we hope you like it. Remember that you can share the content with your friends on social networks to help us reach more users.