Chemistry is one of the most crucial core science subjects in Class 10. It is also fun to learn chemistry as you study matter, the composition of substances, atoms, molecules, and the like. Chemistry in Class 10 builds the foundation which is necessary for higher studies and career paths. Students must form their base in Chemistry right from this level to ensure a smooth journey in their high school.
What is the syllabus of Class 10 Chemistry?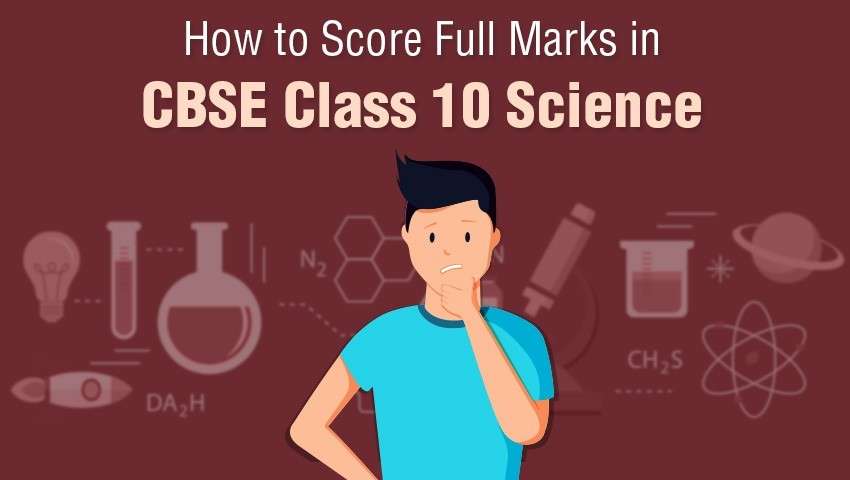 As CBSE combines Physics, Chemistry, and Biology into one subject Science and tests on all three of them, Chemistry constitutes only the first part of the Science syllabus. Out of the sixteen chapters of Science, the first five chapters are for Chemistry. The chapters are as follows:
Chemical Reactions and Equations,
Acids, Bases, and Salts,
Metals and Non-Metals,
Carbon and its Compounds,
Periodic Classifications of Elements. 
What is the paper pattern of Chemistry?
There will be a total of thirty-six questions in the paper. These questions have four sections, Section A, Section B, Section C, and Section D. The question paper will not provide the students with any overall choices. Hence, attempting all questions become compulsory. Yet, the students will get some internal options in the paper.
Section A carries twenty marks of one mark and has objective-type questions like the MCQs or multiple-choice questions, assertion-reason-based questions, and short answer type questions.
Section B carries twelve marks for six questions. The questions are short answer type questions of two marks each.
Section C consists of seven short questions of three marks each.
Section D consists of three long questions of five marks each.
How to get full marks in Chemistry Class 10?
1) Cover your syllabus on time – 
Try to cover the chapters along with your school course. This process will help you complete the chapters on time, and you will not have to learn all of it together last minute. This process will ensure that you are curious about what you are learning. Hence, if you get stuck, you can ask your teacher to guide you. 
2) Practice balancing reactions for chemistry – 
One of the most crucial aspects of Chemistry is understanding and balancing the equations. If someone is good at balancing equations, scoring good marks in Chemistry becomes easier. As balancing equations usually incorporate the hit and trial method, it becomes easy to do in the exams if you have enough practice of balancing equations. 
3) The periodic table is crucial- 
Know the properties of these elements. Ensure that while you study them, you know their groups, the periods, the electronic configurations, and the laws like Mendeleev's laws. Most questions will come surrounding the atomic number, justification regarding the physical and chemical and properties of the elements, etc. If you know your periodic table well, you will be able to score easily.
4) Learn up the nomenclature of organic compounds – 
Study the nomenclature rules of the carbon compounds, the homologous series, the functional groups, the type of bond formation, the formation of the molecules using dot structure, and the physical properties of the carbon compounds. You should also know the common names for the salts. You will need to be well-versed in these basics before you study further.
5) List down the vital chemical reactions in the NCERT book –
List all the crucial chemical reactions in a place to memorise them. These will come to use when you are revising too. Write all the chemical reactions where one compound converts to another too. You can later make flashcards to study these chemical reactions, enabling you to remember them in a much better way.
6) Take the help of internet experts – 
If you feel that it is becoming difficult for you to make notes or recall everything you have studied, you can refer to the class 10 chemistry notes available online. These notes have all the essential points, chemical reactions, and all the concepts of the chapters. It becomes easier to revise these notes right before the exam. 
7) You can also take the help of reference books – 
Reference books help enhance your understanding of the concepts. Often the chapters or portions from the chapters you find difficult to grasp will be taken care of by these reference books. Science for 10th Class: Chemistry by Lakhmit Singh and Manjit Kaur is one of the best reference books that you can follow. Students also follow the book of Dinesh publications as references. 
8) Solve previous years' sample papers and give mock tests – 
You can complete chapters and check the questions that have come previously from them, to analyze the type of questions from a particular lesson. Apart from this, after you complete your syllabus, time yourself and solve all the previous years' question papers. You can invest in the question bank of the last ten years and practice solving them.
To climb a level higher and ensure that you score full marks in Chemistry, sit for mock tests. You will find numerous mock tests happening online. This practice will also give you the feel of an examination. When you sit for some mock tests, you can identify if you are still making some mistakes that need fixing. 
Although Chemistry is just a part of the Science exam, you can score full marks in Chemistry. Apart from that, Chemistry will act as a deciding factor in determining your Science percentage. Ensure that you are studying Chemistry twice a week. Try taking a look at the periodic table daily to retain what you learned. These small steps will ensure that you get full marks in the Chemistry exam. Most importantly, do not panic before your exam. Stay confident about what you have studied and stay focused. All the best!