Introduction:
Every girl wants to look perfect on her wedding day. This is one of the most precious days for her. Every photographer is clicking your picture. Every guest is talking about your beautiful dress and makeup. The different makeup ideas are going to help you to achieve a perfect bridal look. Apart from the makeup, a beautiful dress and a pair of bridal shoes will draw everyone's attention to you.
Asian makeup ideas and the Asian dress both are a little bit different from the rest of the world. A little bit of glimmer and glittery makeup looks gorgeous on the Beautiful Asian Woman. And this shine is going to add beautiful blush onto your cheeks.
11 Beautiful Bridal Makeup ideas In 2021
After shorting out the dress for your big day. Here comes the turn of choosing the right makeup and hairdresser for you. Right makeup and dress do not only make you a head-turning bride. These beautiful makeups are making your Bday a very special day.
Here is a list of 11 beautiful bridal makeups to make your wedding a picture-perfect day.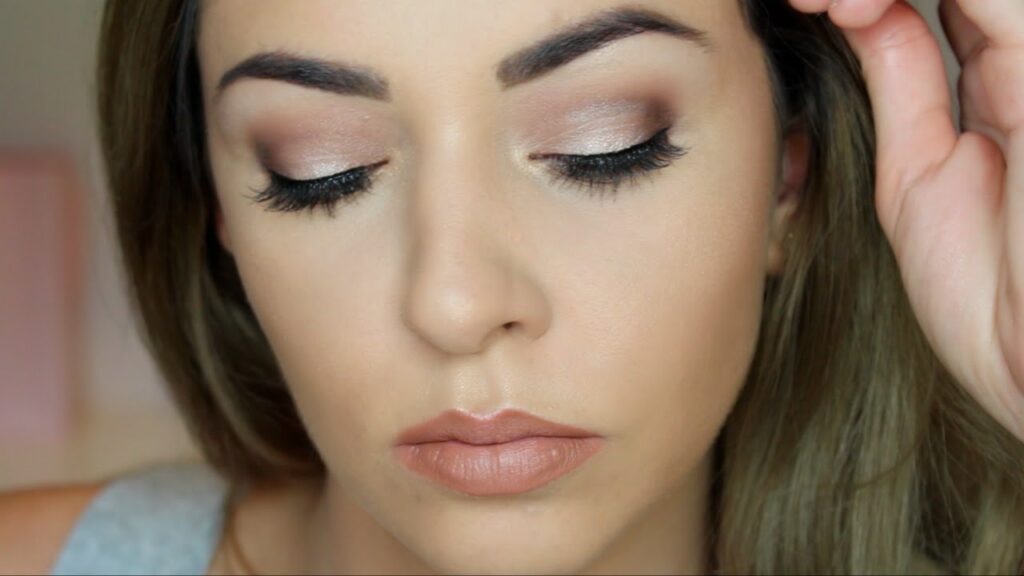 Natural Bridal Makeups
Be natural and fluent in your natural facial features. Like the natural makeup trends, these natural bridal makeups ideas are also very popular among brides. When you want to achieve these looks first, give preference to improve your natural skin texture and tone.
Suppose you are going to follow a very simple green leafy diet one month before your wedding day. Your skin texture is going to improve. The natural look is beautiful, but only you have to add some good lip color to pop your bridal look.
Vintage Bridal Makeups
Vintage makeup is incomplete without bright lip color. If you have a nice bob hair cut, these vintage makeups are going to look marvelous. For achieving the perfect look, just see the Marilyn Monroe Picture. And ask for the makeup from your makeup artist.
For achieving these looks, you only have to focus on the natural eye makeup and the vintage wine red lips. Suppose you want to add more extra. Do perm on your hair. The vintage-style short net veil is looking very classy with the look.
Gorgeous Bridal Makeups ideas
Gorgeous eye makeup means apply heavy eye makeup and extenuate the natural eye look. Choose the bridal gown on the basis of your body shape. And apply the makeup in a more natural way.
The best part of the gorgeous bridal makeup look is the pink blush cheeks. After finishing up the whole makeup look, Apply the matching blush on to add some colors to two of your cheeks.
Simple And Pretty
Keep your makeup simple, pretty, and unique. If you are not going to hire some professional makeup artist, these simple and pretty bridal makeups are the most suitable makeup look for you. These simple looks can be achievable by your regular makeup kits.
Just apply the way you are doing your makeup daily. If you are doing simple and unique makeup, always choose a dress that is not as simple as your makeup. Simple look bridal makeups are looking gorgeous with more dramatic wedding dresses.
Gothic Bridal Makeup ideas
Do you love the gothic style makeup trend? So why do not try a black bridal dress? The black bridal dress is really classy. But if your groom is coming from a very orthodox family. The red and white dress is also going to look very stylish with the gothic bridal makeup ideas.
To achieve gothic fashion, you have to select your ornament carefully. And do not forget to choose the black lipstick and the nail paint to look, original goth bride. For achieving the best look, add a goth tiara along with the matching veil.
Gipsy Style Makeup
Have you ever seen a big fat gypsy wedding? The authentic gypsy brides are never scared to experiment with the glittery, shimmery colors. Even the wedding dress of a gypsy bride is very different from the standard wedding dresses.
For achieving the look, first, choose a suitable wedding dress for yourself. And no need to get scared in experimenting with the colors. And do not go for any special types of hair binding. Do perm your hair. Leave your natural hair and add a beautiful crown on the top of your head.
Flawless Bridal Makeup
Flawless bridal makeups are very trendy now. The bride should always look perfectly flawless. Flawless makeups are not very tough to achieve. To achieve this look, you have to choose the perfect shade of foundation.
An accurate shade of foundation along with concealers will give you perfect flawless bridal makeup. But the most important part of the makeup is to give extra preference to maintain the natural skin texture of your skin.
Shimmery Bridal Makeup
Shimmery bridal makeups are trendy among Asian bridal. Shimmery bridal makeup looks gorgeous with smokey eyes. To achieve this look, always focus on your eyes. Smokey eyes are looking very compatible with the shimmery bridal makeup.
For looking like a beautiful shimmery, glittery bride, do add some shimmery eye makeup. The shimmery eye makeup is looking gorgeous on the bride. And to add the gorgeous finishing look apply some high lighters to your cheeks.
Focus On Eye Makeup
Give preference to your eye makeup. The bride's eyes are the most beautiful parts of the makeup. Very sexy eye makeup is doing all the work when your future husband is going to remove the veil from your face.
Extantuted your eye makeup and do an experiment with the dark smokey eyes. And you can do experiments with the different eye shadows. With the heavy eye, makeup does apply some natural lip colors.
10.Turning You On A Bronze Bridal
The bronze bridal look is more suitable for the bride; who organized the beachside wedding? Most of the beach weddings are organized in the winter and the end of the summer. This season is the season of adding colors and experimenting with wedding dresses.
Bronze glitter colors are looking fabulous on beach weddings. If you want to be fluent, choose a beach wedding dress with a deep neckline and a long veil.
11.Golden Bride
Golden theme colors are more suitable on the olive and brown skin tone. If you have a dusky and brown complexion, experiment with the golden colors along with the gold ornaments and red lip colors.
The golden colors, eye shadow, and highlights are giving you queen-like glimmers. So if you want to look like a queen diva, do an experiment with the golden eye makeups and highlighters.
Wrapping It Up:
Wedding day is a big day for you. These 11 makeup trends are very trendy. The most appreciating part of this makeup look is that you can simply apply the makeups with your own. So, what is your plan to make your wedding day the most memorable? Do not forget to share your makeup and dress planning with us in the comment section below!
Author bio:
Sofia kelly is a passionate blogger. She loves to share her thoughts, ideas and experiences with the world through blogging. Ani Johnson is associated with Real Wealth Business, The Daily Notes & Okey Magazine.