Behind every successful SEO strategy ( search engine optimization ) there is an excellent link building plan that aims to bring new backlinks to the best pages of your website. It is hard work, which takes time but which can lead to enormous satisfaction since a good distribution of backlinks is still today the main positioning factor of a site of any kind. One of the best link building tactics is that through Guest Post and in this guide we will explain how to start using guest blogging for the creation of effective links.
What is link building?
The link building is the strategy for the ' acquisition of links directed to your site from other people's sites. It serves to increase the authority of a site and to make it rise among the search results in its sector of reference. You have to do it well and with knowledge of the facts, without improvising as experts, since the risk of getting a penalty for Google and the other search engines is high.
The rule to follow is mainly one: the incoming links and the outgoing links must be as natural as possible, therefore it is necessary to study and implement a good mix of mentions (link follow) citations (post of others without a link or with link no-follow) with anchor text not guided unnaturally.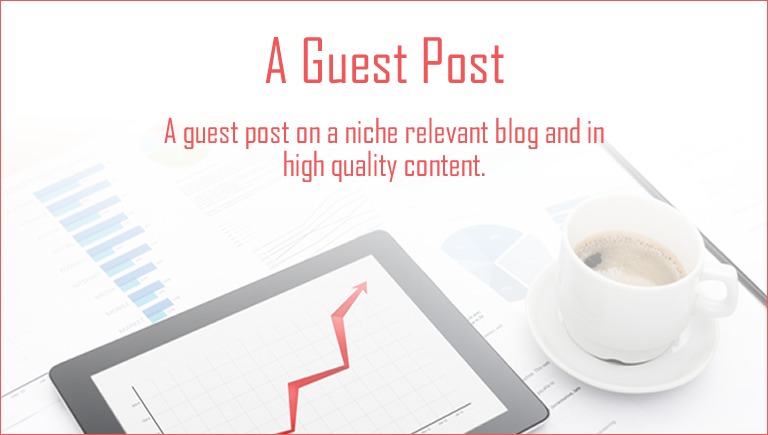 Clearly, the more authoritative the site that links us, the more our online project will acquire "prestige" and therefore value ( positioning ) in the eyes of the search engines. As anticipated before, one of the most effective techniques for obtaining the desired results is guest blogging.
How does guest blogging work?
The posting guest is a term now commonly used by an increasing number of people but really all they know how it works? It is a marketing technique and to date, it is considered one of the most effective for increasing the number of links to your website and consequently the popularity and the probability of increasing your turnover.
Having a clear idea of ​​the importance of guest posting is fundamental to derive great benefits in terms of reputation and authority of your site in the world of the web, whether it be that of a professional or that of a company.
What is a guest post?
Let's take a concrete example to better understand: A blog owner publishes your own post as a guest on your site. Here's what guest blogging is all about: posting articles on someone else's sites. The publication request can start either from the blog owner who invites guests to write articles to keep their blog up to date or directly on the initiative of the author of the article in question.
Make the most of Guest Posts
The construction of backlinks takes time and is not exactly simple: it is a strategy whereby you get links from other sites that link to your pages.
That of guest posts is not a new topic and is seen as one of the most effective methods for creating backlinks, also because it is not simply a matter of acquiring a good backlink but of starting a tactic of building relationships between the two sites that could benefit both, bringing new qualified traffic and greater authority. Provided, of course, to make valuable content and not to use the following three tactics disapproved by Google (therefore not to be used):
keyword stuffing (links full of keywords ) to your site and articles
Using article writers who are not aware of the topics they are writing about
Using the same or similar content in articles on different websites; alternatively, duplicating the entire content of the articles already published on your site and bringing them elsewhere.
If the former may seem obvious enough, the other two points are not and indeed reflect a recent phenomenon that more and more SEO and marketers are adopting: that of outsourcing the creation of SEO content to economic authors, perhaps asking them to write more variants of the same post and then spreading them as guest posts. It is obvious that those contents are designed to obtain backlinks and Google also realizes it, so it is a tactic to avoid.
So how do you implement a truly effective and natural-looking strategy?
Search for blogs by guest posts
When you're ready to start leveraging guest blogging, you can get started by searching Google to identify potential blogs to ask for a guest post. Just choose the keyword or keywords you want to target, type them on Google together with the word "blog" and check the search results, page after page.
After finding those blogs that address that particular topic or theme, contact the owners of the blog, introducing yourself clearly and explaining to them that you are interested in writing a valuable guest post (of a specific topic to indicate) in exchange for a backlink to the own site.
I warn you, it is not a simple thing at all. It is a long and time-consuming job, alternatively, you can choose the shortest way and rely on an SEO who has made a profession of link building with a guest post.
But before…
Assess the authority of a site
For the effectiveness of a link building strategy through guest posts, the authority of a site must first be assessed. In SEO terms, here are some suggestions:
Make sure that the guest blogging site has no ongoing penalties.
Check with Ahrefs that the chosen site has a balanced backlink profile or that it does not have too many outgoing links compared to the incoming ones
Check with MOZ the Domain Authority (DA) and see if it suits your purpose
Use Majestic (or the aforementioned MOZ and Ahrefs) to check the balance of the site between link follow and link no-follow.
Write and optimize articles
After choosing the reference sites and as soon as the positive responses of the owners of the blogs on which the guest post for the link building is published will arrive, it will be necessary to write an optimized guest post of value, quality, making sure to send a content that is well-formatted for the specific keywords you want to push. Put the focus on quality and readability.
Make sure to include a link to the web page of your site to which you want to drive traffic. It is an opportunity to design the perfect backlink, using an anchor text that includes the keywords for which you want to position your page on search engines.
Finally, be sure to include a caption of a couple of lines to explain to the readers of the guest post who is the author and why you are writing on that particular topic, perhaps by linking to the work done on your website.
Remember to:
Vary the text of the anchors in each guest post (or almost)
Publish guest posts on different sites, by theme and quality and IP address
Within the guest posts, link other authoritative and/or non-commercial sources.
A tip: when writing a guest post, it is better not to include the most important keywords in the title. Or better: do not use the keyword in the title for which you want to position yourself with your site. In other words, to give a simple example, do not write a guest post on "selling pears online" if you sell pears online. A good strategy is to diversify by focusing on the best recipes for cooking pears, on the apps to help grow pears in the garden, on the benefits of apples for health and so on.
Track and measure the results
Finally, make sure that you have an SEO analysis tool for your website in order to keep track of visits, leads, and benefits obtained from published guest posts. You can also use Excel spreadsheets to organize your backlinks and find the blogs you have published on very easily.
Finally, it must be said that implementing all of the above is not an easy thing and perhaps this is the reason why it is such an effective strategy. Few competitors will have the patience and resources to create and publish valuable content on other websites, so doing so represents a competitive advantage that can lead to a significant increase in traffic and positioning.