Times are tough. People are being bullied into staying indoors by this deadly disease that all nations are trying to combat. However, nature has its own mysteries. It stays quiet to watch what we are capable of and then when it has had enough; it creeps in to pull the earth from beneath our feet without us ever realizing what's going on. So, for a time like this when staying indoors is our only option, how do people get their necessities. How can they manage to get groceries that are critical for their survival? The only thing that people can depend on is an on demand grocery delivery app.
What does an on demand grocery delivery app mean?
An on demand app is essentially is something that allows people to get whatever that they need whenever they need it deliver it to their doorstep. The app stays in the smart phone of the user and when they need something, they can simply flick their phones on and order the things they want. The app assigns a driver to pick up the items from a store and deliver it right to their doorstep.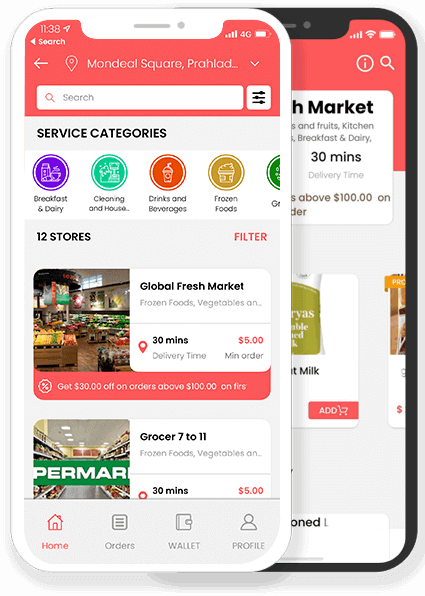 What is the flow of a grocery delivery app?
An on demand grocery delivery app actually appears to be a very simple affair however, it is as complex as it gets. Before we get down to understanding the complexities of the app, let us take a brief look at the flow of the app.
The user's download the app
They can then log in to it using their Facebook or Gmail ID. They can even log in to it using their information to fill out a form
Once that is done, the user can see a list of all the stores that are register with the app
On clicking the particular store, the user can see a list of all the items available in their store
They can select the items that they need and add them to your cart
The users may now check out the items and pay automatically using the app
After this, the app automatically assigns a delivery driver to reach the store and pick up the items to deliver them to the doorstep of the customer
However, to make this app as easy to use as it seems. There are s many different aspects that need to be taken care of. There is android development, iOS development, PHP development, Project management, content writing, quality checks and much more to be managed. This is why it is of utmost significance that one takes care while purchasing the right kind of app.
What is the single most important feature when it comes to building an on demand grocery development solution?
In times such as these when the corona virus pandemic lockdown has made living our daily lives extremely difficult. People have to exercise precaution at every step that they take. This virus spreads relentlessly through contact. Therefore, the only way to prevent it is by exercising extra precaution when it comes to getting in contact with anyone at all.
This is why; the single most important feature in an on demand grocery delivery application these days is to ensure that you have 'Contactless Delivery'.
What is Contactless Delivery?
Typically, when an order is placed, the grocery delivery driver would reach the home of the customer and ring the door bell and then hand over their order to them in person. While this is a very convenient option, it might not be the wisest option during these times.
This is where the contactless delivery comes into picture. This system ensures that instead of ringing the bell and handing you the order in person, the delivery driver reaches your home, places your order near your door, clicks a picture of said order using the app and sends it to you. The customer is then notified of the delivery that awaits them at the door. The delivery driver then leaves and the customer can retrieve their order.
This system ensures that your customer doesn't have to get in direct contact of the delivery driver at all.
Where can you get an app with these features?
A simple search on Google will show you a list of all the top companies that build on demand grocery delivery apps. However, when you select yours, you should make sure that the company that you purchase the app from is a reliable one and has an experience in building on demand apps for at least 5 to 6 years.
Once you have shortlisted the companies that you would prefer, you will have to take a free demo of the application beforehand. Make sure that you download the demo app on multiple devices. And try it out from the user point of view, the delivery driver point of view, the store point of view and of course the admin panel. That is the only way you will be able to determine the quality of what you will be getting at the end of the day. Ensure that this app that you purchase has this contactless delivery feature to make it safe for your users to purchase groceries using your app.