Sitting down at your workstation, you're ready to commit your memories to paper and do some Scrapbook ! Coming up with a design idea can be like pulling a rabbit out of a hat, a work of magic! But some days, finding that magic is a little more difficult than others. Thankfully, we have a few ideas that might help you find your spark a little easier!
Also! Make sure to frequent Media Blog for all of the newest and best ideas of Scrapbook! 
10 Scrapbook Design Ideas to Get You Started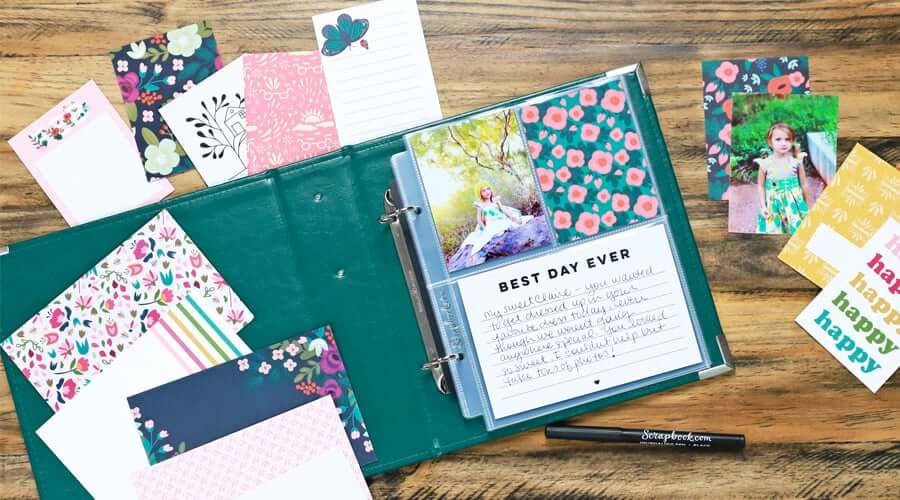 Quick and Easy Watercolor Floral Layout
This layout has so many fun elements, from the watercolor to the gold embossing, to the sequin embellishments! 
One feature of this design that is really great is the few leaves that were cut onto Translucent Vellum Paper, creating these delicate leaves peeking throughout the design. And because of the watercolor, each flower is so subtly unique from one another. 
Freehand Watercolor Florals
If you're not super familiar with watercolors, it may seem daunting to try a freehand design. But think of this as a great opportunity to let your creativity flow! One great thing about watercolor is that there is no such thing as 'perfect' watercoloring. If anything, 'perfection' lies within imperfection! And going for a freehand design is a great way to really let your personal touch shine!
This design also incorporates some great combinations of washi tape and die-cuts to complement the palette. Try playing around with different colors to make something uniquely you! 
If you're looking for watercolors to try, check out Altenew's Artists' Watercolor 24 Pan.
Easy Floral Layout Using 6×6 Patterned Paper Pads
This is a great design that forgoes the process of stamping a lot of floral blooms and background patterns and utilizes paper pads instead! With 6×6 paper packs sometimes it's hard to visualize them filling up an entire 8" x 11" page or larger. But they are a perfectly versatile tool that can really beef up your designs. 
Designer Maryám Perez uses the Fine Frames Diamonds Die Set to create a fabulous patterned background layered with bold floral blooms from the Cheerful Meadow 6×6 Paper Pad. 
Simple Scrapbook Layout using Cover Dies
Using a cover die for cards is always great, it creates an overall design that is just irresistible. But transferred to a larger canvas? It's a fantastic opportunity to turn these die-cuts into intricate panels! This design balances huge pops of patterns, layers, and plenty of open space to allow the page to breathe. 
Utilizing both the positive and negative papercuts from the die, this scrapbook design pushes the Dainty Blooms Cover Die to its fullest potential.  
Quick and Easy Scrapbook Layout with Washi Tapes
Washi tapes are a great addition to any design, and while they create great accents, they can also be a fantastic focal point. This design creates a little organized chaos with washi tapes, utilizing the raw torn edges and creating a linear symmetry throughout the page! You can see just how this design came together over on the Altenew Youtube Channel.
The featured washi tapes from this design are from our March 2023 Washi Tape Release!
Spring Layout feat. Mix & Match Mariposa Die Set
This design creates a three-dimensional kaleidoscope of butterflies by layering die-cuts from the Mix & Match Mariposa Die Set.
This is a really fantastic way to create a design that literally pops off the page! And by using different textures and patterns of paper for each butterfly, it brings some colorful and exciting energy to the design.
While designer Maryam Perez created her own patterned paper by using a mix of watercolors and embossing paste, this would also be a great opportunity to use a themed 6×6 paper pack as well!
Soft and Delicate Scrapbook Layout
It can be nice to use bold colors and eye-popping patterns, but there's also a real charm when it comes to using softer, more muted tones. And just because it has a gentler palette doesn't mean it's boring!
This design incorporates a soft pastel palette of pinks and lilacs, highlighted by stark whites and gentle grays, and accented by clusters of big blooms. This is a great opportunity to flex your skills by creating intricate designs with minimalist colors.  
The stamp and die set in this design is from the Build-A-Flower: Begonia! 
Creating Backgrounds with Stamped Images
While there are tons of great cardstocks out there with tons of awesome patterns, using stamps to make your own custom backgrounds creates a unique opportunity to create a one of a kind pattern.
By using your stamps to create a repeating pattern you can use a unique combination of colors to fit a palette of your design, rather than fit your palette around whatever patterned paper you have available. You can also arrange your patterns to highlight or accentuate the content of your page exactly how you want! 
The stamps featured in this design are the Dot Art Stamp Set, A Study in Watercolor Stamp Set, and the Indoor Garden Stamp Set.
Simple Floral Scrapbook Layout
This layout is a gorgeous detailed design that utilizes several elements that seem nowhere near simple. But look closer and you'll find making something like this is easier than you think! 
Nearly all of the major elements of this scrapbook design are from the Live Your Dream Scrapbook Collection! Mainly utilizing patterns from the Live Your Dream 12×12 Paper Set and the Live Your Dream Die-Cut Embellishments. 
One fun personal touch designer Reiko added was the delicate crepe paper ruffles that cup the Rosy Outlook die-cuts! 
Scrapbook Layout feat. Color Wheel Die
Gradient Cardstock sets are themed collections of colored cardstock that follow a fun gradient. This scrapbook design introduces a great concept, combining them with the Color Wheel Die to create a rainbow effect as a focal point!
This is an awesome design choice as the rest of the scrapbook page is mostly in a minimalist palette, which only highlights the bright colors of the cardstock even more! 
Hopefully, these scrapbook design ideas are a great way to jumpstart your next crafting journey!