Clean floors are a basic pre-requisite to a clean home and maintaining the floors well is a regular part of the housekeeping activity for any home-owner today. Here are some handy tools and simple pieces of equipment that you can use to achieve the super-clean look for your floors.

1.Plastic Floor Mat
Floors get dirty as we walk on them every day, bringing in the dust and other dirt from outdoors. One simple way to ensure that this doesn't happen is by keeping a plastic floor mat at the entrance. The plastic mat ensures that dust, mud, snow, and other such material from outdoors gets trapped at the entrance of the home instead of being tracked all over the floors. Remember to also clean the floor mat regularly!

2.Floor Squeegee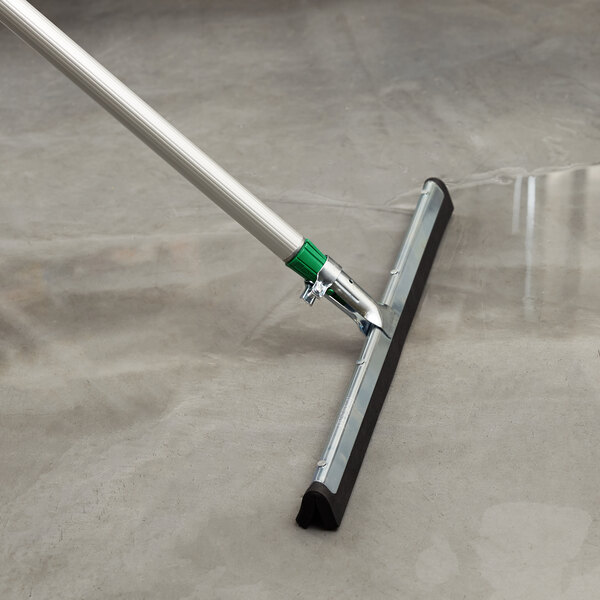 For an instant clean-up, a floor squeegee is a great piece of cleaning equipment to have at home. Due to its angled design, the squeegee can quickly dry a wet floor by removing the water in a few swipes. Floor squeegees are a great way to clean large areas, and are ideal for concrete floors where just water and squeegee will be enough for a good cleaning. Floor squeegees are available in different materials and with features such as telescopic handle, extra long blade. Choose the one that suits your needs best.

3.Mop

Depending on how dusty your environment is, you'll need to mop your floors every so often with water and a floor cleaning solution. The kind of mop you choose will depend on your floors, but a microfibre mop usually works on most kinds–tiles, linoleum, parquet etc. Microfibre mops with different heads can be used for dry mopping and wet mopping, ensuring that your floor is sparkling clean.–

4.Vacuum Cleaner

While mops are great to clean your floors regularly, you should also use a vacuum cleaner once in a few days to remove dust, pet hair etc. from hidden corners of your floor. A very wide variety of vacuum cleaners are available in the market today, and you can easily find one that fits your needs and budget.

5.Broom
You don't have to always wash your floor to clean it, you could also use a broom to sweep away dust bunnies, lint, hair and other detritus from the floor. Brooms won't work so well on carpeted floors though, and you'd be better off using the vacuum there. On hard floors–concrete, tile, laminate and so on–you can safely use a broom. Also remember, brooms are good for dry dirt and small pieces of trash only.
Hope you liked these inputs on things that can help you keep your floor clean! You can easily buy floor cleaning supplies such as floor cleaners, plastic floor mats, floor squeegees and more from online retailers such as One Stop Cleaning Supplies.