It is a crowded world out there. So, to stand out from the crowd, you'll want to express your creative project in an engaging, enlightening, and enchanting way. Working with a top pencil drawing artist can help with that. Thousands of skilled pencil drawing artists are available to help you sprinkle in the elegance, connection, and captive power you want to see.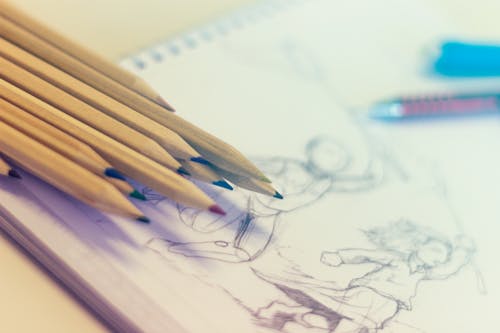 Here are some tips to help you work with the right artist for your project.
Pick the Right Artist for Your Project
Pencil drawing is an extensive discipline. You can pick anything from watermark and book cover art to comic and architectural illustrations.
That means the best portrait artist may not necessarily be the go-to expert for advertising illustrations. So, be sure to specify the kind of pencil drawing specialty you wish to work with.
That leads us to the next tip.
Inject Life into Your Project Description
Creating something new is as exciting as New Year's Eve. There is so much to look forward to, so many possibilities. You just have to pick what to run with, detail out a plan, and commit to it to see incredible progress a year later.
In the same way, the best pencil drawing artists can create hyper-realistic pencil drawings from scratch. But even the best artists need a little inspiration to masterfully turn blank pages to Aha! moments.
Like creating a solid plan for a new year, always provide detailed project briefs, including what you need the pencil drawings for and when. That can help your pencil art virtuoso create just the right mix of precision and richness for specific use cases.
The best things in life come recommended. And top pencil craftspeople are no different.
You can tell who has a rich history of delivering masterful works for clients like you. And those kinds of details can help you narrow down the finest pencil artists for your project. 
But, not so fast. 
That tends to mean a top pencil drawing expert who's new to the platform may not have gained the most extensive work history yet. So, we recommend that you ask all applicants to include samples of recent works or a portfolio link with their application.
From there, you can base your hiring decision on skills they've illustrated before to discerning clients like you.
Ask About the Artist's Style
This is a great way to get a good feel for how an artist works their magic.
Some creators use soft paper and soft leads to bring large line drawings to life. Others prefer not to erase or revise their drawings. Yet others are at their best using more rigid markers to make cleaner lines less vulnerable to smudging. You decide what style you want to bring to your creative project.
Chat About their Creative Process
Top freelancers will take your abstract project, inject their creative flair into it, and share their unique take with you before they get down to drawing.
That'll give you a chance to brainstorm and offer feedback. Remember, the best contemporary artists are not afraid to get creative pointers and constructive feedback.
A good artist will then start creating with that input in mind.
In case they need to consult you on questions, suggestions, or concerns, they'll reach out without delay.
That collaboration is key to fuelling their fire as well as getting an end-product you'll be proud to show out for a lifetime.
Get a Quote
Once you narrow down the pencil drawers you'd love to work with, it is time to get down to business and talk deliverables.
Some artists lay it out tastefully on their freelancer profiles. Others prefer you reach out to them directly to get a quote.
Either way, you'll want to know precisely what you are getting and what your artist's expectations before starting a contract. This is a great way to set the right expectations and ensure a smooth working relationship with your freelancer.
Make a Move to Inspire Trust
After receiving quotes and deciding which freelancer to work with, it is time to walk the talk.
That means you can make escrow deposits with confidence so your new hire can spring to action. You can also use the WorkRoom, track hours worked, and exchange more ideas within the platform to get more done in less time and within budget.
Put these handy tips to work for, and you'll hire the best freelance pencil drawing artist for your project in no time.