Recently, AET REMOULD launched Sapphire Daytona National Collection. Each country has its own unique culture, and those amazing cultures make the world colorful. Every watch has its unique charm, with various shapes, materials, and functions constitute a desirable watch world.
Themed as nations, AET REMOULD deeply integrates different cultures, watches, and sapphire crystal craftsmanship. The most distinctive culture and spirit of each country will be displayed in watches, and the Sapphire Daytona will be given a fascinating connotation. Wear a Sapphire Daytona National Series watch and feel the heritage of mechanical timekeeping and culture.
Germany limited edition:
The red sailboat goes upstream and heads towards the sea of stars, along with the radiant golden planet, symbolizing the spirit of Germany. The colors in the painting symbolize different meanings. The red hull symbolizes the burning flame, which inspires the enthusiasm for freedom; the golden planet symbolizes the glory of truth, and the black river symbolizes the rigor and solemnity of the Germans. This work contains the German spirit and culture. Sapphire Daytona Germany limited edition is limited to 5 pieces worldwide.
Japanese limited edition:
Ukiyoe is a unique Japanese national art with very distinctive cultural characteristics. Inspired by its most classic images, the sun and waves, AET REMOULD creates a fabulous landscape on the Sapphire Daytona that symbolizes the Japanese spirit rises in the roaring waves. Sapphire Daytona Japan edition is limited to 5 pieces worldwide.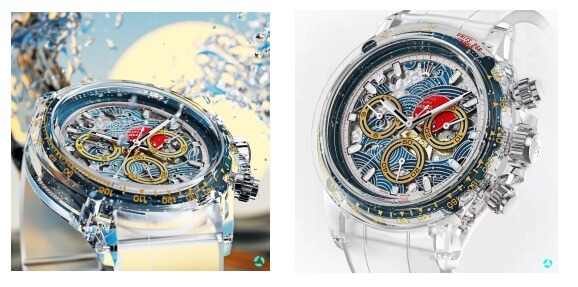 USA limited edition:
Cowboys are an indispensable part of the Americans, the incarnation of romanticism, and the representative of ruggedness, symbolizing the history of the United States. AET REMOULD depicts the classic image of a western cowboy on the dial of Sapphire Daytona, which wears leather trousers and denim jackets, leather boots, and spurs, riding in the west, showing the adventure spirit of freedom and pioneering. Sapphire Daytona USA limited edition is limited to 5 pieces worldwide.
Sapphire Daytona is another representative work of AET REMOULD, showing its mastery and control of sapphire craftsmanship. Even with such mature craftsmanship, the shaping of every sapphire Daytona is extremely difficult, not only in the selection of materials but also in the polishing of the craft, the preciseness of the equipment and data. It takes hundreds of processes to select large sapphire crystals with clear and constant color, and then polish such high hardness (the hardness is second only to diamonds) into watch cases, watch covers and other parts. It is the highest requirements and standards for craftsmanship that finally presents this perfect sapphire Daytona.
At present, the Sapphire Daytona National Collection has only launched three sapphire Daytonas themed as Germany, the United States, and Japan. However, the rich national culture does not stop there. Sapphire Daytona National Collection will continue to be updated, allowing culture to pass on overtime.
Media Contact
AET REMOULD
http://www.aetremould.com/